Less than five months ago, Amanda Oleander was another 25-year-old in Los Angeles trying to make it as an artist. She was new to the city and striking out on her own after a stint as an illustrator for the E! television network. Then Oleander signed up for Periscope, Twitter's live-streaming video app.
Oleander's friend told her about Periscope the day it launched back in March, and she decided to give it a shot the next day. Her idea was to broadcast tours of L.A. to people who wanted a peek at what life is like in Hollywood. But when she started broadcasting her painting sessions between city tours, she realized people were really into it—more than 13,000 people have tuned in to watch her paint, like she's a 21st century Bob Ross. She's racked up nearly 340,000 followers and more than 36 million hearts (though those totals grow exponentially every hour), and unlike other social media stars, Oleander didn't bring her following from another platform over to Periscope.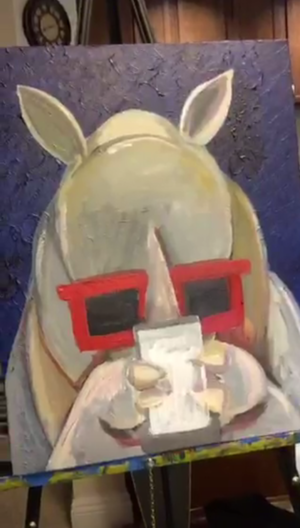 "I didn't have any followers anywhere," she told Macworld. "I think it was the painting. That's what people really, really like. People will set alarms [to watch], and some people have seen me from beginning to end."
Sometimes Oleander will broadcast herself painting up to five hours at a time.
There's an art to live-streaming. A shaky video of a person rambling into a camera doesn't cut it. Oleander found a community through her painting. Some people broadcast events, even if just from their TVs, and offer running commentary as entertainment. Facebook recently launched a live-streaming tool to its verified users, which include celebrities, athletes, and journalists—presumably people worth watching (though famous people can fall victim to the rambling live-streamed lunch talk, too). Oleander has a tripod for her phone, five stands, including a special one for her car when she broadcasts on the go, multiple selfie sticks, and a microphone to create a "great experience" for her viewers.
From Justin.tv to Twitch to Periscope
Live-streaming video isn't new, but it's finding a new audience with the rise of smartphones.
Live video platforms Ustream and Justin.tv both launched in 2007 and quickly drew users who wanted to broadcast their days to the world or stream live events like concerts. Justin.tv was later folded into Twitch.tv, the video-game streaming service acquired by Amazon last year for almost $1 billion. Ustream is still open to anyone, but is largely focused on corporate clients who use the platform to power some of their own live-streaming efforts. (Facebook is one of those corporate clients.)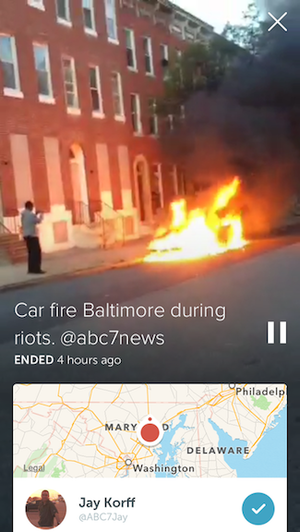 A convergence of factors have led to the rise this year of apps like Meerkat, YouNow, and Periscope, which announced last week that it has 10 million users who watch more than 40 years of live video per day.
Smartphone cameras are better than ever. The iPhone 6 and 6 Plus can shoot 1080p HD video at 60 frames per second with automatic stabilization that keeps your hand's shakiness from ruining your footage. High-speed mobile broadband is becoming more widespread—in North America, LTE has 44 percent market share as of the first quarter of this year, according to a June report from telecom industry trade group 4G Americas. That percentage is slowly growing in other parts of the world. By 2019, Cisco predicts video will account for 80 percent of all Internet traffic.
People are now accustomed to live video, Ustream founder and CEO Brad Hunstable told Macworld. Video is more emotional than text, he said. Whether it's Snapchat, Facebook, Vine, or YouTube, people are drawn to video, live video in particular, because you "don't know what's going to happen next, and it has this collective consciousness of everyone experiencing something at the same time."
Meerkat, Periscope, and YouNow all allow viewers to interact with people on camera through a running chat function, and each platform has built up a dedicated community. Oleander answers questions from viewers when she broadcasts, or if she's in the midst of a painting session and not paying attention to the chatter, her fans will answer questions about her work from newcomers. That community is part of the reason why the Huffington Post, which already has a popular live-streaming section on its own website, hosts an hour-long weekly live show on YouNow.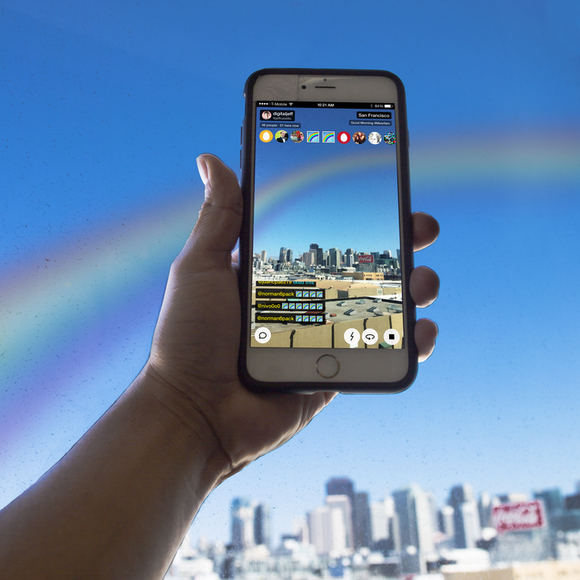 The dangers of live-streaming
Periscope exploded onto the scene with a literal explosion—someone used the app the day it launched to live-stream the aftermath of a building collapse and fire in Manhattan's East Village. People who aren't journalists can now broadcast from the scene of a major event to anyone from anywhere. It's a game-changing development, but not without its downsides.
Live-streaming apps, like YouTube and Twitter before them, are still fighting to be taken seriously. Twitter was often the butt of jokes about its early users' 140-character lunch descriptions, but is now considered a breaking news publishing platform. There are issues to resolve, like when users manage to live-stream copyrighted work to help others avoid paying for it. The potential for abuse exists, as evidenced in 2008 when a Justin.tv user's viewers encouraged his on-camera suicide.
Live-streaming "performers" have also been met with the same sponsorship opportunities that have flooded Instagram and Vine with #ad posts. Oleander hasn't accepted a sponsorship offer yet, though she says she's gotten a few. She says some 'scopers buy hearts now to make themselves seem more popular than they are, just like people buy Twitter followers in an effort to be seen as influencers.
"There are people who charge for Periscope classes," Oleander said, laughing at how people think to capitalize on social media trends. "Come to my channel and I'll give you tips for free."