If we're honest, the thing that makes many of us become Mac users in the first place is how the hardware looks. But for many, the thing that keeps us Mac users is that over the months and years of owning them we discover again and again that Apple has taken the time to think through and implement details that most wouldn't even have thought to identify as problems that need to be solved. To draw a clumsy and unromantic analogy, it's the difference between the first flush of lust and wonderment that attracts you to your partner, and how, over the months and years together, you discover that in a thousand tiny ways they're far more beguiling and complex and glorious than you ever realized when you met.
For an example, look to the Power Mac G5. On the outside, a sharp, brutalist, masculine design which, though not to everyone's taste, certainly speaks of power and seriousness and capability. But look closer. Look inside.
You won't find the rat's nest of cables that lurked inside most PCs of the era; here, everything is rational, clean, and ordered. It's prettier inside than many PCs are on the outside, and you can't help but love how Apple has made a feature of the huge heatsink the G5 processor needed.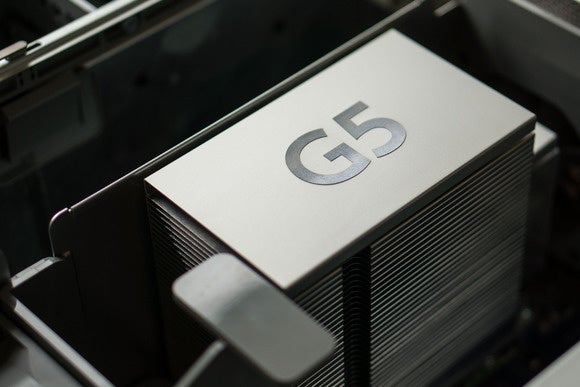 What I love, though, is that the sense of calm and openness isn't mere window-dressing. Apple hasn't, in other words, designed a computer that only its factory workers or the highly motivated can tinker with. Even though components are tucked away neatly and securely, accessing them is easy and in many cases doesn't even need a screwdriver. Best of all, Apple provides assistance along the way. For example, as soon as you unlatch and hinge down the side panel, you see this simple printed guide on the inside showing you how to access the RAM.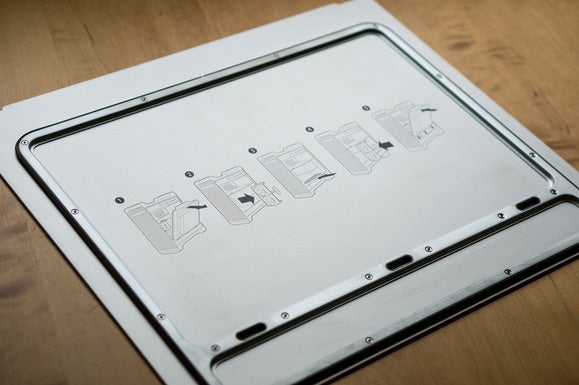 It pleases me no end, too, that it's printed upside down (relative to the Apple logo), so that when you pull it away from the G5 and lay it flat on the desk, it's the right way up to read; how many other companies would have done that? It's exactly this kind of user-centric, considered thinking that I'm talking about.
The RAM itself is tucked away behind one of the G5's fans, but it's nevertheless trivial to get at it.
While we're focussing on the fans, though this very first G5 that I have doesn't seem to do it, I remember the thermal design on the G5s being so balanced that you could make the fans spin up and down along a smooth gradient by hinging the clear plastic air deflector a little open and closed.
I know the G5s were lambasted for their loud fans, and I get that, but nevertheless I can't help but grin a little at that first "whouummn" of the fans when you power it on—it's like the Foley effect you might apply when the hero in a sci-fi epic flicks the ignition of his hovercar and guns the engine.
It's easy too to remove the optical drive from the G5's chassis.
Likewise, Apple has a clever trick for snuggling a couple of hard disks into the case yet keeping it easy to fit and change them.
And when you wanted to fit Wi-Fi—2003 was well before it was standard in a new computer—you could just slide the AirPort card in through this retaining bracket, slot it into the connection on the motherboard, and then attach the antenna which was helpfully held in the right position for you with a small clip.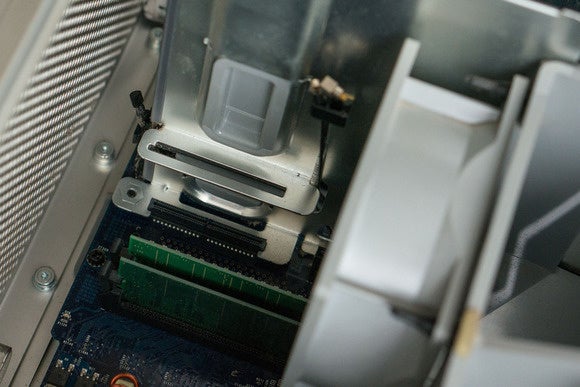 This G5 might not have had Wi-Fi built in, incidentally, but it did have a built-in dialup modem. It's kinda nutty to think that a computer that looks so modern—and remember that the same basic design was used for the Mac Pro all the way up to the very end of 2013—in fact dates from an era where Wi-Fi wasn't ubiquitous, with instead many connecting to the internet at 56kbit/s.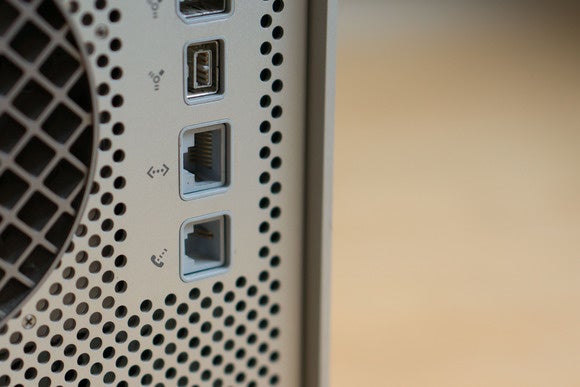 Anyway, that's not the point I was making. And nor even am I trotting out the familiar canard about how Macs used to be upgradeable in the past and now they're not and Apple smells and is doomed.
Instead, I want to celebrate those things that reify Apple's pathological attention to detail, those humanizing flourishes that demonstrate the extent to which its designers obsess over how its products will actually fit into the lives of those of us who buy them. They're a big part of the reason I've been a Mac user so long, and why this Think Retro column exists at all.