Losing your phone isn't necessarily something you think much about until it happens to you. And when it does, panic sets in. Fortunately for you, Apple provides a free suite of device-location tools called Find My iPhone that can help you figure out if you left your phone on the bus—or if it's just in the couch cushions. If you aren't yet using Find My iPhone, we'll help you get started.
Setting up Find My iPhone
First and foremost, you'll need an Apple ID and an iCloud account. There's a good chance you already have both if you own an Apple product; if you don't, visit iCloud.com, click the link labelled "Create yours now," then follow the onscreen instructions.
Next, hop over to your iPhone, open the Settings app, then tap iCloud. Scroll down and tap Find My iPhone, and toggle the Find My iPhone switch to the On position (it'll turn green) if it isn't already. Tap Allow when prompted, and you should be all set.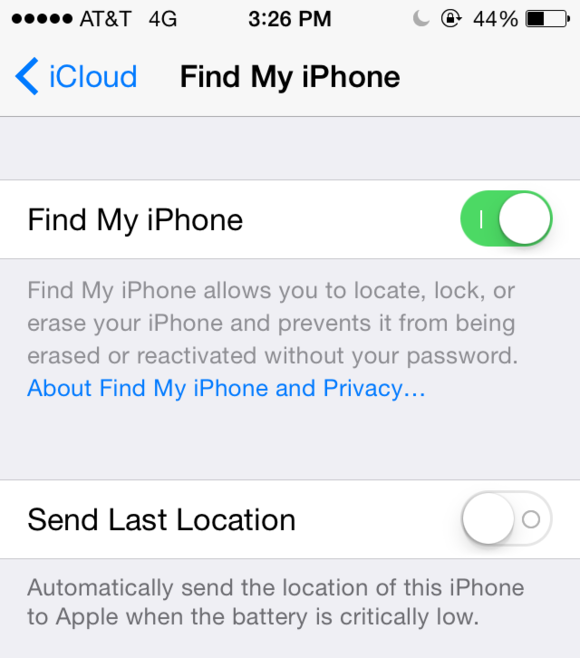 If you have an iPhone running iOS 7 or later, turning on Find My iPhone also enables iOS's Activation Lock feature. With it turned on, you'll have to enter your Apple ID password whenever you try to erase or activate your phone, or turn off Find My iPhone. It's a good extra piece of built-in protection.
You can set up Find My iPhone (or iPad, iPod Touch, or Mac) on any iOS device or Mac you own. You can also download the Find My iPhone iOS app for free—useful if you want to track your devices from your iPhone or iPad.
Using Find My iPhone
Let's say your iPhone does go missing—what then? Visit iCloud.com from any computer, log in, then click Find My iPhone. You may be asked to re-enter your iCloud password at this point: Enter your password again, then hit the Enter key.
You'll now be greeted by a map with green dots that represent the location of your devices. Click one of the dots to see which device it represents.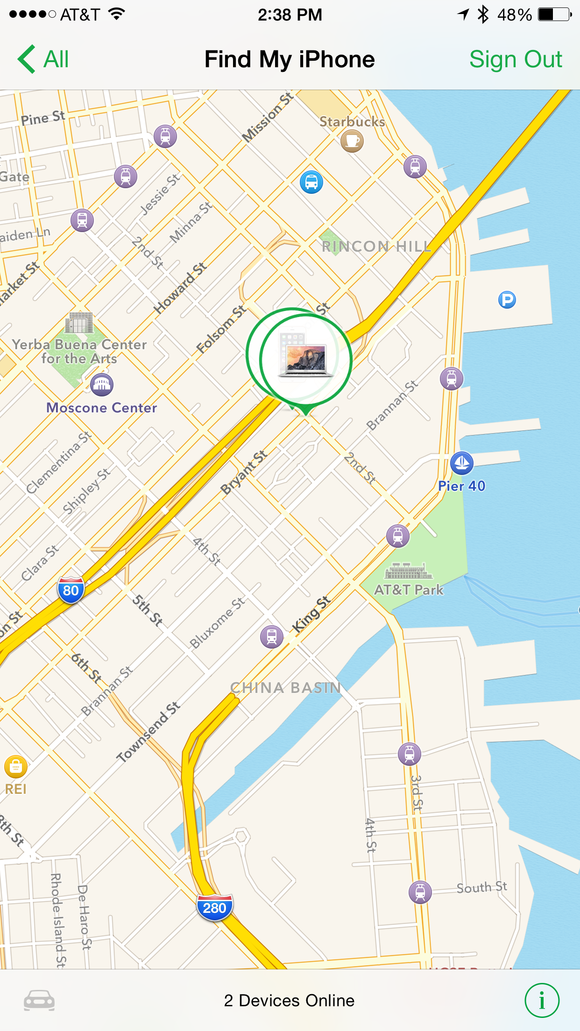 At this point, you will probably be able to get an idea of whether you simply misplaced your iPhone at home or the office, or whether it's legitimately missing. If Find My iPhone indicates that your phone is at your current location, you can set your phone to play an alarm sound to help you locate it.
To do so, click the Play Sound button. The sound will play at full volume regardless of your phone's volume and notification settings. Once you track down your phone, swipe the lock screen or press the sleep/wake button to kill the alarm sound.
If your phone is legitimately missing but you still hope to recover it—perhaps Find My iPhone shows it at the restaurant you visited for lunch—you can put your phone into Lost Mode, which lets you remotely passcode-lock your phone.
At this point, if you feel your phone has been stolen, you should contact your local law enforcement agency and report it missing. Apple recommends you provide your local law enforcement agency with your phone's serial number. If you don't know it, visit supportprofile.apple.com and log in with the Apple ID associated with your phone.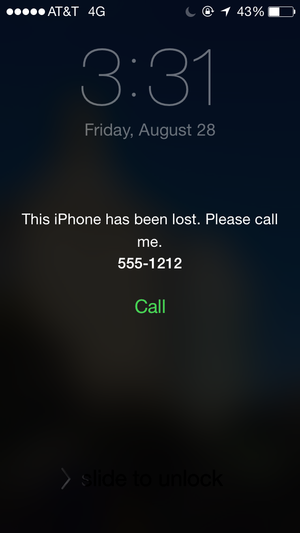 Click the Lost Mode button in Find My iPhone, then enter a passcode. Use something unique—don't choose an obvious passcode like "1234." You can also leave a message and phone number to call should someone find your phone.
When in Lost Mode, Apple Pay will automatically be disabled so Your phone will remain passcode-protected until you visit Settings > Passcode and say otherwise.
If you think your phone is gone for good, you can erase it. Click the Erase iPhone button in Find My iPhone, then follow the onscreen instructions to wipe all data off your phone. Once you do so, you will no longer be able to track your phone via Find My iPhone.
Note that you can also do all this from the Find My iPhone app for iOS. The interface is slightly different, but all the same features are there.
Safety tips
Find My iPhone is great, but there are a few other things you can do to keep your phone—and yourself—safer.
Be alert and aware of your surroundings. Staying vigilant won't keep you safe from every crime, but it can help. You may also want to avoid using your phone in public when you can to reduce your chances of being a target.
Use a passcode or Touch ID on your phone. A passcode can make it more difficult for a would-be thief from getting at your personal data, while using Touch ID on the iPhone 5S and 6 can effectively stop a data thief in their tracks. To set up a passcode, go to Settings > Passcode, then tap Turn Passcode On and follow the onscreen instructions. To set up Touch ID, go to Settings > Touch ID & Passcode, then follow along as iOS guides you through the process.
Never try to seek out a stolen iPhone yourself. You could put yourself in great danger if you try to retrieve a stolen iPhone yourself. Instead, call the police and provide them with your phone's whereabouts, and let them handle the situation.