At a Glance
Expert's Rating
Our Verdict
For those who want ultimate protection for the iPad Air 2 with one of the best typing experiences around, the Blok Keyboard Case is hard to beat.
Have you ever looked at your iPad and wondered what it would look like with similar keyboard setup as Microsoft's Surface Pro 3? Neither have I, but here's the answer: Logitech's Blok Keyboard Case.
The $130 Blok is part-keyboard, part protective case, and is unlike anything I've seen for an iPad. The keyboard offers Logitech's typical keyboard responsiveness and layout, while the case offers a box design aimed to protect your iPad from drops up to six-feet high.
There's more to the Blok Keyboard Case than meets the eye, so don't let it's Microsoft-inspired look turn you off quite yet.
It has a kickstand… a freakin' kickstand
Almost all of the keyboards I've tested for the iPad lineup offer some sort of channel for the tablet to rest in. Take Logitech's Ultrathin Keyboard Cover or the BrydgeAir keyboard as examples.
If the keyboard was part of some sort of case setup, then there's usually a permanent connection between the case and the keyboard.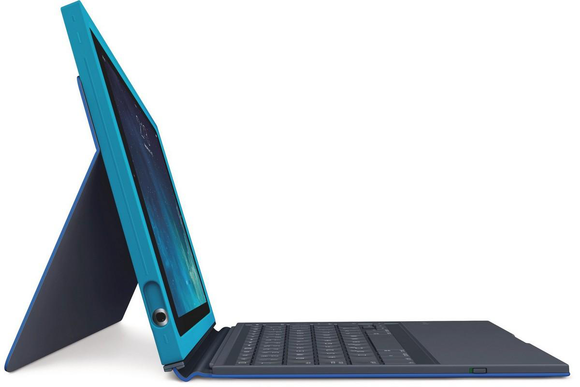 The Blok, however, offers a stand-alone keyboard that attaches to a stand-alone case via a magnetic hinge. In order to hold the iPad up, Logitech included a kickstand on the back of the case; and it's pretty darn cool.
The stand offers viewing angles ranging from 20- to 70-degrees, whether or not the keyboard is attached to the case.
The kickstand held its position even after accidental bumps or over extended periods of time. I also enjoyed propping up my iPad to watch a movie without having a distracting keyboard sitting in front of it.
Battery life
For the Blok Keyboard Case, Logitech decided to forgo including a rechargeable battery altogether; a battery that usually netted a year's worth of battery life according to the company. Instead, the company is now using two CR2032 batteries.
I wasn't able to fully test the estimated four year battery life of the Blok Keyboard, and I'll probably never have to. Though it's worth mentioning the batteries installed in the review unit I received are showing only 80-precent charge, according to iOS 9's new battery widget. There's no way I've had the keyboard long enough to drain that much life out of them.
Versatile keyboard
The keyboard itself uses the typical layout of most iPad keyboards: The top row is made up of shortcut keys to common iOS shortcuts such as activating Siri, media controls, and a lock button. Just below it sits a traditional keyboard layout, with numerical and character keys of ample size.
The keys are responsive and somewhat forgiving. Actually, I'd put this keyboard in the same category as Logitech's Ultrathin keyboard—it's one of the best iPad keyboards available.
I was able to power on the keyboard and begin typing—almost error free—just after connecting it to my iPad. Furthermore, I enjoyed not being forced into leaving the keyboard attached to its counterpart. Meaning I could place the iPad on the table, detach the keyboard from its magnetic home and type from my lap.
I do wish the keyboard offered backlit keys, considering its price tag.
Blok looks like a block
There's no getting around the fact the case is pretty, well, ugly. It's akin to a slab of wood a butcher would cut meat on. Though Logitech would argue the design affords extra protection should you drop your iPad.
It's rather large and heavy, adding nearly 1.5 pounds in weight, and nearly an inch of thickness to your iPad when the case and keyboard are present.
To its credit, Logitech offers three different color combinations of the case: black, blue and teal, or red and violet. The latter two provide some much needed appeal to the boring black case.
Bottom line
At the end of the day, the Blok's keyboard design is one that's a pleasure to use. I'm not sold on the bulkiness of the Blok case, but I do wish Logitech would bring the keyboard's battery setup to something smaller and lighter. A battery-powered keyboard with enough juice to get me through multiple iPad upgrade cycles? I'm in.
When you purchase through links in our articles, we may earn a small commission. This doesn't affect our editorial independence.