David Nicklin brings a story that has a moral: friends don't let friends install apps on their iOS devices:
I was traveling overseas a couple of years ago for a friend's wedding. While there, I spent an afternoon with a long-lost acquaintance. Somehow, for whatever reason, he shared an iOS app with me, installing it on my phone and using his Apple ID. Up until I bought a new phone and restored it from backup, everything was fine. Now, however, the phone is asking me for his Apple ID credentials.

I don't even remember which app it was he installed for me. Is there any way to easily find which app is causing the problem without uninstalling every app on the phone and re-installing them until I find what I am looking for?
You are so not going to like the answer to this. I encountered this a few years ago, when I installed some apps on my wife's phone before Apple added Family Sharing—which we still don't use, but at least it's an option.
After she updated, she had the same problem: she needed my password, which wasn't cached, to perform updates on the apps I'd installed and there was no way to know which. Fortunately, we remembered the apps and removed them.
I scoured the Internet, as I imagine you may have done as well, and there's no magic bullet. As long as you upgrade or restore from a backup, the app will persist in reinstalling.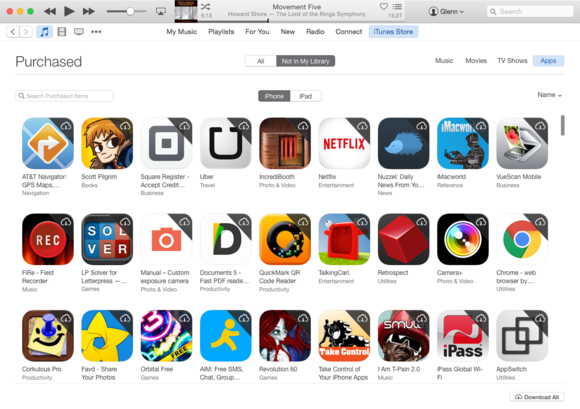 Now, you can get a list of all purchased apps via the iTunes Store via OS X.
Launch iTunes

Select the iTune Store.

Click the Purchased link at upper right.

Click Apps link at far right, and then All button and the iPhone button.
Scrolling through the list when organized by Most Recent, you may be able to go back through time to find the app in question, as it may stand out in context. (Selecting Name doesn't seem to actually sort apps alphabetically.)
With the iPhone plugged into a Mac, you can select it in iTunes, and then view the apps installed on it. It's tedious, but if you can find the mismatch, you can uninstall it from the iPhone, and finally be free.
Ask Mac 911
We're always looking for problems to solve! Email yours to mac911@macworld.com including screen captures as appropriate. Mac 911 cannot reply to email with troubleshooting advice nor can we publish answers to every question.