Pam Bush upgraded her Mac to the latest version of OS X, but her Photos library is full of black thumbnails, rather than tiny images. The Mac consultant who handled her upgrade told her it was a bug, and she needed to "rotate every image manually." "Not going to happen in my lifetime," Pam writes.
The consultant is technically correct: iPhoto and Photos rebuilds previews if you rotate an image, which can be done in Photos in the All Photos view by selecting Edit > Select All and then Image > Rotate Clockwise or Rotate Counterclockwise, and then the opposite after the rotation is complete.
However, for a large photo library, this is a lot of wasted time and effort, and might mask other problems in the file structure. Instead, you can rebuild thumbnails or repair the library, depending on the software you use.
For iPhotos and Photos alike, quit the app, then hold down Command and Option while launching, and keep them held down until you see a dialog.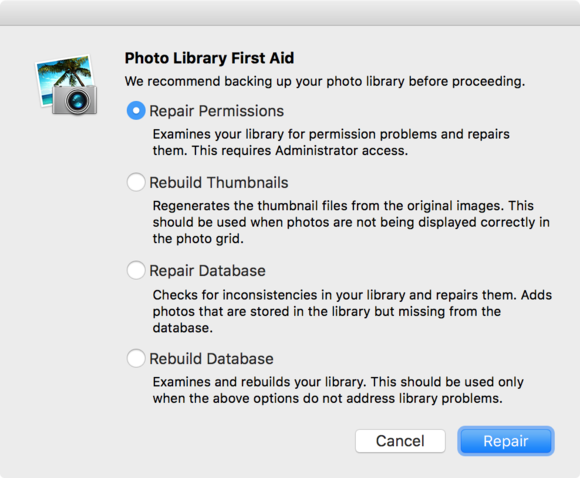 In iPhoto, you're prompted with the Photo Library First Aid dialog, and can choose among a number of options, including Rebuild Thumbnails. Select it, and click Repair. (Earlier versions of iPhoto had the Rebuild Photo Library dialog with two thumbnails options, and others that could be checked off at the same time.)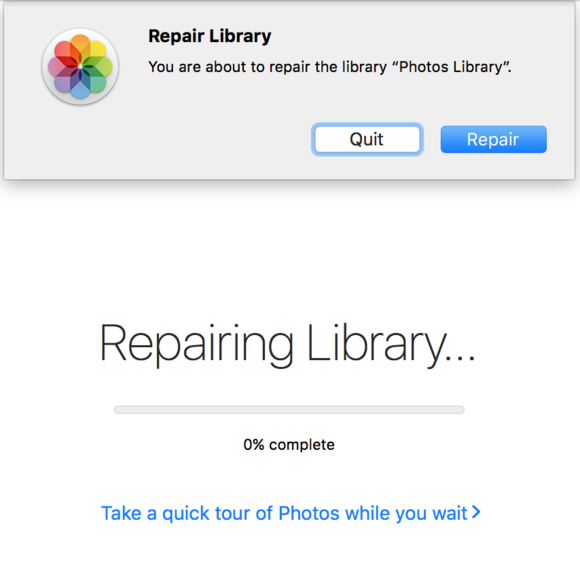 Photos removed any options: when it's launched with Command and Option held down, you can opt to Rebuild or Quit. Rebuilding performs all maintenance operations and shows you the progress as it goes.
Ask Mac 911
We're always looking for problems to solve! Email yours to mac911@macworld.com including screen captures as appropriate. Mac 911 cannot reply to email with troubleshooting advice nor can we publish answers to every question.