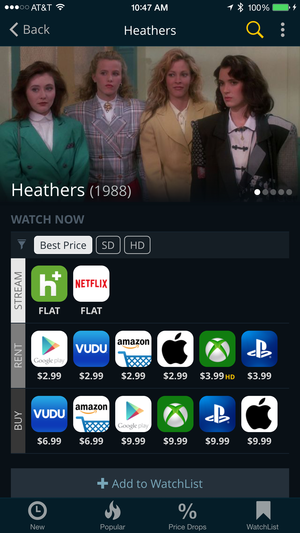 Although my family currently subscribes to cable (a bargain at only $10 per month more than high-speed internet alone!), we count ourselves as "cord-cutters" since the majority of our viewing is streamed from services like Hulu. I've also largely abandoned collecting physical media in favor of movie and TV show purchases from Vudu, iTunes, or Amazon Instant Video.
With so many services in play, keeping up with which titles are available where and for how much becomes something of a juggling act—not to mention content vanishes from services like Netflix when the rights lapse, or hits the digital bargain bin shortly after you just paid full price for it.
What's on?
JustWatch tames the streaming madness with a search engine designed to find legally available content from today's most popular services. In addition to the aforementioned, the app offers HBO Now, Showtime, Epix, Crackle, XBox, PlayStation, and a trio of smaller U.S. providers. (Similar listings for Australia, Brazil, Germany, and New Zealand are also included.)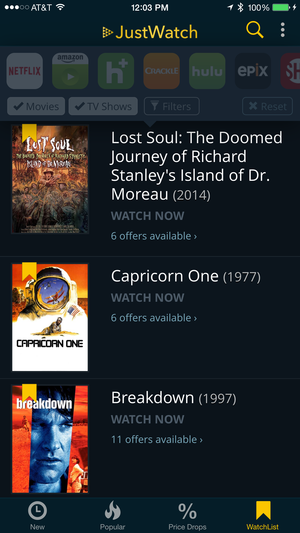 At first launch, users select favorite providers so you'll only see results from the places you shop or have subscriptions with; you'll still see all available services on individual detail pages, however. Tabs across the bottom sort content by what's new, most popular, recent price drops, and your personal wishlist.
From the first three tabs, you can filter by movies, TV shows, or a host of other criteria such as picture quality (SD or HD), year of release, or genre. A magnifying glass button in the top right can be used for specific searches by title, cast, or crew name. Tap a result to view the list of services where your selection is streaming or available to rent/own, along with synopsis and photos (but oddly, no cast and crew details).
JustWatch can't be used to watch full movies or episodes, but individual listings include YouTube links to relevant trailers or featurettes, where applicable. The app uses authentic brand icons—tap one and you'll be sent straight to that provider's purchase page in Safari, while most subscription-based services open directly in the respective app for immediate viewing.
Bargain hunter
One of the JustWatch features with a lot of potential is the ability to create a universal wishlist for movies and TV shows you're thinking about purchasing. From any detail page, tap the Add to Wishlist button and that title will be moved to the top of the Wishlist tab, where you can see the number of services offering it.
This option can be a little deceptive, however: Sorting by Best Price almost always shows the standard-definition version first, which is typically cheaper than HD. I'd prefer an across the board preference setting to only display HD content (my preferred choice) unless SD is the only available option, but for now the selected quality is maintained across subsequent searches.
The other thing missing is a tracking feature to display historical data views as prices drop or increase over time. Push notifications would also be welcome to alert users when the price of a Watchlist title goes up or down when the app isn't open.
Those quibbles aside, JustWatch does offer native support for iPad and iPhone 6 screens, along with high-resolution artwork that looks great on Retina displays. Unfortunately, there's no iCloud sync or account login, so Wishlist data stored in one place doesn't show up on other devices or the web edition.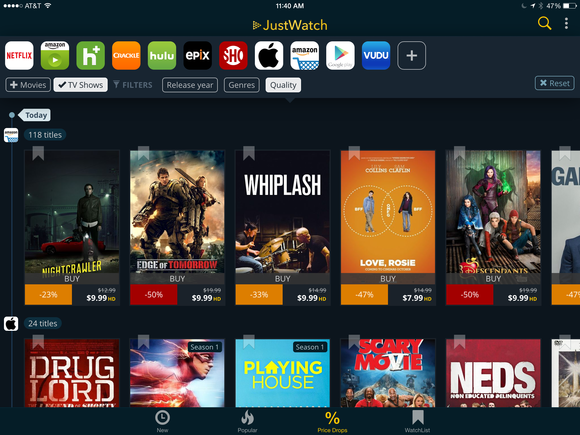 Bottom line
JustWatch turned out to be just perfect for quickly finding where movies and TV shows can be streamed, rented, or purchased online, but here's hoping Watchlist will become more useful in future updates.