It's that time again. Apple has sent out invitations to its September 9 new product event, and tech journalists are reading the tea leaves, checking the colors and tagline of the invitation for clues as to what's coming. Apple is messing with us this time, suggesting we ask Siri for some hints, but Siri is just being a tease.
We know that we'll see a new iPhone, most likely called the 6s and the 6s Plus (or the 6 Plus s?). There may be new colors, and there may or may not be a 4-inch model of the iPhone. (Personally, I hope so.) iOS 9 will be released at the same time as the new iPhone. A new Apple TV is rumored to be announced, and to ship in October. And perhaps we'll see other hardware, or updates to existing Apple software.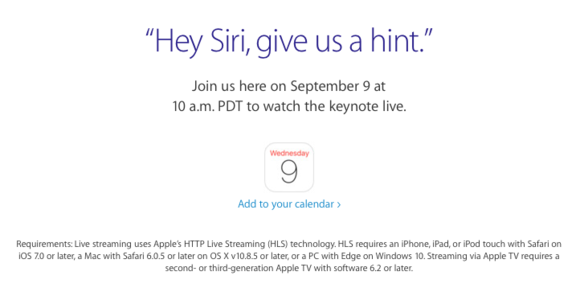 But one detail piqued my interest: Apple will be streaming this event to Windows 10 users.
Some of us remember when hell froze over back in October, 2003, and Steve Jobs introduced iTunes for Windows. That move helped set the stage for today's demographics, where the majority of iOS users who have computers run Windows. Apple cannot ignore Windows users, but it's been a long time since the company has made a nod in their direction.
So what if Apple decides to introduce some more software for Windows next week? This won't be a version of OS X; Apple clearly does not want a return to the clone era of the 1990s. I think that if Apple brings more software to the PC it will be the iWork apps: Pages, Numbers, and Keynote.
Windows users may already use the suite's native iOS apps, and can access iWork documents via iCloud.com, which Apple made free back in February. Perhaps it's time to bring out native versions of these apps for Windows. The cloud versions are okay, but not everyone wants to work on productivity documents in a browser.
Microsoft Office is a powerful productivity suite, but its features are overkill for most users. Apple could compete by selling the iWork apps for the same price it does now. Unless you buy a new Mac, the apps cost $20 each, which is a pittance for apps of their quality. Apple could attract a lot of Windows users who want apps that they can use both on their PCs and their mobile devices, but who don't need the power (and complexity) of Office, and don't want to pay its price ($220 to buy the suite; $140 for students).
Apple could even bundle these apps in a sort of iCloud Pro subscription, allowing Windows users to get a larger amount of iCloud storage along with the iWork apps for a monthly fee. This would be similar to Microsoft's Office 365, which includes 1TB online storage for $10 a month (for five home users). Of course, if Apple were to offer a plan like that, they would have to be competitive with Microsoft; $10 a month is currently the price Apple charges for 500GB iCloud storage, and Mac users would be happy to see this price drop.
There's another possibility, and that's Photos for Windows. The iPhone's camera is one of its key selling points, and Apple constantly highlights this, even running an ad campaign called Shot on an iPhone 6. Windows users who take a lot of photos might appreciate being able to manage and edit them on the desktop, rather than having to export them and use a different app.
Either way, it seems that Apple wants to get the attention of Windows users to show them something. I'll be tuning in next Wednesday to see what's new.