We all know a picture is worth a thousand words, so it's surprising Instagram didn't let you send photos back and forth—until now.
On Tuesday, Instagram updated its in-app messaging feature, Instagram Direct, so that you could reply to a private photo message using a selfie or video taken on the spot. Direct messages are now also threaded so you can continue conversations and view the messaging history between you and your friends. In addition, Instagram Direct now lets you share a public Instagram photo directly with a friend. Previously whenever you'd stumble upon a funny, inspiring or relevant Instagram pic that made you think of one of your friends, you had to tag that person in a comment using @-mentions. Instagram noticed that about 40 percent of comments included this @-mention, so the app decided to make it easier to share a photo directly with a specific person or group of people and start a private conversations around that photo.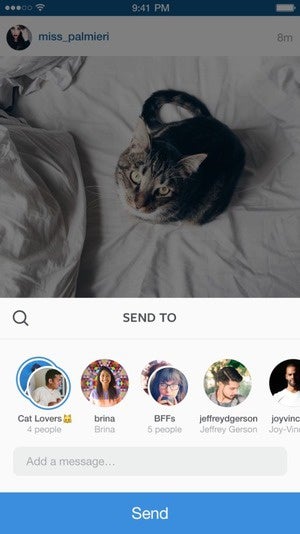 These updates to Instagram Direct marks an "evolution" for the photo-sharing app, an Instagram spokesperson told TechCrunch, as the app looks to move beyond sharing "moments" and more into starting "conversations."
When Direct first launched in 2013, the feature allowed Instagram users to send photos directly to another person, or up to 15 people in a private group. These Direct photos are not posted on your feed for all your followers to see. The recipients would then be able to view the photo and leave a private comment. Instagram claims that 85 million people have used the Direct photo-sharing feature.
Why this matters: With private selfie replies, the Facebook-owned app moves closer into Snapchat territory. Photo-only replies and conversations are so much a part of Snapchat's DNA that regular text messaging wasn't incorporated until last year. And Instagram's new reaction camera works exactly like Snapchat's: tap once to take a photo, press down and hold to shoot a video.
Instagram has also opened up Direct so that users can start a conversation with a text, no photo needed. It seems that Instagram wants to be fun as Snapchat and also as practical and convenient as iMessage, WhatsApp, and Facebook Messenger.