In this week's column, I look at a grab bag of questions. Readers have asked how to check or uncheck all the songs in their iTunes library. Will Apple Music music ever disappear? Why can't they enter a year for their audiobooks in iTunes? And how can they keep their daughter from spending too much money on the iTunes Store?
Check, uncheck
Q: I check and uncheck tracks in iTunes to sync them to my iPhone. Is there an easy way I can uncheck all the songs in my iTunes library, so I can start with a fresh selection of music?
This reader uses the Sync only checked songs and videos option in the sync settings for their iPhone. This is a good way to choose what to put on your device, without messing with playlists, or individual albums or artists. Just uncheck the tracks you don't want to sync, and iTunes handles everything.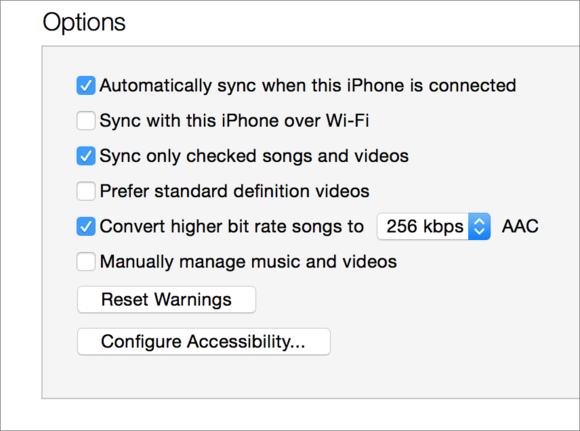 In iTunes 12, you don't see the checkboxes easily, unless you are in a List view.
If you want to check or uncheck all the tracks, there's an easy way to do this; select one or more items, right-click, and then choose Check Selection or Uncheck Selection. If you select your entire music library in this manner, you can check or uncheck everything.
Will my music disappear?
Q: If I subscribe to Apple Music and I add tracks to My Music, will I know if that music is ever removed by Apple? On Netflix, for example, titles are removed from time to time and I will see an expiration date a week or more in advance. Of course, when that video does expire, I might not notice that it is not in my list any longer. How will this work on Apple Music?
The Apple Music model is very different from that of Netflix, Hulu, and other video streaming services. Movie distribution is based on a series of release windows, which includes theatrical release, DVD and Blu-Ray release, pay TV and video-on-demand (and streaming), and free-to-air TV. As such, movies and TV shows can come and go from these different services.
With music, the approach is different. Record labels selling their music on the iTunes Store can choose to "clear" it for streaming or not. They can clear entire albums or individual tracks; this is why you may see certain albums where some tracks are available to stream on Apple Music and others are dimmed, and not streamable.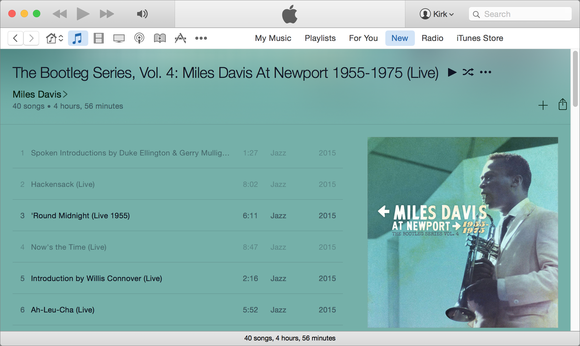 Any record label can choose to remove their music from the iTunes Store and/or Apple Music at any time, with no warning. It seems that when this happens, you'll no longer see tracks that you've added to My Music, unless you've downloaded them. If you have local copies, you may be able to play them for a short time, but your copy of iTunes will eventually catch up with the change in rights, and you won't be able to play that music any more. But tracks you've downloaded won't disappear.
While some record labels may change their minds about streaming, after seeing their royalties checks, I doubt that you'll see a lot of music disappear.
Audiobooks and years
Q: I was trying to enter the year on audiobooks in my iTunes library, but that option seems to have disappeared. If I view an item's info, I only see the Release Date field. On audiobooks that previously had the year entered, I can see that field in the Info window. How do I get that on new or untagged audiobooks?
This is a curious situation; iTunes certainly behaves oddly with years and release dates for audiobooks. I have a lot of audiobooks, and the ones that I tagged prior to the release of iTunes 12 show the Year tag filled in. On books I purchased from the iTunes Store, I also see the Year tag. But on books from Audible, I only see the Release Date tag. This tag is annoying. You have to enter a full date—month, day, year—and you can't blank the field once you've entered a date.
But I found a way to bring back the Year tag. Select an audiobook and press Command-I. If you don't see the Year tag, click the Options tab, and change the Media Kind to Music. Don't click OK yet.
Click the Details tab, and you'll now see that Release Date has changed to Year (unless you already had a Release Date set for the book, in which case you'll see both tags). Enter the year you want, press Return, and then go back to the Options tab and change the Media Kind back to Audiobook. Click OK. This saves the year in the Year tag, which is now visible in iTunes.

Keep my daughter from spending too much
Q: My son, daughter, and I all share the same Apple ID. this works well most of the time, except my daughter spends any money that is put into the iTunes account. Is there any way there can be separate payment for a individual device rather than the whole account?
It sounds like you are the ideal candidate for Apple's Family Sharing. This requires that each of your children have their own Apple ID, but you can turn on an Ask to Buy feature so your children can't make any purchases without your approval.
To turn on Family Sharing, start by reading this article, and then follow the links near the end to find out more about how it works.
Have questions of your own for the iTunes Guy? Send them along for his consideration.