These days, keeping up with games can be a full-time job. So how do you separate the signal from the noise, the wheat from the chaff, the Temple Runs from the Temple Jumps? Allow us to help by regularly selecting a game You Should Play.
Let me introduce you to your new favorite endless runner, Race the Sun. It's got everything you've been looking for: Stunning visuals, silky-smooth gameplay, and, of course, an element of strategy you don't often find in endless runners.
The premise of this game is deceptively simple. You control a solar-powered hovercraft that glides smoothly over a gray landscape filled with three-dimensional geometric obstacles as the sun sets. There are only a couple rules you need to know: Your ship is solar-powered, which means that you can't linger in the shadows too long or it will power down and die, and crashing into obstacles kills you. As you race, you'll encounter colorful power-ups and point-boosters you can collect, and as you gain points and nab achievements, you'll eventually be able to equip your ship with useful add-ons.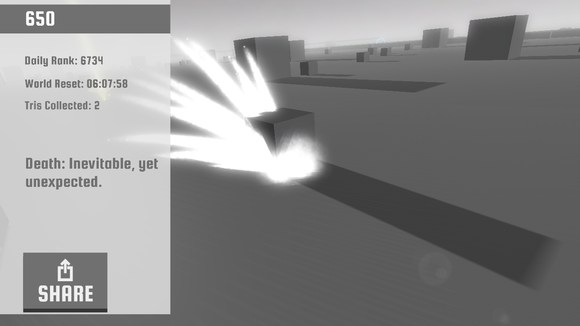 But as you know, sometimes simple is the way to go—Race the Sun is incredibly addictive, thanks to its smooth, intuitive gameplay and super simple premise. It's one of those games that you'll know how to play right away, but that you'll spend hours trying to master.
It is a premium game, so we understand if you're still a bit wary. Here are three more reasons to drop that $5 right now:
Perfectly translated to mobile: Race the Sun isn't new—it's actually a couple of years old. Before it hit the App Store, this game came out on PC, Mac OS X, Linux, PlayStation 3 and 4, and PlayStation Vita. But it's always been a mobile game at heart, and the precise touch controls in Race the Sun for iOS demonstrate that perfectly.
Because the game is so simple, controls are easily translated to mobile. To turn your ship, all you'll need to do is tap the side of the screen you want to turn toward—tap closer to the ship for a gentler turn, and tap further from the ship for a sharper turn. There's actually a considerable amount of turn variation depending on where you tap, so you have a significant degree of control over your ship.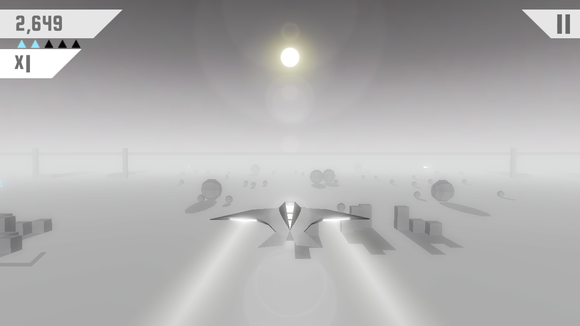 A simple, yet stunning, landscape: At first, Race the Sun's landscape looks a little drab. Everything is gray, and the obstacles you encounter are made up of very basic geometric shapes – spheres, cubes, and pyramids. As you progress through the levels (though you'll always start at the first level, since this is an endless runner), you'll come across more interesting obstacles and even other ships, but the landscape is far from lush. The only color comes from the sun, which starts out as a bright yellow ball in the sky and sinks slowly into a pretty sunset (before darkness/death envelops you), and the power-ups and point-boosters you can collect along the way.
Despite the lack of color, Race the Sun has a serene, otherworldly feel to it—it's immersive, and the graphics are smooth and well-rendered. The sun presents a nice contrast to the landscape, lighting up your world with solar flares and an impending sense of doom.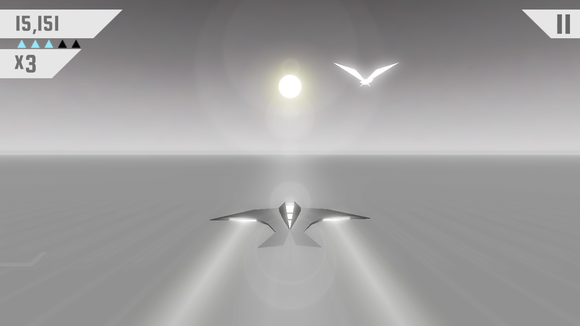 Not your average endless runner: Even big fans of endless runners have to admit that they eventually get a little monotonous. But Race the Sun is a slightly more complex game than average endless runners, thanks to the multiple elements you need to watch out for. While most endless runners ask you to simply avoid obstacles, Race the Sun asks you to avoid obstacles while also watching out for the sun—it's setting throughout the game, and in order to keep it in the sky you'll need to collect sun power-ups or it will set on you and you'll die. Your game ends when you crash into something, when you stray too far into the shadows, or when the sun sets.
The levels in Race the Sun also change every 24 hours. So each day you'll open up a new game, with new obstacles and new power-up placements. And that, my friends, is what keeps this game playable year in and year out.