After being acquired by Adidas for $240 million, Runtastic isn't stopping to catch its breath. On Friday the company announced the Runtastic Moment, a line of analog watches that also track your fitness. Instead of wearing a watch and a rubber fitness bracelet, one device can count your steps and active minutes, and a quick glance at its face will show you not only the time, but also your progress toward the day's goals.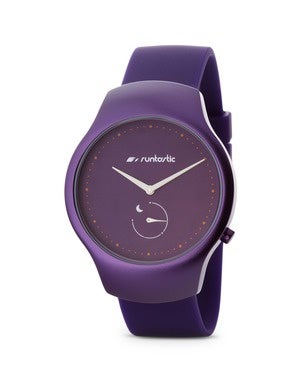 Like the Withings Activité and Activité Pop, the Runtastic Moment watches have a clean, classy look, with a round face and a second dial that shows your progress toward your goal. You'll still have to fire up the companion Runtastic app for your smartphone to see your actual step count, but the dial can show you at a glance if you're halfway there, almost done, or just getting started. In the app, you can set goals based on steps taken, active minutes, calories burned, and whatever you choose in the app will be indicated by the second dial. The watch can vibrate when you've been inactive for too long, and track how much you sleep each night too.
Best of all, the watches don't require charging once a day or even once a week. They're powered by standard watch batteries that should last months, and you can swap it out yourself with the included screwdriver. Waterproof to 300 feet, they're fine to wear when swimming.
Four collections
Runtastic is offering the Moment in four collections, each with a slightly different style. All of them feature stainless steel cases, scratch-resistant glass, and standard watch band attachments, so you can easily swap it out for any band you want.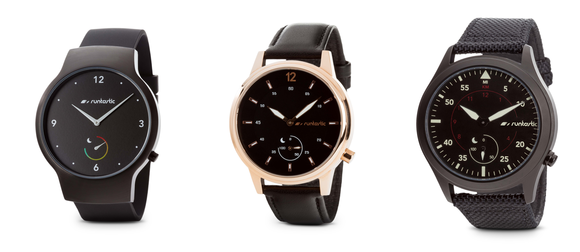 The entry level is the $130 Moment Fun, which comes in bright colors like raspberry, plum, sand, and indigo. The silicone straps are designed for working out, and the face is 37mm. Also $130, the Moment Basic is similar but a little more masculine, with a 42mm watch in black or sand, with a silicone strap.
Also at 42mm, the Moment Classic adds a metallic ring around the watch face, available in silver, rose gold, or gold. It comes with a soft black leather strap, and retails for $180. If you're into big watches, the 46mm Moment Elite comes in all black with a black leather strap, also for $180.
All of the watches sync with the Runtastic Me app, which acts as a dashboard. Runtastic offers a whole suite of apps, from Runtastic Six Pack Abs Workout to Runtastic Push Ups, leg trainers, cycling apps, and more.