Apple's new iPhones go on sale Friday, September 25—today! Though the promise of a shiny new iPhone is always exciting, we understand if you're still on the fence. To help you make an informed decision, here's all the critical information we've learned about the iPhone 6s and 6s Plus. And if you have any questions we didn't answer, let us know in the comments below.
The basics
When can I get the new iPhones?
The two phones will go on sale September 25 in 12 countries: The U.S., United Kingdom, Australia, Canada, China, France, Germany, Hong Kong, Japan, New Zealand, Puerto Rico, and Singapore. More than 130 countries and 400-plus carriers will have the iPhone 6s and 6s Plus by the end of the year.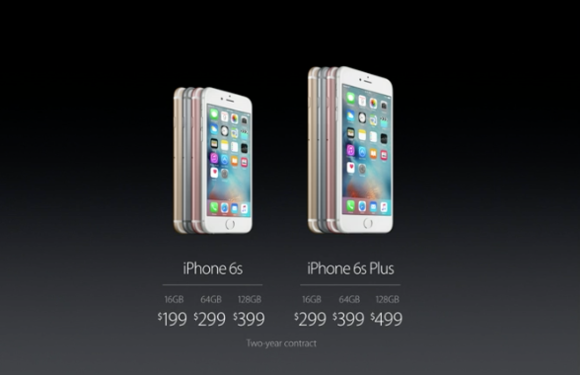 How much do the new phones cost?
If you're signing a new two-year contract with your carrier when you buy your 6s or 6s Plus, the prices are as follows for a 6s: $199 up-front for a 16GB, $299 for a 64GB, or $399 for a 128GB. Add an extra $100 for the 6s Plus: $299 up-front for 16GB, $399 for 64GB, or $499 for a 128GB.
But two-year contracts are on the way out. So what does that mean for iPhone pricing? You can buy an unsubsidized iPhone 6s starting at $649 for the 16GB version and a 6s Plus from $749—add an extra $100 for each larger storage size. You can also spread out those payments with a carrier installment plan, the cost of which depends on which plan you choose, but starts at $27 per month for a 6s and $31 a month for the 6s Plus in the U.S.
And for the first time, Apple is offering its own upgrade program. You can buy an unlocked iPhone 6s with AppleCare+ from an Apple Store and choose your own carrier. Monthly payments start at $32 in the U.S. for a 6s, and $37 for a 6s Plus, and you'll have the option to upgrade to a new iPhone after a year. If you're planning to buy an iPhone through Apple's upgrade program, you can make a reservation online to buy in-store and receive help from Apple employees. More information about the iPhone Upgrade Program is available here.
Apple is also lowering the cost of its other iPhones under two-year contracts, and ditching the 5c altogether. The iPhone 6 Plus will start at $199, the iPhone 6 at $99, and the entry-level iPhone 5s is free.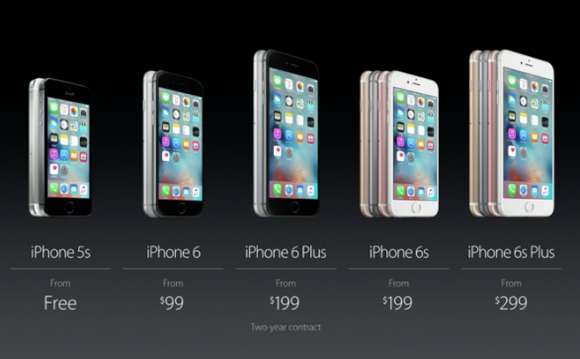 Which carriers are offering the iPhone 6s and 6s Plus?
AT&T, Verizon, T-Mobile, and Sprint will all carry the new phones in the U.S., and you can also buy phones without a contract to use on whatever network you like.
What colors can I buy?
Colors include the standard space gray with black bezel, gold with white bezel, and silver with white bezel—and there's also a brand new rose gold option with a white bezel. It's similar to the Apple Watch Edition in rose gold, but less expensive because the body is made of aluminum alloy, and not, you know, actual gold.
The big changes
How do the 6s and 6s Plus stack up to the 6 and 6 Plus?
This is an in-between year for iPhones, which means there are no major exterior changes. The 6s has a 4.7-inch display, just like its predecessor, and the 6s Plus has a 5.5-inch display, like the 6 Plus.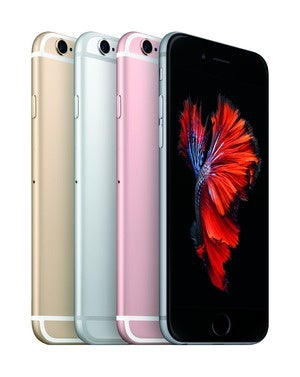 While they might look the same, the new iPhones are made of slightly different materials than last year's models. Both the 6s and 6s Plus are made of Apple's 7000 series aluminum alloy, the strongest of any iPhone ever made, which is also what Apple used to craft the Apple Watch Sport. The aluminum is aerospace industry-grade.
The phones also have what Apple calls "the strongest cover glass used on any smartphone in the world" thanks to a dual ion-exchange process that makes the glass stronger on the molecular level. The Retina HD displays offer the same resolution as last year's models: 1334-by-750 for the 6s and 1920-by-1080 for the 6s Plus.
The new iPhones are every so slightly thicker than their predecessors. The 6s Plus is 7.3mm thick to the 6 Plus's 7.1mm, and the 6s is also a hair thicker than the last-gen model: 7.1mm to 6.9mm. We're guessing that's due to the stronger aluminum alloy, but Apple didn't specify.
OK, but what's under the hood?
Don't think that because the display looks the same, it actually is the same. Apple has completely reengineered its multi-touch display with new capacitive sensors built into the display's backlight. Those sensors measure the tiny changes in the distance between the cover glass and the backlight—changes caused by the pressure in your fingertip. The new display, called 3D Touch, responds to that pressure in different ways depending on how long you press on the screen. This is all powered by algorithms that combine feedback from the capacitive sensors with the information from your phone's touch sensors and accelerometer.
Sounds complicated, but the end result are new gestures that Apple calls "peek and pop" and "quick actions." You'll know which you've unlocked based on the new Taptic Engine, similar to the one found in the Apple Watch, which responds to your pressure with taps. Taps can be long or short depending on the action you're performing, just like the watch.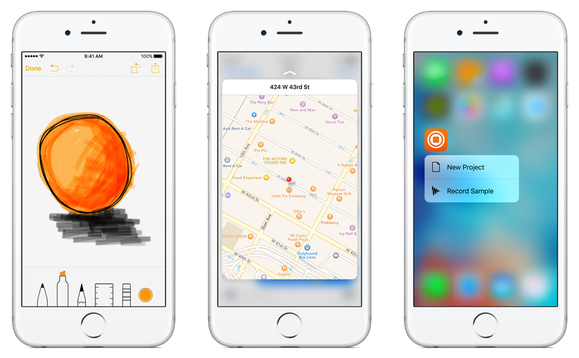 What is peek and pop and how does it work?
One of the new gestures supported by the 3D Touch display lets you "peek" into content without actually opening it, then "pop" in if you want to interact with it. This gesture works in apps like Mail, where a light press on an email will let you preview what it says, and a deeper one will let you pop in to deal with the message. Peeks require you to keep your fingertip on the screen—lift it up, and the preview disappears.
You can also use peek and pop to preview web links without launching Safari, check out and thumb through photos without opening and swiping, and check out an address without jumping into Maps.
You don't have to pop into a peek to interact with a piece of content like an email, though. You can also use a familiar gesture, the swipe, to deal with it. Swipe up when peeking into content to bring up a menu of shortcuts—for instance, in a web link preview, you can swipe up to see a set of options to copy that link, open it in a new tab, or add it to your Reading List for later viewing. In email, swiping left or right on a peek into a message will let you delete it or mark it as unread.
And what about quick actions?
3D Touch also unlocks menus of shortcuts with hard presses on home screen app icons. These quick actions could be anything—a hard press on the Camera icon pops up options to take a selfie, record video, record slo-mo, or take a photo, while a hard press on Messages lets you compose a new message right away. Apple showed off the new gesture with its native apps and a handful of chosen early partners, like Facebook and Instagram, but just opened a 3D Touch API to all developers who want to add quick actions to their own apps.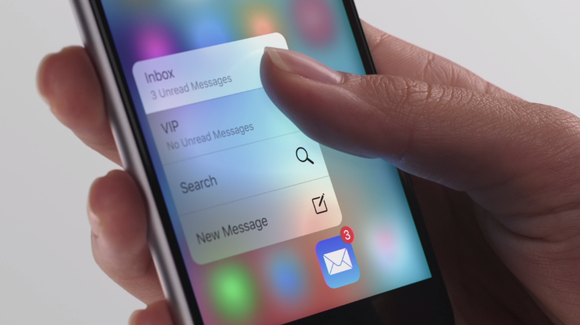 What else is 3D Touch capable of?
Peek and pop and quick actions are amazing new gestures, but that's not all the new iPhones' pressure-sensitive display allows you to do. Some other capabilities: A forceful press on a contact's profile photo anywhere in iOS 9—Mail, Messages, etc.—will pop up their contact details. In Notes, a light press in sketch mode will change the point to a finer one for writing or drawing, and a deep press will make the lines thicker. A deep press on the keyboard within apps in iOS 9 turns the keyboard into a trackpad. Use a forceful touch on the lefthand side of the home screen to see all of the apps you have open in multitasking mode, then swipe through until you find the one you want to use. A tap will open it.
How do the internals compare?
The new iPhones ship with Apple's new A9 processor, a 64-bit chip embedded with the M9 motion coprocessor. The M9 makes it possible for your iPhone to track your fitness with an accelerometer, gyroscope, barometer, and compass, and also supports the ability for Siri to remain always on. Just say, "Hey Siri" to summon her without needing to press the home button or plug your phone into a power source. The M9 will also add running and walking pace-tracking to the iPhone 6s and 6s Plus.
Embedding the coprocessor directly into the chip increases battery life, Apple says.
Do the new phones have better cameras?
Do they ever. The iSight camera (the rear-facing one) now takes 12-megapixel images, a huge jump of the previous generation's 8-megapixel camera. Apple also added a new sensor, image signal processor, and improved optical image stabilization for the highest-quality photos the iPhone has ever taken.
The new iPhones take advantage of the overhauled camera system with a new feature called Live Photos. When you take a photo using the 6s or 6s Plus, the camera will capture 1.5 seconds just before and immediately after snapshot is taken to make your photos more cinematic. With a press on the image, you can watch the scene come to life instead of just staring at a still. You can even make those Live Photos your iPhone wallpaper or your Apple Watch face.
That's not all. The 6s and 6s Plus now support 4K video-recording in 3840-by-2160 resolution at 30 fps. That's four times higher than the 6 and 6 Plus. Apple also added optical image stabilization to the 6s Plus camera for video, too.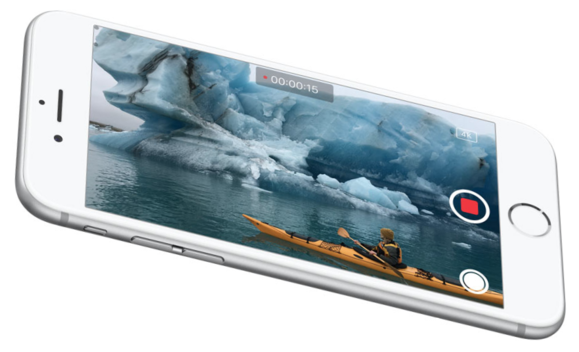 The new iPhones also get an upgraded FaceTime camera that shoots 5-megapixel photos with Retina Flash, a new feature that makes your display flash three times brighter for low-light selfies.
So Live Photos can live on my lock screen. What about animated ones?
The stunning animated watch faces that we first saw on Apple Watch are now coming to the iPhone with dynamic wallpapers in iOS 9. You can watch koi float effortlessly on your lock screen, or a smokey blue plume of smoke undulate. It's a small feature, but an impressive one that showcases the iPhone's gorgeous graphics.
Any changes to wireless capabilities?
The new iPhones support up to 23 LTE bands so your phone is just as fast when you're traveling abroad.
Let's talk about accessories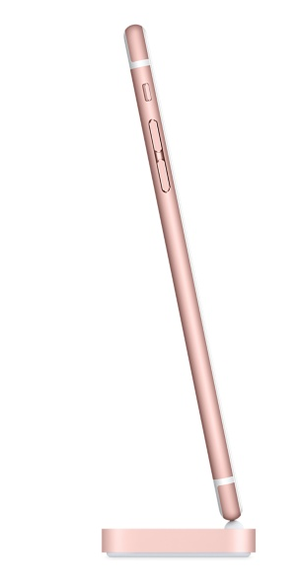 Will iPhone 6 and 6 Plus cases work on the new iPhones?
The 6s and 6s Plus are just a tiny bit thicker than last year's models, but that difference could be enough to make existing cases obsolete—at least when it comes to casing the new phones. But it really depends on the case manufacturer. Some companies, like Speck, have already clarified that their 6 and 6 Plus cases will work on the new phones. Others might be just a smidge too small, especially in the case of the 6s Plus, which isn't just thicker than last year's model: it's also taller.
Is Apple making new cases?
Of course. The company made five leather cases for each phone and a whopping 11 shades of silicone cases, too. The leather cases retail for $45 and $49 for the 6s and 6s Plus, respectively, and come in midnight blue, rose gray, saddle brown, brown, and black. The silicone cases are slightly cheaper at $35 and $39 for the 6s and 6s Plus. The color options are white, charcoal gray, stone, antique white, blue, turquoise, midnight blue, lavender, pink, orange, and a Product (RED) red case.
What about charging docks?
Apple is also making Lightning docks at $49 a pop, one to match each of the new iPhone's four shades: silver, gold, space gray, and rose gold. You could also mix and match if you want to live dangerously.
For way more information, check out our first look with both devices. In the meantime, shoot us some questions in the comments.