Apple Watch is looking better than ever, and now it will work better too, thanks to the release of its version 2 operating system next week.
The new features in watchOS 2 were revealed earlier this year, but now the OS has a shipping date: September 16. Apple also announced new Apple Watch bands and finishes, available today in 24 countries, and showed off a partnership with luxury-goods maker Hermes to bring its Double Tour bands—along with classic Hermes faces unique to those bands—to the Watch platform.
WatchOS 2 allows apps to run natively on the Watch and access hardware directly, such as tapping into the microphone, health sensors, and speaker. It can also display video, handle transit directions, and will offer new watch faces as well as third-party complications—the little details on watch faces, like moon phases. Time Travel allows using the digital crown to scan back and forth through past and future appointments and events.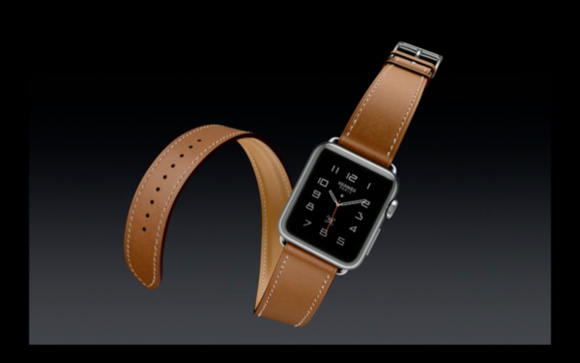 Apple showed two new finishes for the anodized aluminum Sport edition: gold and rose gold. And the popular black Sport band is now available for the higher-priced stainless-steel Watch model. These updates are paired with new colors of fluoroelastomer bands: lavender, antique white, stone, and midnight blue.
The Sport's silver finish model can now be purchased with orange and blue bands. The stainless steel Watch version also comes with new band options, including two-toned and saddle brown leather versions. And the popular black Sport band can now be ordered with the space black stainless steel Watch model. On the high end, a midnight blue Classic Buckle band is now an option for the 18-karat rose gold Edition version.
Apple also released a red Sport band branded with the Product(RED) label; a portion of its sales will be devoted to AIDS research via the Global Fund.
Several new colors of fluoroelastomer bands were also shown, including beige, brown, and shades of gray and blue. Special Hermes bands will appear in select stores in October.
Apple brought health-care firm Airstrip One on stage to briefly show off the capabilities of a physician-oriented Watch app that shows patient data, as well as an app that allows an obstetrician to pull up remote information, such as fetal heartbeat, when a pregnant woman runs tests with a supported monitor.
Apple CEO Tim Cook also quickly showed Facebook Messenger and a remote video view for GoPro cameras running natively on the Watch. He noted that the App Store now has over 10,000 Watch-enabled apps.