Apple's new iPhones don't look a whole lot different from last year's models, but the iPhone 6s and 6s Plus have a next-generation multi-touch display that Cupertino expects will change the way you use a touchscreen.
Apple CEO Tim Cook said the iPhone 6 is the company's most successful iPhone ever. How to top that? Well, the 4.7-inch iPhone 6s and 5.5-inch iPhone 6s Plus will have 3D Touch displays that are similar to the Apple Watch's Force Touch. A press will now unlock shortcuts in the apps you use every day, like Messages, Mail, Instagram, and more.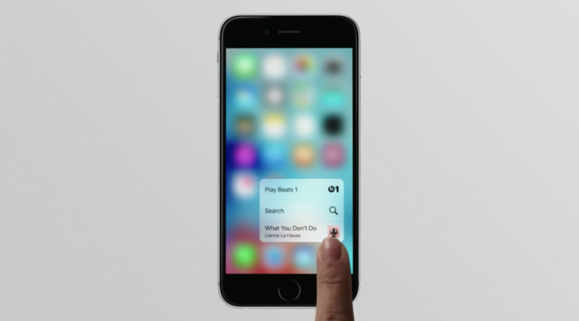 When you lightly press on an app on your home screen, a short list of shortcuts will pop up. For instance, using force touch on the camera icon will pop up a selfie shortcut. Facebook is using the feature to let you check in to a place or post a new status straight from your home screen.
Within an app, a light press will give you a preview of content you're trying to see without opening it, like an email or a photo. You can also preview web links, an address in Maps, or a calendar view from a day and time without actually launching Safari, Maps, or Calendar. This quick look feature will drastically reduce the time spent switching between apps, although iOS 9 also has a new app-switching feature that makes it simple to get back to the app you were in.
Apple calls these new gestures "peek and pop" and "quick actions."
A camera for the selfie generation
The iPhone's camera system is getting an overhaul that includes a 12-megapixel rear camera sensor, a 5-megapixel FaceTime camera with Retina flash for low-light selfies, and support for 4K video-recording. Schiller promised the new camera sensors won't degrade your photos' image quality.
One of the coolest new iPhone features is Live Photos, which some have compared to animated GIFs, but are really so much more. When you take a photo with the 6s or 6s Plus, the iPhone camera will also capture the moments before and after that still image was taken. When you press on the photo, you'll be able to see those few seconds, which will make your images seem alive—more like cinemagraphs than GIFs. And, of course, you'll be able to use those Live Photos as your Apple Watch face with watchOS 2.
The important details
Here's the quick rundown of everything Apple upgraded for its new phones: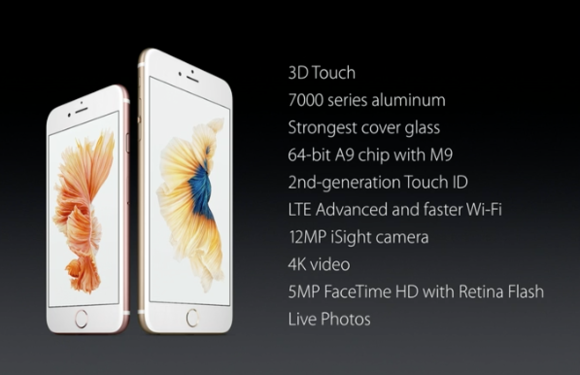 Both models are made of Apple's 7000 series aluminum alloy, the same stuff the Apple Watch is made of. The 6s and 6s Plus also have a stronger glass, and will come in rose gold, in addition to silver, gold, and space grey. They also feature Apple's new A9 chip, now embedded with Apple's M9 motion coprocessor.
The two phones will be available for pre-order on Sept. 12 and will go on sale Sept. 25 in 12 countries—the U.S., United Kingdom, Australia, Canada, China, France, Germany, Hong Kong, Japan, New Zealand, Puerto Rico, and Singapore—with more than 130 countries and 400+ carriers on deck by the end of the year.
iPhone pricing varies by carrier, though if you're planning to sign a two-year contract, the standard iPhone prices apply: The iPhone 6s starts at $199 for a 16GB model, and the 6s Plus starts at $299 for the same.
If you're planning to buy a new phone under an installment plan, prices start at $27 and $31 a month, respectively. Apple is also offering its own upgrade program for the first time, so you can buy an unlocked iPhone and choose your carrier starting at $32 and $37 a month for the 6s and 6s Plus, respectively. (Those prices are all U.S.-only.)
Check back later today for hands-ons with both new phones, and let us know your questions in the comments.