Last year's 80 Days was easily one of the most enthralling games released on iPhone and iPad, making our list of the top titles of 2014. However, the small indie team at Inkle had a grander vision than what we played on touch devices. Development ran months longer than expected, which can have dire consequences for a tiny studio moving nimbly between projects, so some of the more expansive content was curtailed and Inkle let 80 Days loose into the world.
Luckily, even a condensed version of the game—an interactive adaptation of Jules Verne's Around the World in 80 Days—was plenty excellent, and it seems to have done well for the studio. So when it came time to consider bringing the game to additional platforms, Inkle decided to "turn a problem into an opportunity," says creative director Jon Ingold, and create an expanded Mac and PC edition that would tap into all of those unused ideas.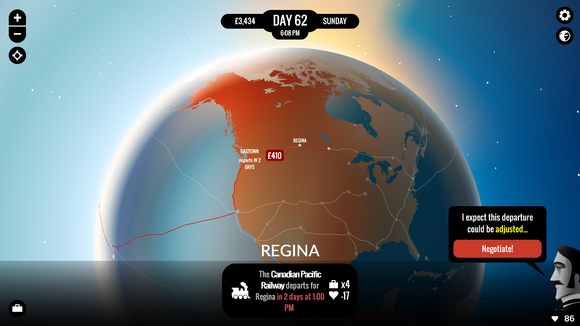 And it's coming soon: 80 Days will hit both platforms on September 29, bringing the super-sized narrative experience to desktops and laptops alike. We bent Ingold's ear further to talk about optimizing the experience for Mac, fleshing out the existing 80 Days experience, and when mobile players can chart their own refreshed quests.
More adventurous
80 Days puts a Victorian-era steampunk spin on Verne's novel, putting you in the role of Monsieur Fogg's valet, Passepartout. Although it's Fogg that makes the wager that he'll circumnavigate the globe in the daring span, the task is really yours to complete: You'll make all the decisions along the way, whether it's selecting from multiple routes (and forms of transportation), guiding conversations to open up new paths, or shaping the valet's own back story.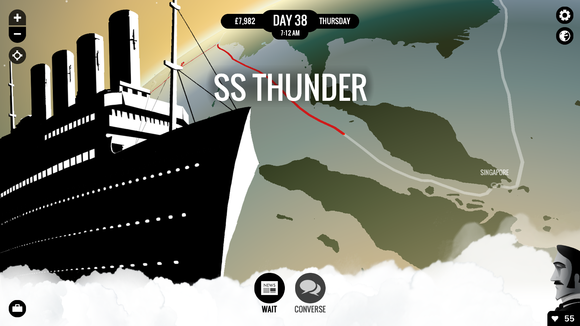 The experience falls somewhere between a choose your own adventure book and classic video game text affairs, but the most crucial detail is this: No two quests will likely be the same, as each deviation affects the outcome of your trip. Rich storytelling and intriguing dialogue choices keep things interesting throughout, while the ever-present deadline to return to London and win the bet adds incentive to continue pulsing ahead.
And now there's so much more to see and take in along the way. Ingold admits there were inconsistencies in the original game, where Inkle's need to ship the game resulted in fewer options than they would've liked.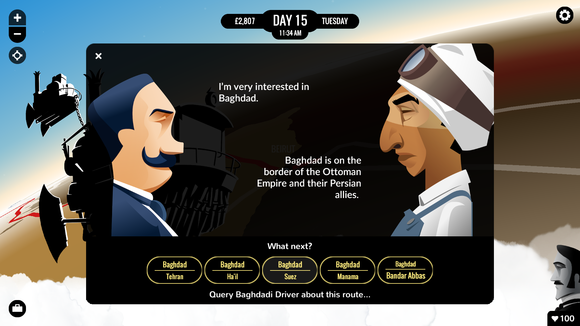 "There were big gaps in the map—most notably in North and South America, where we only had a few cities and ways to get across," he concedes. "We knew we wanted to fix that, and we also had some other ideas we wanted to get into the game. Jules Verne's work is full of inventions, challenges, and adventures, and we had a few more places we wanted the player to go."
Inkle already added a challenging "cheat" route through the North Pole last Christmas, but Ingold says the studio has a list of uncharted areas on its wish list. Canada is an obvious omission; Atlantis is a bit more out-there (and fascinating). All told, the new content adds 30 more cities to the mix, for a total of 170, which will help twist and extend the endlessly replayable quest in significant ways.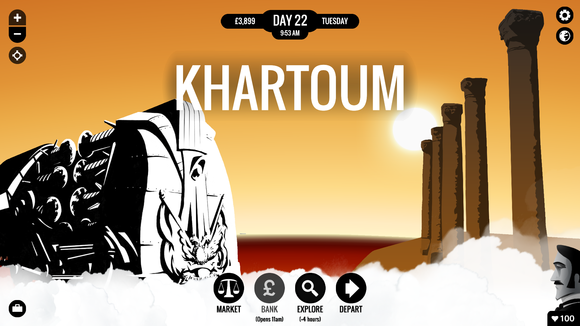 "There are new love affairs, new revelations, new short-cuts, and new risks. Some of the new storylines are massive, spanning the entire globe; some are little secrets and hidden outcomes," he explains. "So: Join forces with an international jewel thief; play poker with a billionaire; go over Niagara Falls; travel to the Moon…"
If reading all that makes you anxious as a fan of the iOS version, you won't have to wait for long: Inkle will release all of the extra content as a free App Store update just a few days after the Mac and PC version launches. Selling the desktop version will help cover the costs of developing the extra content, meaning mobile players benefit. "We didn't want to go down the [in-app purchases] route: paid updates aren't right for the game; they stop the player exploring freely," he affirms.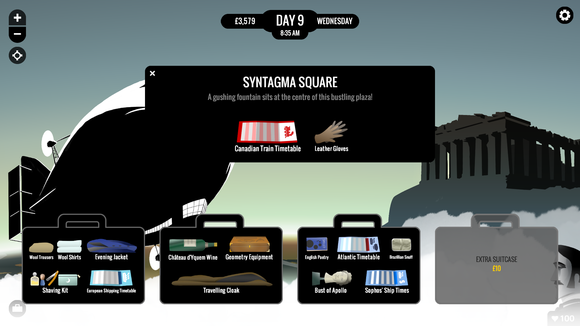 New journeys
While the core content is mirrored across platforms, bringing a game like 80 Days to computers isn't as simple as dumping the touch version on Steam. Not only are the interactions different on Mac, but so is the way you take in games: Viewing something on a large screen on your desk or in your lap is a lot different than a handheld device. That meant that Inkle—with help from Cape Guy Studios—had to reframe the existing game a bit to optimize it for Mac.
"Our biggest fear going into desktop platforms was, 'Do people want to read on monitors?' But of course, people read on their computers all the time—on websites, documents, and in games as well," Ingold says. "And that helped us realize that the important thing was to get the layout of the text right: To make sure it sits on the screen as comfortably as text in a magazine."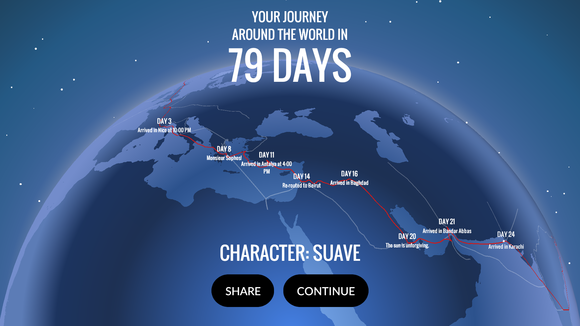 "Just as on the iPad and iPhone, it all comes back to a beautiful layout that gives the text room to breathe without losing its richness," he continues. "We approach laying out our screens almost like panels in a graphic novel—we don't want any of the walls of text you find in lore screens of RPGs, but we also don't want slow subtitles you see in games that players just want to skip through."
And the beautiful, minimal artwork from mobile will look even better on your bigger screen, thanks to upgraded lighting and shader effects that add a little more color and pop to the graphics. Furthermore, the move to Mac means adding optional complexities to the game, such as added information available in mouseover and hover states. On Mac, Inkle says the game has a little more room to breathe. "Tablet games have to be ruthlessly focused," he says. "If you put more than one or two things on screen at once, players start to get lost."
And 80 Days is only the start of Inkle's Mac ambitions. The studio's other well-received mobile series— Steve Jackson's Sorcery!, inspired by the 1980s fantasy gamebooks—will make the move over to Mac and PC later this year, with the three existing iOS games released episodically. Expect the entries to debut about a month apart once they complete the transition.
The computer versions aren't as far along as 80 Days, so the team isn't ready to share extensive details. However, Ingold says they're streamlining the experience and working to optimize the graphics, plus 80 Days composer Laurence Chapman is writing new music for Part 2. And when the fourth and final entry of Steve Jackson's Sorcery! is eventually released, Inkle intends to launch it for all platforms—Mac, PC, iOS, and Android—on the same day.
It's a tall task for a studio of three employees and various contractors, but embracing the Mac with 80 Days and soon Sorcery! opens Inkle up to bigger things in the future. "We founded Inkle to explore what new narrative experiences were possible on tablets and phones, and it's really satisfying to be bringing the results of those experiments back to more powerful desktop machines," asserts Ingold. "We've got some pretty ambitious ideas."