The iPhone 6s has a smaller battery than the 6, but Apple is promising your new phone will still last just as long on one charge as last year's model.
The 6s has a 1715 mAh lithium-ion battery, smaller than the 1810 mAh battery in the iPhone 6. Some intrepid Apple watchers noticed the change in the 3D Touch promotional video aired during Wednesday's "Hey Siri" event, MacRumors first reported. The video showed off the new 4.7-inch model's internals to demonstrate the Taptic Engine, which is brand new to iPhone and provides physical feedback to 3D Touch gestures.
To make room for the Taptic Engine, Apple had to physically shrink the iPhone battery size. We assume the same is true of the 6s Plus, though that phone's internals weren't seen in the video. The iPhone 6 Plus has battery capacity of 2910 mAh.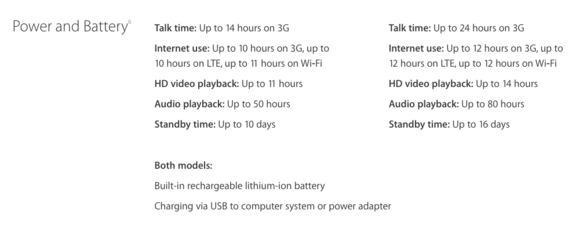 But Apple's iPhone 6s tech specs still quote up to 14 hours of talk time on 3G, up to 10 hours of Internet use on 3G, up to 10 hours on LTE, and up to 11 hours on Wi-Fi, with up to 11 hours of HD video playback and 50 hours of audio playback. Those specs match the iPhone 6's exactly. Is Apple fudging those numbers a little? Probably not. It's more likely that the company figured out a way to make its battery more efficient.
We'll put Apple's claims to the test when we get our iPhone 6s review unit, so stay tuned.