New iPhones, new iPads, new Apple TV—there wasn't a lot in this week's Apple event that wasn't expected, save perhaps the fine details of implementation here and there. But it's always interesting when there's something that wasn't telegraphed, and this time around that surprise was a brief mention of a new initiative from Apple towards the end of the presentation: The iPhone Upgrade Program.
This isn't the first time Apple has tried to put its own spin on the phone-buying process, but it might be the company's best attempt at doing so, and it points to an overriding philosophy where Apple wants to control as much of your experience as possible.
Changing ways
Eight years ago when the iPhone was released, it bucked the trend for the way phones were sold: You paid the full price of the phone upfront, rather than getting a lower cost subsidized by your wireless carrier. In exchange, Apple got an unprecedented cut of subscriber proceeds from its partner (then exclusively AT&T).
That way of doing things didn't last long: By the time the iPhone 3G came out in 2008, Apple had hopped on the carrier subsidy train like everybody else. Because as much as Apple wanted to avoid being dependent on the phone discounts provided by the carriers, it simply couldn't reach the broad, mainstream audience that it wanted to at that price point.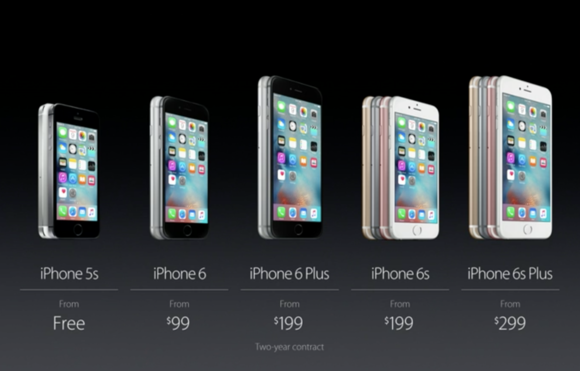 And now here we are again. As the pace of smartphone development has accelerated, most of the carriers have begun to offer frequent upgrade plans, so Apple has once again decided to take a stab at interposing itself between customers and carriers. Rather than handing over your monthly installment payment to AT&T or Verizon, Apple will gladly take it instead, and provide you with a new iPhone every year, plus its service plan AppleCare+. The benefit at the end of the day? Apple helps enable you to buy a new iPhone every year—which is great for keeping you on the hook of Apple's ecosystem, sure, but it also ensures that Apple will have a steady supply of used phones that the company can refurbish and sell off to new customers.
It might seem like letting customers upgrade every year takes money out of Apple's pocket, but it's a case of the bird in the hand. Apple has more or less locked you in for the foreseeable future, which makes it less likely that you'll decide to jump ship to another phone platform.
Not the only way
More to the point, though, the iPhone Upgrade Program is all about Apple controlling the experience with its customers. As I wrote in this piece, when I speculated about Apple running its own cell phone service:
Apple's a company that notoriously likes to control everything related to its business. In its earliest days, that meant creating both hardware and software to form an integrated whole, but in recent years, that's increasingly meant the whole shebang. A to Z. Soup to nuts. I mean, this is a company that hired metallurgists for the Apple Watch, invested heavily in a (now mostly defunct) firm to make sapphire glass, and, of course, launched its own hugely successful retail stores in an era when that seemed like pure folly.
While Apple may not be ready to embark upon the pain of re-selling cellular service, providing another way for people to buy iPhones makes a lot of sense in terms of establishing relationships with consumers.
This isn't the only place that Apple has made moves in this direction, either. Think about the fact that you can subscribe to Netflix or Hulu via your iTunes account on the Apple TV. Not only does it make the process simpler, but it also allows Apple to insert itself in that relationship. (Granted, it's tried the same thing with its in-app purchase rules, which I still believe to be a misstep on the company's part.)
Then there's the substantial rumors of Apple working on a streaming TV service, which would allow it to interpose itself once again between the content providers and the consumers—something it's already started to do with the Siri and universal search features in the new Apple TV: No need to directly access those apps to find the show you want, because you can do it all from the Apple TV's home screen.
The Apple experience
At the end of the day, Apple sells not just products, but an experience. And the more complex its product offerings get, the more it's forced to work with partners who may not put the same value on that great experience.
So in a way, Apple is providing an abstraction layer between consumers and these other companies, trying to bring a little of the vaunted Apple simplicity and elegance to the pain points that we all experience. It can't be everywhere, obviously, so it needs to pick its battles. And, in this case, if that happens to allow it to convert a few more people into devoted iPhone customers? Well, that's just gravy.