iPhone 6s and 6s Plus preorders started early Saturday morning, and as usual throngs flocked to Apple's website to reserve theirs as soon as possible. Despite some reported website glitches, however, customers snapped up the new rose gold iPhone models quickly, pushing shipment dates back for several 6s and 6s Plus configurations.
According to MacRumors, shipping times for 64GB and 128GB Rose Gold 6s Plus models for T-Mobile "slipped to 2-3 weeks very soon after pre-orders began." A quick look at Apple's online ordering page for the iPhone Saturday morning suggested that iPhone 6s Plus models are harder to come by than standard 6s models. Most iPhone 6s Plus models won't ship for at least 2-3 weeks as of this writing, while the lead time for for many Rose Gold 6s Plus configurations now sits at 3-4 weeks.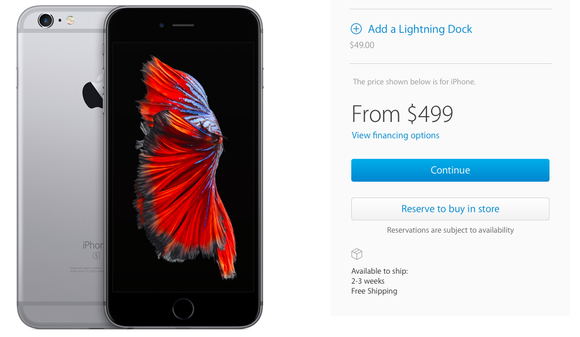 But while 6s Plus supplies are very tight, many iPhone 6s models are still available for delivery on launch day, September 25th.
Some ordering snafus
Any time you have massive amounts of people rushing to a website at once, you're going to have some problems, and this year's iPhone preorder overnight extravaganza was no exception.
Cnet reports that some prospective iPhone 6s and 6s Plus buyers couldn't place an order through Apple's website for over an hour, and were instead presented with messages to check back later. Others had no problems purchasing their phones once preordering began, however, so it's hard to say how widespread the problems were. Meanwhile, former Macworld editor and current iMore contributor Serenity Caldwell said on Twitter that the Apple Store app for iOS was "working as always."
Apple's site actually experienced some hiccups before preorders even began: Jason Snell at Six Colors and Stephen Hackett at 512 Pixels both noted that Apple's website was down for a time Saturday night: Visiting apple.com during the outage resulted in an "access denied" message. The site was back up and running in time for preorders to start, however.