Mike Kahn converted one iPhotos library to Photos in OS X. Now, every time he plugs in his iPhone, Photos launches, requiring him to quit and then launch iPhoto. He'd like to revert to iPhoto being the default choice.
Apple likes to hide its browser, mail, and iOS-attached launch preferences in funny places. You set your default browser in Safari, meaning you have to launch Safari to stop launching Safari in the future (Safari > Preferences > General, Set Default Browser); same with Mail and mail (Mail > Preferences > General, Default Email Reader).
Where do you find the find the photo-app launching preference? Not in Photos or iPhoto, as you'd expect! Instead, launch Applications > Image Capture, a very useful utility that can work with iOS devices, inserted SD cards, attached cameras, and networked scanners.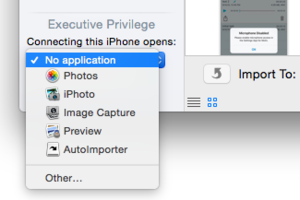 Attach your iOS device.
Select it in the left navigation bar in Image Capture.
At the lower left, you'll see your device's name, the message "Connecting This [description] Opens:", and a pop-up menu. (If that doesn't appear, make sure the tiny panel button at the extreme lower left has an arrow pointing up, not down.)
Choose your desired app or No Application.
For Mike, it should read Photos, and can be changed to iPhoto.
Ask Mac 911
We're always looking for problems to solve! Email yours to mac911@macworld.com including screen captures as appropriate. Mac 911 cannot reply to email with troubleshooting advice nor can we publish answers to every question.