Miranda wants to transfer photos from iOS to OS X. She asks, "I have an album of pictures I want to upload. Is there a way I can just upload the album?"
You'd think, right? And you'd be sadly wrong. If you're using iCloud Photo Library, all your albums and related settings are synced among devices logged into the same iCloud account that have the library feature enabled.
But if you don't, albums are peculiarly locked away through any built-in methods. This is a long-running complaint. Search on this topic on the Internet, and you'll find variations of this question spanning back years.
If you use a USB cable to connect your iOS device to a Mac, you can use iTunes to select the device and then in the left-hand navigation bar, select Photos. You'll see a list of photo albums to import, among other options. However, many users report this method doesn't preserve albums; for them, it imports the images without the organizational structure. (Also, your iOS device has to be set to sync photos with the computer on which you're running iTunes, which isn't always convenient.)
So if iCloud Photo Library and iTunes don't work for you, a third-party program is the only option. The aptly named Photo Transfer App from ERCLab fits the bill. The Mac side of the conduit is free, and the iOS app is $3 for a combined iPhone/iPad version.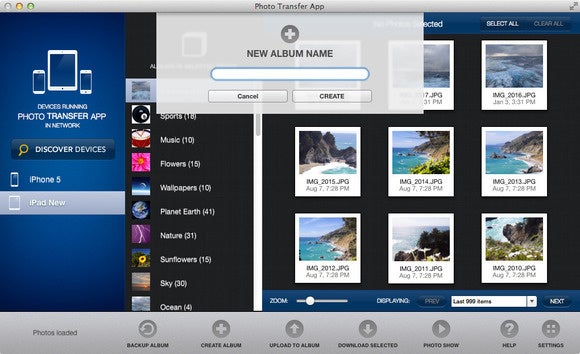 Photo Transfer App has a variety of features, including bidirectional wireless photo transfer (to and from a Mac or Windows system), as well as intra-iOS transfer (via Bluetooth). And it allows import and transfer of albums, preserving your photo selections.
Ask Mac 911
We're always looking for problems to solve! Email yours to mac911@macworld.com including screen captures as appropriate. Mac 911 cannot reply to email with troubleshooting advice nor can we publish answers to every question.