Several readers have asked about what appears to be a missing feature in Pages 5 compared to the previous version: finding special "invisible" items, such as tab, a carriage return (at the end of a paragraph), page break insertion, and the like. It seems like you can type a space character in the Find dialog (Edit > Find) and nothing else that can't be seen.
Apple seems to emphasize this in its online help: "All visible content in the document—the main body text, headers and footers, tables, text boxes, shapes, footnotes and endnotes, and comments—is included in the search." Visible content, it says.

It's often useful to be able to search against hidden characters in documents you receive from elsewhere, where you need to remove extra line returns, tabs, spaces, or other oddities that would be time-consuming to hunt and fix by hand.
However, there is a non-obvious workaround in Pages 5 to find those critters, and a second alternative if it's really bothering you.
First, how to get around this within Pages 5:
Turn on Show Invisibles to make it easier to type and find what you want to change (View > Show Invisibles). (Each character has a special symbol; see Apple's formatting help page for the full rundown.)
In the body of the file, type the special characters or sequences you want to search on.
Select that character or those characters.
Choose Edit > Find > Use Selection for Find.

Now the Find dialog has that sequence in its Find field, even though it's both invisible and can't be modified. You can see that it works by the found count in gray at the right side of the Find field.
The other option is to leave Pages 5 entirely.
Choose File > Export To > Word.
Launch Applications > TextEdit, a largely hidden powerhouse of text-editing help built in to OS X and the NeXT's OSes before it.
Open the exported file; TextEdit can natively handle Word files.
Chose Edit > Find. A Find field appears at the top of the window.
Click the magnifying glass and choose Insert Pattern. You can now select from a variety of special, invisible characters.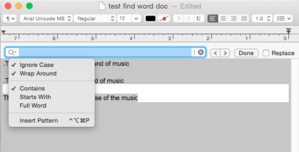 You can edit directly in the file and when you save, it updates in Word format. You can then open that file directly within Pages 5 when you're finished. You may have to mess a bit with formatting after this round-trip.
Ask Mac 911
We're always looking for problems to solve! Email yours to mac911@macworld.com including screen captures as appropriate. Mac 911 cannot reply to email with troubleshooting advice nor can we publish answers to every question.