You'll probably have updated your iPhone or iPad to iOS 9 by now, and I expect to have a flurry of questions about using iTunes and the iOS Music app with the new operating system. In the meantime, I explore three questions related to managing iTunes libraries and content in this week's column. And I end the column with an intriguing question about unexpected volume changes on an iPhone, whose resolution was surprising.
Playlist view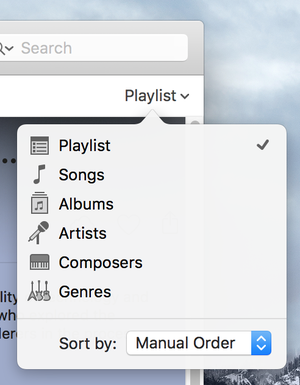 Q: In iTunes 12, some of my playlists look different from what I'm used to. Instead of a series of columns with headers, I only see song, artist, and album names, the genre, and the duration of tracks. How can I get the old playlist format back? I want to be able to see all of my playlists as they were previously, and not in the newer format.
As you say, this is a new view added in iTunes 12. I discussed the various views in a recent article. In your case, you want to choose Songs view, rather than Playlist view.
Unfortunately, iTunes doesn't let you set this as a default for new playlists; when you create a new playlist now, it defaults to Playlist view. You'll have to change the views manually for every playlist you create.
Ripping CDs without iTunes
Q: Is there any way that I can rip a CD to a destination folder other than the Music folder in my iTunes media library? Is there any way that I can keep iTunes from automatically adding the ripped tracks to my iTunes library? I don't allow iTunes to organize my music library, I don't store my ripped or downloaded music in my iTunes media library, and I don't automatically add all of my music to my iTunes library. It's cumbersome to rip a CD and then have to manually move the files to their proper home and then delete them from iTunes.
You've hit on something that can be a bother. But I think it works like this to make iTunes easy to use. Most users do want iTunes to organize their libraries, since it relieves them of the annoyance of having to worry about such things. I understand that some people don't want this, and have very good reasons to do so.
I can offer two possible solutions. The first is to rip your CDs with a different app. I wrote an article about ripping CDs without iTunes a few years ago; I strongly recommend the free XLD on OS X.
However, if you use an app other than iTunes, you don't have access to the Gracenote database for metadata, or to downloaded album artwork from the iTunes Store. So what you could do is rip the CDs in iTunes, then, select one of the tracks and press Command-Shift-R, or right click and choose Show in Finder, to display it in the Finder. Press Command-up-arrow to move up to the folder containing the album.
You can copy this to a different location, and then go back to iTunes and delete the files. This is cumbersome, as you say, but if you like the advantages of ripping in iTunes, it might be the best solution.
Shelving audiobooks
Q: I have over 300 audiobooks in iTunes. Is there a way to move them to storage on my iMac and out of iTunes and still be able to return them to iTunes later?
Sure, that's what I do. You could do this in two ways. You could go to the Audiobooks folder, which is in your iTunes Media folder. Copy the books you want to move, then delete them from your iTunes library. If you want to remove all your books, then just copy the entire Audiobooks folder; if you only want to copy some, then select the ones you want to copy.
The other option is to create a folder in the Finder, anywhere on your Mac, and open that folder. Go to your Audiobooks library in iTunes, and select all the books you want to move. Drag them to the open Finder folder; the Finder copies them. Delete them from your iTunes library.
If you want to add any of them to your iTunes library later, just drag them to the iTunes window.
One important point. If you've bought these audiobooks from the iTunes Store, then make sure you have backups, since Apple doesn't let you re-download them. If you've bought them from Audible, however, you can always re-download them from the Audible website. So you might not even need to save them outside your iTunes library if that's the case.
Why is my music volume going haywire?
Q: After playing a few songs at normal volume on my iPhone 5c, my music randomly drops to half volume. If I let it play for a few seconds, then skip back to the start of the song, the volume usually returns to the correct level, but if I skip ahead, it drops again. Any ideas?
I get lots of stumpers, and this one had me scratching my head. I corresponded with the reader who sent in the question, trying to figure out if it was a problem with his iPhone's headphone jack or something else. He eventually figured out that it had something to do with the Facebook app running in the background. When he quit the Facebook app, the volume stayed at the correct volume.
Truth is sometimes stranger than fiction…