Cloud storage services have alleviated many complications for users, but convenient access to those files often comes with an entirely different set of headaches. Drag-and-drop to and from a web browser isn't very reliable, while installing desktop applications for each service winds up taxing even the fastest of systems.
For only $50, ExpanDrive is the more common-sense choice: Multiple cloud services which can be mounted as readable, writeable drives on your Mac, visible from the Finder and other applications alongside locally-attached storage devices.
Mount up
ExpanDrive 5 offers an impressive list of services, including heavyweights like Dropbox, Google Drive, and Microsoft OneDrive, as well as FTP/SFTP, Amazon S3, and WebDAV. With the latest version, Amazon Cloud Drive joins the fold, making this an ideal solution for taking advantage of the e-tailer's generous $60 per year unlimited storage.
From the menu bar, the Drive Manager window displays a list of added services. Each can be set to mount at startup, or manually connected with the options at right. The magnifying glass button opens the drive in the Finder, although ExpanDrive does this by default when connected (this can be turned off in Settings).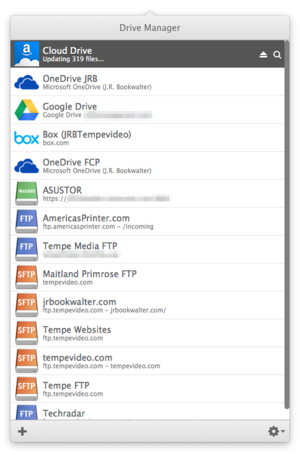 Cloud storage drives appear on the desktop with a traditional silver drive icon, while others are color-coded by type—blue (FTP), red (SFTP) or orange (WebDAV), for example. A slightly different, inconsistent color scheme is used in Drive Manager, but each service can be assigned custom nicknames to avoid confusion.
Once mounted, ExpanDrive volumes act pretty much the way you'd expect: Files can be dragged and dropped or previewed using QuickLook, and you can create new folders or rename existing ones. Naturally, how fast this happens depends upon your internet speed, but ExpanDrive proved exceptionally peppy on my 50 Mbps down connection.
Rebuilt for speed
ExpanDrive's multi-threaded connection engine makes nearly everything responsive while maintaining optimal system performance. There are exceptions: The Finder hangs for short periods while copying files to a Dreamhost SFTP server when the window is open. (ExpanDrive promises big FTP improvements ahead with a free 5.1 update.)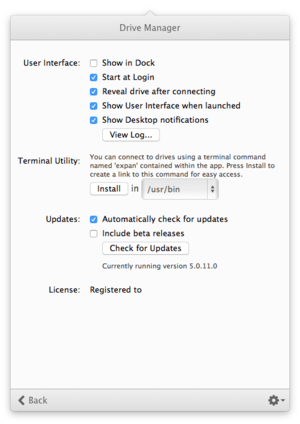 Earlier versions relied on the trouble-prone MacFUSE to do the heavy lifting, but ExpanDrive 5 now works independently, with full 64-bit support. The company calls it a "near-total rewrite" of the application's core functionality, clocking in at up to 10x faster experience in many cases—with the most popular services, the difference is dramatic compared to previous versions. ExpanDrive also now automatically resumes interrupted transfers next time you're connected, a convenient addition for MacBook owners on the go.
Transfers appear to happen within seconds, but are actually uploaded in the background, similar to the behavior of official client applications like Dropbox. While uploading or updating, ExpanDrive displays a small sync indicator in the lower right corner; the current status is also shown in the Drive Manager window. Services like FTP currently transfer in real time, displaying a Finder progress bar throughout the entire process like local drives.
This is the most impressive version of ExpanDrive in the seven years I've been using it, and the developers move quickly to stomp out any bugs that may arise—no small feat when dealing with such a diverse variety of services. I did experience an issue where Amazon Cloud Drive would only display the first 200 files, but a fix is already in place with the latest update. One last gripe: I'm really not a fan of the new "starfish" branding—bring back the old icon, please!
Bottom line
ExpanDrive 5 adds Amazon Cloud Drive to its arsenal of popular cloud storage and servers with the fastest and most reliable version to date.