iCloud just got cheaper. Apple announced price cuts September 9, but they went into effect for new subscribers on September 16. Apple still includes a paltry 5GB at its free tier, but it bumped its first paid tier at $0.99 per month from 20GB to 50GB. (Prices vary worldwide, and aren't a straight conversion, as with most Apple fees.)
The 200GB tier is now $2.99 a month, a dollar cheaper than before. Apple dropped the 500GB tier entirely, but slashed the price for 1TB by $10 a month: it's just $9.99 a month now. Subscribers at the 500GB tier are automatically upgraded to 1TB since the price is the same. You can downgrade or upgrade via Settings > iCloud > Manage Storage > Change Storage Plan or Buy More Storage.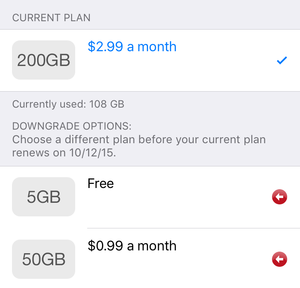 The new prices make Apple's storage more in line with competitors like Amazon, Dropbox, Google, and Microsoft (see chart). None of the other services can handle automated iOS backups, but all have various options for photo uploading and synchronizing and local file access through iOS apps.
Pricing chart
| | Apple | Amazon | Dropbox | Google | Microsoft |
| --- | --- | --- | --- | --- | --- |
| Name | iCloud | Amazon Cloud Drive | Dropbox | Google Drive | OneDrive |
| Free tier | 5GB | None | 2GB (more available if you refer friends) | 15GB | 15GB |
| Unlimited photos | | $11.99 per year (Prime users get this free, plus 5GB for other files) | | Free (photos above 16MP downsampled) | |
| Unlimited files | | $59.99 per year | $15 per user per month (Dropbox for Business) | | |
| 50GB | $0.99 per month | | | | |
| 100GB | | | | $1.99 per month | $1.99 per month |
| 200GB | $2.99 per month | | | | $3.99 per month |
| 1TB | $9.99 per month | | $9.99 per month or $99 per year | $9.99 | $6.99 per month (includes Office 365 subscription) |
iCloud control
iCloud storage can be used for iOS backups, iCloud Photo Library, iCloud Drive, email, and other less-storage intensive purposes. iOS backs up data, but not apps, and you can manage which apps back up their data in Settings > iCloud > Storage > Manage Storage by tapping a device.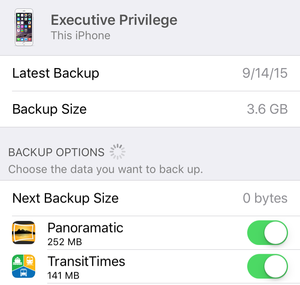 Photos may count against storage in one of two ways. With iCloud Photo Library enabled, each connected iOS and OS X device's photos don't count against storage, but rather only the entire master, full-resolution set stored on Apple's servers. Without iCloud Photo Library, all locally stored photos are backed up unless you've disabled Photo Library in Manage Storage. You can use iPhoto, Photos, or Image Capture, among other tools, to sync or copy and delete photos from an iOS device. (My Photo Stream also never counts against storage totals.)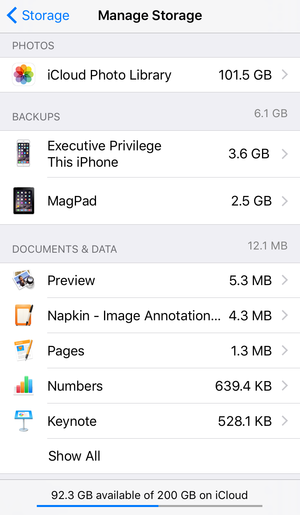 Existing subscribers start paying the lower price at their next renewal. There's no prorated refund for part of the current billing cycle.