With the iPad Mini 4, Apple is continuing its trend of downsizing the battery without downgrading battery life.
That's one of the main takeaways from iFixit's teardown of the iPad Mini 4 . Apple's latest 7.9-inch tablet uses a 5,124 mAh single-cell battery, compared to a 6,471 mAh double-cell battery on the iPad Mini 3. Despite the size difference, Apple still promises the same 10-hour battery on Wi-Fi model, and 9 hours on cellular networks.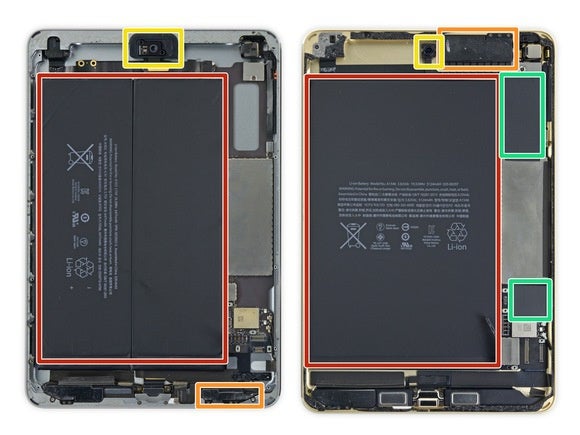 The smaller battery is one reason the iPad Mini 4 is 18 percent thinner than its predecessor at 6.1 mm (for the Wi-Fi model), and 12 percent lighter at 0.65 pounds. A new laminated display with anti-reflective coating—same as Apple's iPad Air 2—also helps the new Mini slim down, though iFixit notes that it raises the cost of repair as well.
iFixit's teardown also confirmed that the iPad Mini 4 has 2GB of RAM, up from 1GB on the iPad Mini 3. This makes sense given that the iPad Mini 4 supports all multitasking features in iOS 9; you'd definitely want more memory when running two apps side by side. With the boost in RAM, the new Mini is similar in tech specs to the iPad Air 2, but not equal. Recent benchmarks by Ars Technica found that the Air's tri-core A8X CPU is about 50 percent faster than the Mini 4's dual-core A8.
Aside from the battery and RAM differences, iFixit didn't come up with any other major revelations about the iPad Mini 4, though it is worth noting that Apple had to move some things around inside. One of the Mini's antennas, for instance, is now at the top of the device, where it sits next to a considerably smaller FaceTime camera assembly.
The story behind the story: Apple's ability to reduce battery size at no apparent cost to runtime is impressive, but hardly limited to the iPad Mini 4. Both the iPad Air and iPad Air 2 had successively smaller batteries, while maintaining the same 10-hour battery life and even boosting performance. The same is apparently true of the iPhone 6s, which has a 5 percent smaller battery than the iPhone 6. When Apple talks about hardware and software working together, this is one of the most noticeable benefits.