I recently answered a reader's question about sorting out which app on his iPhone was prompting him for an account password. This can happen when you use a bypass to install—legitimately!—on your iOS device an app purchased by someone else. You can use that app, but iOS may prompt you to enter the Apple ID password for the account that bought it.
Reader jslove proffered a great solution in the comments that I need to bump out into a full article, because it's an actual answer. What jslove noted is that in iTunes in OS X, you can select a synced or downloaded app and view the purchaser's information.
Here's how to go through apps methodically to see which were purchased by someone else and then remove those from your iOS device. This only works with iOS devices synced to a copy of iTunes, so you either need to set up sync to find this information or use the copy of iTunes you've already set up to sync with the device.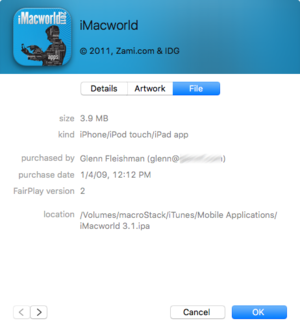 Launch iTunes.
Connect your iOS device and sync it with iTunes.
From the ••• menu at upper left, choose Apps.
From the upper right, where it says Apps, click and select App List. This view is required to step through apps.
Select the first app in the list, and choose File > Get Info (or press Command-I).
In the info dialog, click File. You'll see an entry for Purchased By that contains the buyer's details.
Click the right arrow at the bottom to step through every app until you find all the ones that aren't registered to your Apple ID. Delete each one from iOS as you find them. (This arrow doesn't appear except in App List view.)
Thanks, jslove!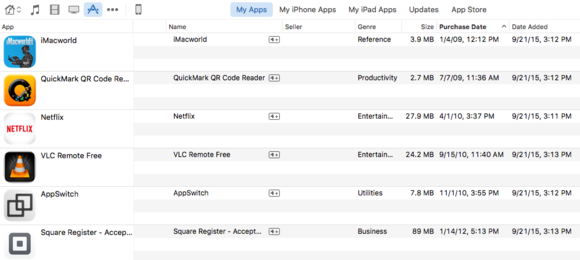 Ask Mac 911
We're always looking for problems to solve! Email yours to mac911@macworld.com including screen captures as appropriate. Mac 911 cannot reply to email with troubleshooting advice nor can we publish answers to every question.