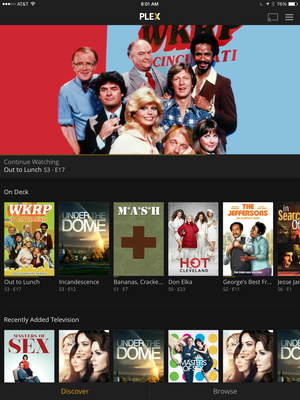 When it comes to media player apps, many stream content from the cloud, while others require users to transfer files directly to the device. Plex ( App Store link is different breed of player, one that creates a personal cloud securely hosted on a computer or network-attached storage (NAS) device at home. If you're already converting discs into digital files, Plex organizes this media with beautiful artwork and metadata, then serves it up for playback from nearly anywhere.
You've been served
By itself, Plex for iOS doesn't do a whole lot aside from casting the contents of your Camera Roll to other client apps on Android smartphones and tablets, Roku, Amazon Fire TV, game consoles, or late-model smart TVs. There's also no way to directly sideload content like other media player apps.
Instead, the universal app requires free Plex Media Server software running on the Mac, Windows, or Linux PC where content is stored, or an NAS from one of nine different manufacturers including Synology and WD. (You can also mix-and-match—I use a NAS mounted on a vintage mid-2007 Mac mini, for example.) Once installed, the server can be managed from any web browser, where users set up libraries for Movies, TV Shows, Music, Photos, or Home Videos.
This process is as simple as pointing the server to where local media files are stored, although there are plenty of settings available for advanced users to tinker with. The software automatically indexes and organizes content in the background, downloading relevant artwork and metadata from a variety of internet sources. (Worth noting: DRM-protected content and disc images/folders are not supported.)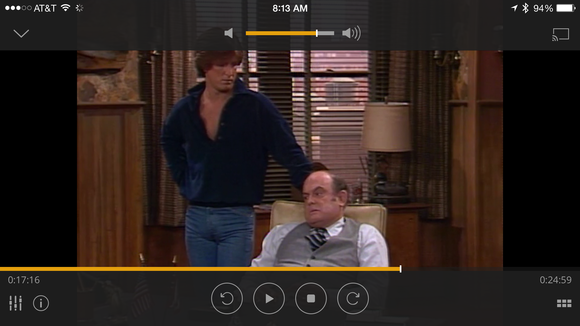 Plex secures all communication using SSL certificates and encryption; remote connections are streamed through your home broadband connection, but can be converted on-the-fly to conserve bandwidth. The server also keeps track of what you've been watching, making it easy to resume or dive into the next episode of a TV series.
Pay to play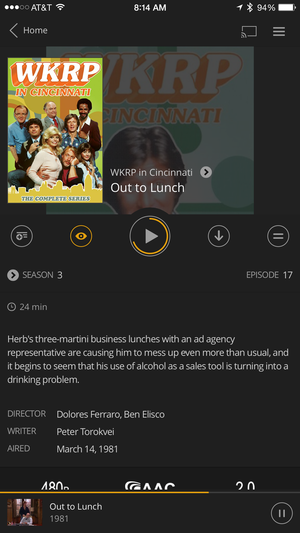 There's never been a better time to try Plex for iOS since the app is now free. However, in this case, "free" is really more like a feature-limited trial, since full access to the core functionality requires a $5 in-app activation. (That fee doesn't apply for those who own a previous version.)
The free version allows casting from your Media Server to other Plex apps, but limits same-device video and music playback to only a minute. It's a fair compromise considering the amount of backend work required to maintain the ecosystem, but the absolute best experience comes with a subscription.
Available in monthly ($5), annual ($40), or lifetime ($150) flavors, Plex Pass is completely optional, but adds a ton of premium benefits including managed accounts for other members of the household (great for keeping kid's shows out of your queue), offline sync for mobile devices, the ability to wirelessly upload camera content, and free access to all apps, including early releases.
The makers of Plex aren't exactly pocketing all the activation and subscription income—some of that money now goes to metadata providers like Rotten Tomatoes, whose movie ratings (and soon, full reviews) are now displayed in the iOS app. Plex Pass subscribers can also generate automatic music playlists using Gracenote metadata, along with access to movie trailers and more than 140,000 music videos from VEVO.
Discover and browse
In recent months, Plex has been preoccupied updating other apps with improved browsing and discovery, often at the expense of the iOS version. I'm happy to say this situation has been fully rectified with the latest release, which offers new features like a mini-player that allows viewers to browse other content while the current video continues playing in a small window, similar to the YouTube app.
With the 4.0.1 update, Plex also splits the iOS home screen into separate Discover and Browse tabs for faster access to recent content. The former contains the same On Deck, Recently Added, and related categories, along with a large Continue Watching banner across the top for picking up where you left off.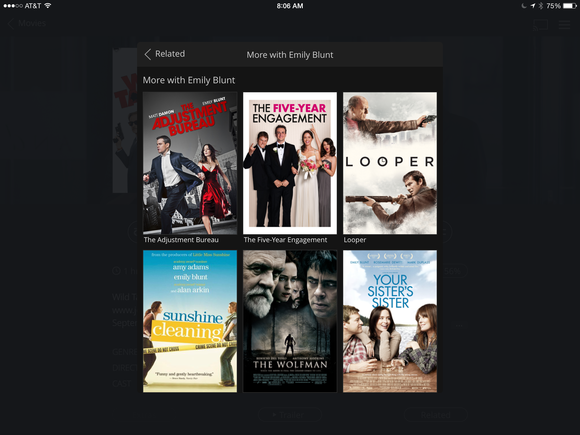 Other categories like libraries, Playlists, and Channels (plug-ins added from the web app which deliver free streams from web providers like Apple Movie Trailers) can now be found consolidated into the Browse tab instead. Individual movies feature a new option to display related titles from your library, along with easy access to other content from the same genre, director, or stars.
Plex 4 also now parses chapter information from videos, making it easier to jump to specific scenes, and finally speeds up the process of syncing content (including entire playlists) to mobile devices for offline playback. Last but not least, you can now view or listen to partially synced files—no more leaving home with useless half-downloaded content.
Bottom line
Assuming you already make digital versions of packaged media or want to be able to view personal media from anywhere without storing it in the cloud, it doesn't get any better than Plex for iOS. It's worth $5 to unlock core features, but the absolute best experience comes with a premium subscription.