When Information Architects released their Mac app iA Writer nearly five years ago, it was one of the first distraction-free text editors. When I did a round-up of text editors in 2014, iA Writer was my top choice because of its simplicity.
Information Architects later released Writer Pro, an app that I found confusing, and that I felt contained some needless features. The company has now backtracked, returning the app to its minimalist origins, with iA Writer 3 ( Mac App Store link), which restores the simplicity of the original app while retaining some of the additional features of Writer Pro. (If you already own Writer Pro, iA Writer 3 is a free upgrade from the Mac App Store.)
This type of text editor is for people who don't need the complexity of full-fledged word processors, with their buttons, ribbons, and menus full of complex commands. Many people use Markdown with this type of text editor. This is a simple markup syntax that can be easily converted to various formats; iA Writer can export files in HTML, RTF, PDF, or Microsoft Word formats.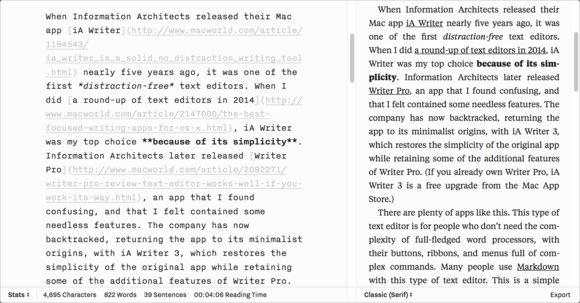 If you're familiar with both the original iA Writer and Writer Pro, think of this version as being the middle ground between the two. Gone are the four confusing modes of Writer Pro, with their different typefaces and displays; here you'll find just two views: the editor, where you type; and the Preview pane, which slides out from the right side of the window, where you can read your text in one of three styles.
iA Writer 3 offers a number of features one has come to expect from this type of app: full-screen mode, typewriter mode (the window scrolls to keep the text you're typing in the center), focus mode (everything but the sentence you're writing is dimmed, though I'd prefer the option of focusing on paragraphs), night mode (a dark theme), and excellent Markdown support.
iA Writer 3, like its predecessor, lets you work in any font you like, as long as it's Nitti Sans. Information Architects founder Oliver Reichenstein told me that "we use a monospace typeface because we want people to slow down, it makes you focus on what you're writing." And that is what has always attracted me to iA Writer. Instead of overwhelming users with options and settings, it helps you stay focused on what you're writing.
A status bar at the bottom of the window can show statistics, a Markdown formatting bar, or a Syntax bar. This latter feature lets you view all the nouns, verbs, adverbs, verbs, or conjunctions in your text, and works with English, French, German, Spanish, and Italian. You can use this tool to find out if you use one part of speech too often. It's not flawless; it flags some words incorrectly, but for the most part it's accurate. I don't find it useful, but, according to Information Architects, many of their users do like it.
Since there is also an iOS version of iA Writer, the app uses iCloud to store files by default. This presents some issues, and, if you only use the app on a Mac, you may want to simply use local files. iA Writer doesn't offer direct access to the OS X filesystem in its Library (this is planned in a future update), but you can open files from the Open dialog, or drag files onto the iA Writer icon to work with them. You can view your iCloud files in the Library, which is a left-hand sidebar that you can hide or display, and you can also choose to sync to Dropbox. This Dropbox sync does not use your local Dropbox folder; files sync directly to Dropbox's servers, without needing the Dropbox app installed.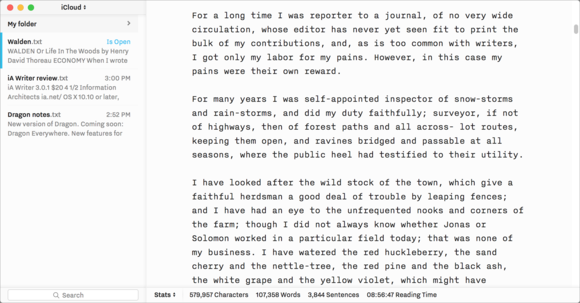 I miss the status bar from the original iA Writer, which had both formatting commands and statistics; I need to see stats most of the time when writing, and I did use the formatting bar from time to time. But formatting commands are also available from the Format menu, or by pressing keyboard shortcuts. I do need to be able to work on local files, since I don't trust iCloud, and I look forward to that being added to the app soon.
Bottom line
iA Writer 3 is one of those apps that you'll either love or hate. If you appreciate its attention to typographic detail, and if you want a text editor that gets out of the way, then it might be for you.