While WatchOS 2 is a fine leap forward for the Apple Watch , like many software updates, it can cause problems for some users.
I've experienced this first-hand with my Apple Watch, which was unable to install certain native apps after upgrading to watchOS 2. These apps would begin to install, even showing an icon on the Watch's home screen, but would then get stuck halfway through the process and eventually disappear.
The good news is that the problem is fixable, but it may take some time and effort. In my case, only a full reset of both the Apple Watch and my iPhone 6 Plus did the trick.
With numerous other users experiencing their own app install problems on the Apple Watch, it's always possible that Apple will issue a patch. In the meantime, here's what you can try to get those apps up and running:
Option 1: Uninstall, reinstall
Your first troubleshooting attempt should be the least burdensome. Open the Apple Watch companion app on your iPhone, and scroll down through the My Watch section to the app you're trying to install. Tap on this app to see the "Show App on Apple Watch" toggle. Flip the switch to off, wait for the app to finish uninstalling, then toggle it back on again.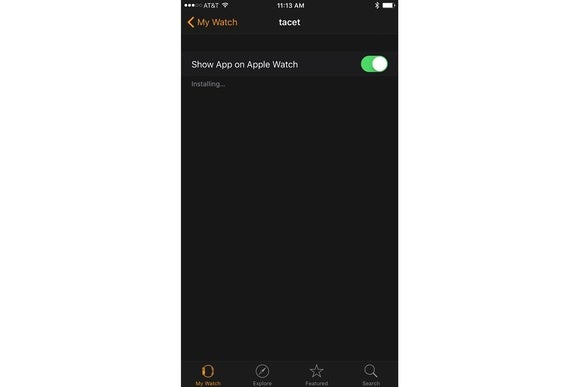 This did not work for me, but iMore has reported success in the previous version of WatchOS, so it's worth trying as a noninvasive procedure.
Option 2: Unpair and reset your Apple Watch
This approach takes a bit more time, but still carries little risk of losing any data. Start by opening the Apple Watch companion app, then select Apple Watch from the top of the My Watch menu. Select the "Unpair Apple Watch" option.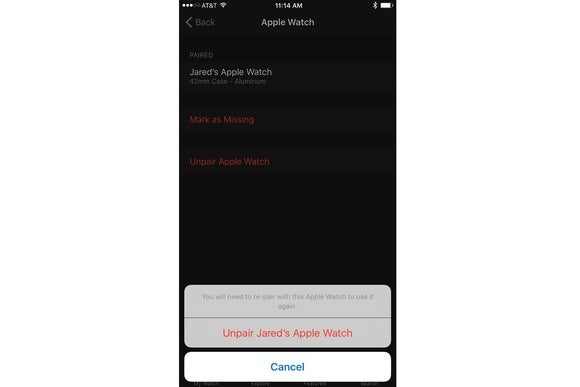 Keep in mind that this will wipe out all data from the Apple Watch, but it also automatically creates a backup of that data on the iPhone. (If you're feeling anxious, you can make a backup of your iPhone using iCloud.)
Once the reset is complete, set up your Apple Watch again. Along the way, you should see an option to restore it from backup to get all your apps and settings back.
The Nuclear Option: Reset both your iPhone and Apple Watch
Failing a reinstall of the troublesome apps and a full wipe of the Apple Watch, your last option is to reset both your Apple Watch and your iPhone. Again, this is the only solution that worked for me, and it has also apparently worked for one user on Apple's support forums. But it does involve wiping your phone's data and restoring from a backup, and is also fairly time consuming.
Before proceeding, you must be sure to back up your phone to avoid wiping all your data. The easiest way to create a backup is using iCloud. Go to Settings > iCloud > Backup. Make sure you're connected to a Wi-Fi network and the iCloud Backup setting is turned on, and select Back Up Now. Wait for the process to finish. You can also back up to iTunes, following the instructions on Apple's website. Just make sure to select the " Encrypt iPhone backup" option if you want to save Health and password data.
Once you're backed up, open the Apple Watch companion app, select Apple Watch from the top of the My Watch menu, and unpair the device. Then, open your iPhone's Settings app, and go to General > Reset > Erase All Content and Settings, and wait for the reset to run its course.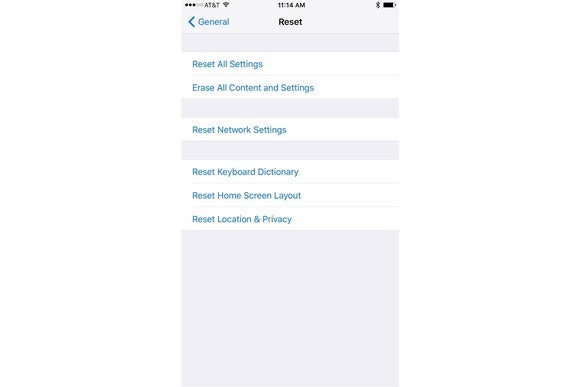 Set up your iPhone again, making sure to restore your backup from iCloud or iTunes, per the instructions on Apple's website. After the iPhone is up and running, open the Apple Watch companion app and set up the device. You should see an option to restore the Watch from a backup, or you can start from scratch.
Keep in mind that there aren't a whole lot of native apps for WatchOS 2 right now anyway, so it may be best to wait for a fix from Apple. But if you've already found something that you can't wait to try, the nuclear option of resetting your iPhone and Watch is at least confirmed to work.