Free-to-play games often look appealing, but it's difficult to know at a glance whether the business model is insidious and fun-ruining, or reasonable and worth pumping a few bucks into. With Freemium Field Test, we'll take a recent free-to-play iOS game, put it through its paces, and let you know if it's really worth your time (and money).
We're excited to see what Nintendo does with its first smartphone and tablet games next year, but… well, one of the company's best-loved franchises is already on the App Store. Even though The Pokémon Company is owned by Nintendo, it has a strange level of autonomy from its parent—so the company just brought free-to-play puzzler Pokémon Shuffle to iOS devices.
It's not even the first Pokémon game on the App Store; last year saw the release of Pokémon: The Trading Card Game Online. But Shuffle sees the series chasing a trend this time around: It's a breezy match-three puzzler built in the mold of Puzzle & Dragons, albeit with actual Pokémon instead of obvious knockoffs. Shuffle may not be particularly original, but it is surprisingly enjoyable—because it has the charm of Pokémon, but without the rougher edges of many freemium games.
The pitch
Pokémon Shuffle actually debuted first on Nintendo 3DS with the same freemium model—and many fans revolted. That's no surprise: they're used to pricier games where you pay once and get the entire experience, and paid games are almost always more fairly balanced than freebies. Shuffle, on the other hand, uses a tried-and-true mobile template, from the gameplay to the business model.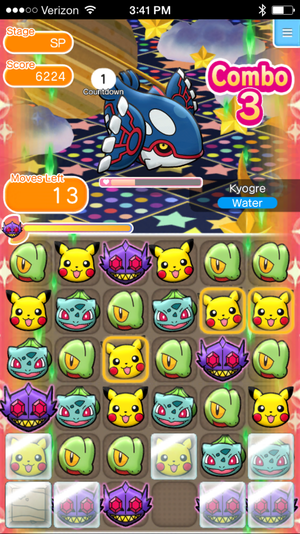 On the former front, Pokémon Shuffle builds its experience around the kind of freeform, match-three puzzle grid popularized by Puzzle & Dragons. It's a 6×6 grid here, as opposed to 5×5 in that freemium hit, but otherwise Shuffle keeps the core gameplay design mostly intact. Traditional match-three puzzlers usually feature swapping mechanics—for example, trading an icon's place with another nearby, rotating blocks, or shifting entire rows or columns to bring like colors together.
All that goes out the window with Pokémon Shuffle. You can simply place your finger on a Pokémon face, drag it to anywhere else on the screen, and the two creatures will swap positions. As with Puzzle & Dragons, that ability to just match anything anywhere takes a lot of the strategy out of the puzzling itself, and means the game then has to compensate with things like special abilities and power-ups to add challenges. And there's where the freemium elements can frustrate.
What I like about Pokémon Shuffle is that while clearly built in the mold of Puzzle & Dragons, it takes a different structural approach that makes more sense for Pokémon. Each battle is a single showdown in which your puzzle pairings deal damage to an enemy, and you have a limited number of turns to defeat it. Once a foe is weakened enough, you even have a chance to toss a Poké Ball and potentially recruit that Pokémon to your squad.
In that sense, the "gotta catch 'em all" spirit of the original Pokémon role-playing games is still intact, although it's dulled by an irritating new element: the ability to pay for a better chance to catch 'em all.
The catch
Keeping with the cute, approachable spirit of the franchise (and most Nintendo-branded fare), Pokémon Shuffle is a less abrasive freemium effort than many of its contemporaries—in most regards, at least. Shuffle is much more straightforward than something like Puzzle & Dragons, and has fewer unexpected difficulty spikes than that game, or even something like Candy Crush Saga.
It doesn't really have teeth as a free-to-play game, but that works to the benefit of both the game and its players. Still, this is very much a freemium entry, as the energy system quickly makes clear. One heart is sapped away after each battle—you'll have up to five stocked at a time, and they recharge slowly at 30 minutes a pop. So if you play a few matches in a row and tap out your supply, you'll wait more than two hours for a full refill.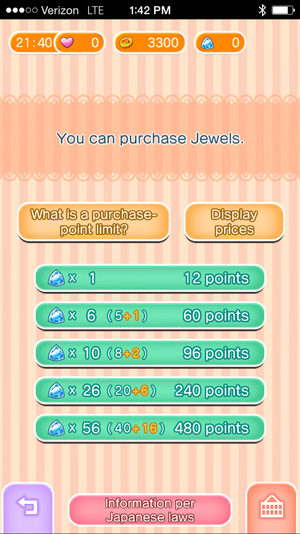 Naturally, you can buy hearts with jewels, which are the premium currency. One jewel earns you six hearts, and each sells for $1 a pop—although there are heart bundles (87 hearts for 12 jewels is the top offer) and jewel bundles (56 jewels costs $40) that deliver a little more value. Jewels can also be transformed into coins, which otherwise accrue slowly during gameplay (or are awarded for daily logins), and they're used to purchase power-ups to help you in battle—like adding extra turns or increasing the strength of each attack.
In a surprising twist, Pokémon Shuffle has spending limits each month, which appear to be a result of Japanese regulations on the matter. It's a convoluted system of points that convert to dollars spent, but the end result is that you're capped at about $85 of in-app purchases per month. That's still a ton for a free-to-play puzzle game, but considering how freemium games often rely on high-spending "whales" to drive profits, it's strange to see any kind of limit implemented.
Of course, I didn't come anywhere close to that cap. I spent $5 on a six-pack of jewels to fuel a couple of longer sessions and rack up a decent stack of coins to make tougher battles a lot easier. There's a very tangible effect to spending money in Pokémon Shuffle: Items make the levels easier, and then each victory brings a confrontation in which you toss the Poké Ball and cross your fingers. If the Pokémon escapes, you can pay coins to use a more powerful ball, which doubles your chance of catching it—but still may not guarantee a capture.
That system saps some of the competitive spirit of Pokémon Shuffle, but given the loose puzzle design, the stakes are low—I never really felt cheated. Where it can seem icky is when you can't progress any further in the game unless you've caught a certain number of Pokémon by that point. Fell short? You'll need to go back and replay past battles again to try and boost your roster, all the while thinking about how much money you could've spent along the way to avoid the repetition.
The verdict
That part stinks. And yet Pokémon Shuffle is so amiable and enjoyable otherwise that going back to those past levels never felt horribly unfair or overbearing. Given all the freemium elements, Shuffle is more cynical a game than the main Pokémon entries, and that can be tough to swallow. I totally get why 3DS players were annoyed by its release: This is a big shift for the series.
But Pokémon Shuffle delivers solid fun, even if you don't pay for jewels, and I find the simpler progression a lot more appealing than that of Puzzle & Dragons. And I'm still playing. Even after playing enough to start writing, I kept going. Even when I hit that barrier and didn't have enough Pokémon to push ahead, I went back for more. Pokémon Shuffle may have a fraction of the greatness of the series' role-playing classics—but even so, it has a pretty compelling hook.