New in iOS 9 is a feature that saves space on your devices, but also prevents apps you've purchased or updated from syncing to iTunes. I discuss that in this week's column. I also explain how to rate songs in the iOS Music app, and offer a workaround for the clunky Movie syncing interface in iTunes.
My apps aren't syncing back to iTunes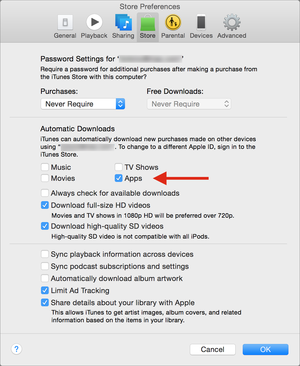 Q: Since I installed iOS 9, I notice that my iOS devices aren't backing up apps that I've purchased on them, or even updates to existing apps. Previously, iTunes would always copy purchases, but this isn't working any more. Is there any way to fix this?
With iOS 9, Apple introduced App Thinning, which is a way that developers can prepare their apps so only the resources needed by a specific device are downloaded to that device. For example, if you have a Retina iOS device, you won't have to download non-retina graphics. If you have an iPhone, you won't have to download iPad graphics. And so on.
The downside of this is that any app you download to an iOS device is no longer a strictly "universal" version of that app. Because of this, it's a Bad Thing to import it from an iOS device to your iTunes library, where it could sync to other iOS devices, and not be able to work correctly.
Therefore, with iOS 9, apps will no longer sync to your iTunes library. If you purchase apps from the App Store, or update apps on your iOS devices, they'll no longer get copied to your iTunes library, so you may want to turn on automatic downloads for apps to ensure that you have copies in your iTunes library. To do this, choose iTunes > Preferences, and click the Store tab. In the Automatic Downloads section, check Apps. If you do this, any app you purchase on any device will download to your iTunes library automatically.
Rating songs in iOS 9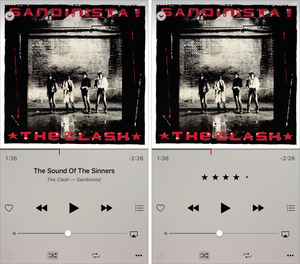 Q: How do you rate songs in the iOS 9 Music app?
There are two ways to rate songs in the new Music app, and this has been the case since the Music app was updated in iOS 8.4. You can use either star ratings or "loves." You can apply both of these ratings from the Now Playing section of the Music app.
To love a song, just tap the heart icon. To apply a star rating, tap the part of the display where you see the song name, artist, and album; it changes to a series of five stars. Tap one of them to apply a rating. Tap, for, example, the fourth star from the left to apply a four-star rating.
A better way to sync videos to iOS devices
Q: I've got lots of movies in my iTunes library, and I like to sync a few of them to my iPad each time I travel. But the iTunes interface makes it hard to scroll through my large collection and choose the movies I want to sync. Is there an easier way to do this?
The Sync Movies pane in iTunes is an example of user-unfriendliness. You can't sort movies at all; you can only view them in alphabetical order. It would make more sense if you could filter the list by, say, unwatched movies, or sort them by date added.
My solution to this problem is to use a standard playlist in my iTunes library, and, instead of syncing movies from the Sync Movies pane, I just sync that playlist.
To do this, go to your Movies library and click Playlists in the header bar. This displays all your playlists—music, movies, etc.—in a sidebar. Create a new playlist; I call mine iPad Movies. Next, view your movies by My Movies or Unwatched, and drag those you want to sync to your iPad to the playlist. When viewing movies in this manner, you can sort by a number of criteria, such as date added, to find the most recent ones.
Connect your iPad to iTunes, and select it. Under Settings in the sidebar, select Movies. Click Sync Movies, but don't check any of the movies in the Movies section that displays thumbnails. Instead, scroll down and check the playlist you just created in the Include Movies from Playlists section. Click Sync, and iTunes will sync the movies in the playlists.

You can manually delete any movies you no longer want on your device from that playlist, and drag new ones there. And you can do this even when your iPad isn't connected to your computer, so you can tidy up your movie list and make it even quicker to sync the next time.
Note that you can do the same for TV shows. Just drag shows or episodes to a playlist, and sync that playlist, instead of selecting them in a similarly uninspired interface.
Have questions of your own for the iTunes Guy? Send them along for his consideration.