Forget news, weather, and sports: It's time to add a game to your list of sensible Notification Center apps. A few quick-play titles can live on your iPhone as widgets (if you're running iOS 8 or 9), ready to help when you need to recalibrate your brain. Though these games are pretty simple—you won't find any hardcore mobile first-person shooters or resource management games here—we've rounded up four solid choices that put you just one swipe away from enjoying a mental break or challenge. Whether you're maniacally tapping your screen to beat this Flappy Bird clone or calculating your next move with the classic Minesweeper, these quick-task games are the perfect pill to swallow when you just want a short play session.
Minesweeper
A good place to start is with the classic Minesweeper ($1). To play, you must carefully select the right square on a grid without detonating one of the mines. The numbers on the squares indicate how many neighboring explosives are waiting to blow off your finger (figuratively speaking, of course). The game ends when you've hit an unlucky square.
You have a few customization options, like the ability to change up the number of squares on the grid or add or subtract how many mines await you. It's an ideal use for a widget game, as it can be played and put aside without a time constraint, and then you can start again where you left off.
Tappy Bird
You probably have experienced the fist-pounding fury of Flappy Bird (though there are better options if you want a one-handed game).
If you want quick access to such frustration, then check out Tappy Bird (free). It's essentially a Flappy Bird clone in widget form (the widget even reads "Flappy Bird Widget" when it launches inside the Notification Center.)
The game is pretty tough—in fact, the compressed size requires it to fit into the widget space, which makes it even more challenging than the full-sized game. There's not much else to it, but it still lures you into play because it's nearly impossible to win—yet you'll want to keep trying.
2048 Widget
There are a lot of versions of the game 2048 floating around in the App Store—which are all clones of one of our favorite mobile games, Threes. While we wholeheartedly recommend Threes over any version of 2048, 2048 Widget (free) comes in handy if you want simplified gameplay in a pinch. With this version, you use the controller pad to move around the tiles. If you've never played this style of game before, your goal is to clear the board by combining number pairs to double their value—in the board below, for example, you'll combine two "2's" to make one "4," then fold two "4's" together to make one "8," and so on.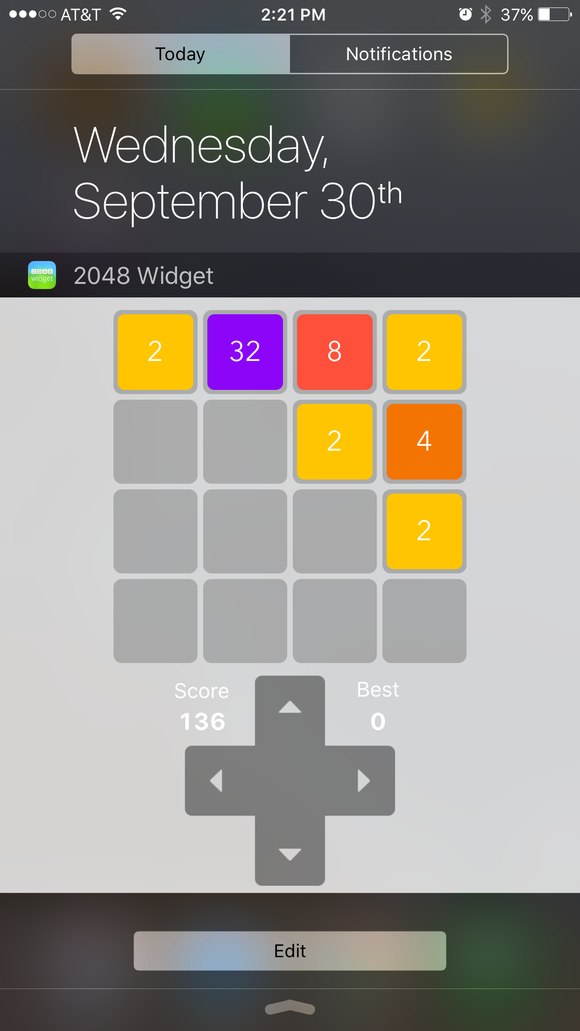 You can change up the background color, making it white, black, or clear, and instruct the game to auto reset whenever you swipe away the widget or move on to something else. The game also keeps track of your top score, so you can challenge yourself to improve each time.
Overglide
if you're looking for something slightly less frustrating than Tappy Bird, then give Overglide ($1) a try. It's the same concept—you must safely navigate a paper airline through an obstacle course.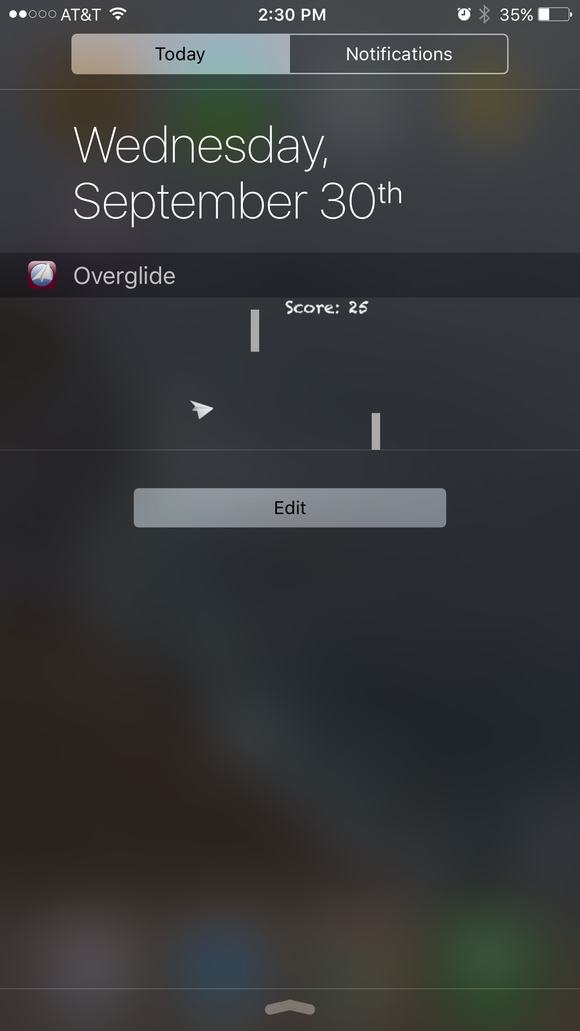 Instead of tapping furiously, you hold your finger on the screen to gain altitude and lift it up to lower the plane. This is much less difficult than the tap-centric craziness of the feathered alternative. It's not easy though—the game space is rather small, which can make the game fail to register when your finger is on the screen.
True, with the speed of Touch ID, launching a "real" game is hardly a hassle, so for many of you these widget games won't even be worth it. However, for moments when you're waiting in the checkout line or need to kill time for a hot second, these no-frills games may just be the perfect distraction.