An old friend messaged me: his wife's OS X Calendar app was making duplicates for every entry. She'd create a new entry, fill it out, and then within a moment a duplicate labeled "New Event" appeared. The calendar is synced via iCloud, and it seems like a problem that would be related to that.
Because iCloud sync is live, whenever you create a new event in a synced calendar, the Calendar app pushes the initial raw entry on creation to iCloud, and as you modify it, those updates are sent. It would seem, in this case, that the initial entry is created in one step, and the modified version has a different underlying bit of tracking data that makes it appear like a distinct appointment.
That leads to the initial New Event synchronizing back to the creating Calendar app (and all other synced calendars). Why is this happening? So far, I don't have an answer for my friend's wife, but if you're having a similar problem, here are strategies to try that have worked for other people.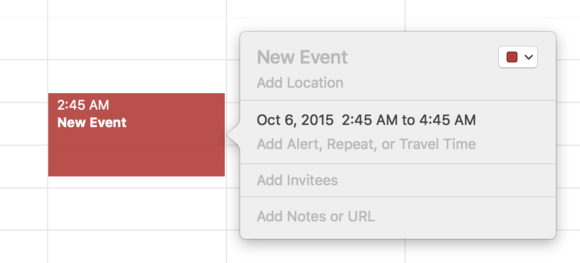 Refresh calendars. Apple suggests choosing View > Refresh Calendars in the Calendar app, which performs a force synchronization. If there's a lag, this can bring calendars back into sync.
Log out of iCloud on connected devices and back in. This is an extreme and irritating move to have to make, because if you're using iCloud for a number of services and for syncing, you have to answer questions when you log out about what to keep and what to delete. (Typically, keep everything, and it will sync and merge back when you log back in.) Many users in forums have found this solved duplicate entry problems.
Check your lag across devices. If you have the same calendars syncing on multiple devices to iCloud or other services, like Google, it's possible that you're having a disconnect among them. You create an event on your Mac, it syncs over iCloud to an iPhone, but when you update the original entry, the iPhone acts as if it created the event in the first place. Calendar-sync services are designed to avoid this particular problem, but if you can have all your devices in one place and watch whether this occurs, it might reveal the cause of the problem.
Readers, have you had this problem? And if so, was it consistent and were you able to fix it? We'll look forward to more suggestions in the comments.
Ask Mac 911
We're always looking for problems to solve! Email yours to mac911@macworld.com including screen captures as appropriate. Mac 911 cannot reply to email with troubleshooting advice nor can we publish answers to every question.