Burner is an incredibly useful app that lets you create and share phone numbers when you don't want people to have your direct line. Now the app is making those burner accounts work for you in ways that go beyond messaging and phone calls by integrating with third-party apps, starting with Slack, Dropbox, Evernote, and Soundcloud.
The integrations, or Burner Connections, let you set up phone numbers to automatically save photos and voicemails to Dropbox, forward messages to a Slack channel, respond to messages with an Evernote SMS bot, and automatically post voicemails to a Soundcloud account. Burner says this is just the beginning: There are more app integrations to come.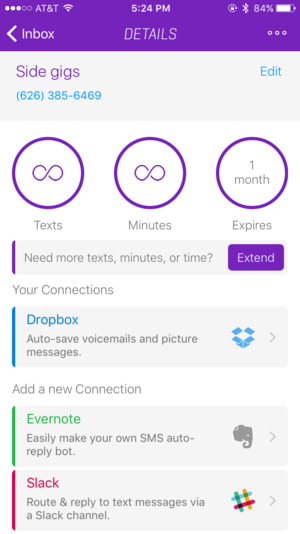 The Slack and Evernote integrations are particularly useful from a productivity perspective. By automatically forwarding messages from a burner phone number to a Slack channel, Burner allows anyone in that channel to respond to the message, which would be helpful in customer service situations. With Evernote's integration, you can set up Evernote notebooks with information that can be automatically shared with someone who texts your burner phone number using a specific keyword or phrase. For instance, Airbnb hosts or Etsy sellers can share commonly requested information, like house rules or return policies, respectively, by setting up SMS bots to respond from burner accounts. No one will realize you're messaging them from a fake phone number—Burner messages show up as standard texts, without a prompt to install the app.
In the Thursday update, Burner also added a new premium option for people who want to use specific disposable phone numbers for long periods of time. You'll be able to send unlimited messages and photos and make unlimited calls on those accounts for $4.99 a month. Burner has long offered credits for sale that you can use to buy voice minutes and messages, and that's still the case if you don't need a long-term solution.
And taking advantage of iOS 9's Spotlight Search capability, you can comb through Burner messages by just pulling down the search bar on your iPhone.
Why this matters: Burner has been around for three years, and the beloved app has more than 1,500 positive reviews in the App Store. The service makes it super simple to create phone numbers on the fly, unlike, say, Google Voice. But other apps are popping up with similar functionality, so Burner needed to add features to make those disposable phone numbers smarter. Third-party app integration and premium subscriptions are a huge leap forward.