At a Glance
Expert's Rating
Our Verdict
When Apple releases new hardware like the new iPad mini 4, one way to look at it is to compare the new device to the one it replaces. In this case, the replaced device is the iPad mini 3, a completely forgettable iPad. How forgettable was it? Apple decided to keep the iPad mini 2—not the iPad mini 3—as the affordable iPad option in its lineup. The only new features the iPad mini 3 had over its predecessor was Touch ID and the option to buy a gold version. That was it—the processor, display, cameras, and everything else were the same as the ones in the iPad mini 2.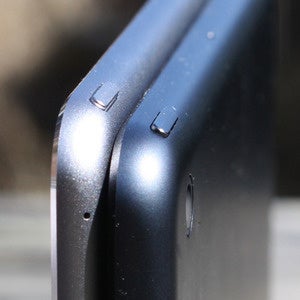 Fortunately, the iPad mini 4 has a lot more to offer for owners of older iPad models. It's a much better upgrade to the iPad mini 2. And with the holidays upon us, don't be surprised if the iPad mini 4 is on the wish lists of your family and friends, or even your own.
Looks the same, but different
At first glance iPad mini 4 looks like the iPad mini 3 (and iPad mini 2). However, the iPad mini 4 measures 8 inches tall, 0.13 inches taller than the iPad mini 3; the iPad mini 4 is also 0.05 inches thinner. The new iPad is the same width as its predecessor, but it's also 0.08 pounds lighter. If you have a case that you used with an old iPad, it may not fit perfectly on the iPad mini 4.
The display may also look the same as before. But upon closer inspection, the iPad mini 4 has better overall image quality. The display is still a 7.9-inch, 2048-by-1536-pixel resolution, LED backlit display, but Apple now uses laminated displays with anti-reflective coating. The result is better color saturation that make viewing photos on the iPad mini 4 a richer experience. And it's much easier to see the display in bright light—there's still a small amount of glare, but it's so minor compared to the previous iPad mini models.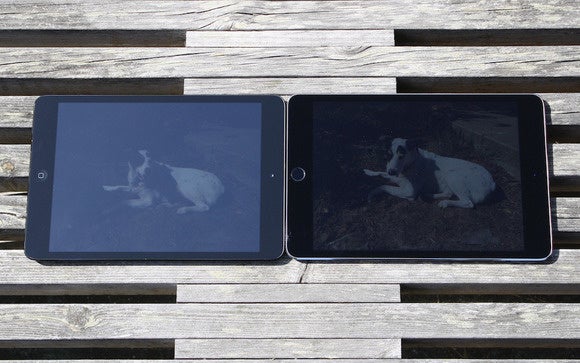 While I use my subjective evaluation to tell you the iPad mini 4 has a better-looking display, the folks at DisplayMate technologies have done lab testing to support my point of view. DisplayMate says the iPad mini 4 matches the iPad Air 2 and the iPhone 5 and 6 in color accuracy, and that the iPad mini 4 does an even better job at cutting down screen glare than the iPad Air 2, which DisplayMate had previously deemed as the top performer in reflectance tests.
Finally, a processor upgrade
The iPad mini 3 had the same A7 processor as the iPad mini 2. The iPad mini 4 features Apple's A8 processor, which is a significant upgrade. It's not as fast as the A8X processor in the iPad Air 2, but there as size and heat considerations that need to be taken into account.
If you've been using an older iPad mini, the iPad mini 4 immediately feels snappier. Web pages loaded quickly, and switching between apps went without a hiccup. Overall, I didn't experience any exaggerated processor lag.
To collect numbers to form a benchmark comparison, I used Geekbench. The iPad mini 4 was 27 percent faster than the iPad mini 3 in both the Geekbench single-core and multi-core tests.
iPad mini 4 Geekbench 3 results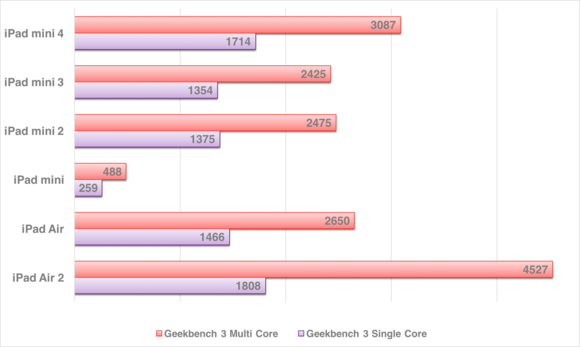 The iPad mini 4 ships with iOS 9, so you get all the benefits of Split View, Picture in Picture, Maps transit information, and more. We've covered iOS 9 extensively if you'd like to learn more about Apple's mobile operating system.
Battery life
Apple touts a ten-hour battery life of mixed use that includes Wi-Fi web access and video and music playback. Of course, your mileage will vary depending on your use, but ten hours should be enough for most people.
I never had to worry about battery life while using the new iPad mini 4 during an extended period of use—an extended period being over two hours. I tended to email, wrote, visited Web sites (some with video), chatting online, played a couple of games, and other tasks. It took a few days of using the iPad mini 4 for a couple of hours, putting it away for a while, and then later using the iPad again before I needed to charge it.
I did run a video test, where I continuously played videos on the iPad mini 4 until the battery was drained. I set the device to airplane mode, since a long flight would be the proper situation where you might watch several videos in a row. The iPad mini 4 battery lasted on average just over 11 hours, an hour longer than Apple's spec.
Geekbench has a battery test, and when I ran it on the iPad mini 4, the battery lasted on average just over 6 hours. This test is a lot more strenuous than my video test (it has an option to dim the screen, which I turned off), and I imagine it might be tougher on the battery that what most people do as work.
Better camera
The iPad mini has long been stuck with a 5-megapixel iSight camera (that's the back-facing camera). Now, I don't usually use any kind of iPad to take pictures, but there's an old saying that goes something like, "the best camera is the one you have with you." And sometimes, when you're using your iPad, a photo moment appears, and, hence, the best camera you have is the iPad's.
My point is that a better camera—regardless of how often you use the iPad as a picture-taking device—is a welcomed feature, and Apple has finally outfitted the iPad mini with a better camera. The iPad mini 4's iSight camera matches the 8 megapixel specs of the iSight camera in the iPad Air 2; along with a new burst mode, it's a nice upgrade from the 5-megapixel camera that couldn't shoot in burst mode in the previous iPad mini models. Video recording is still done at 1080p, but there's now support for slow-motion video capture.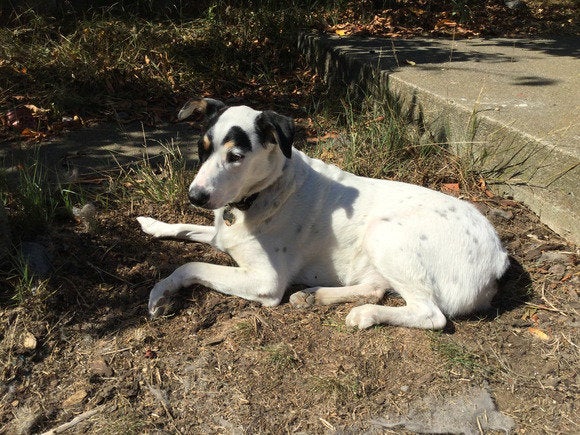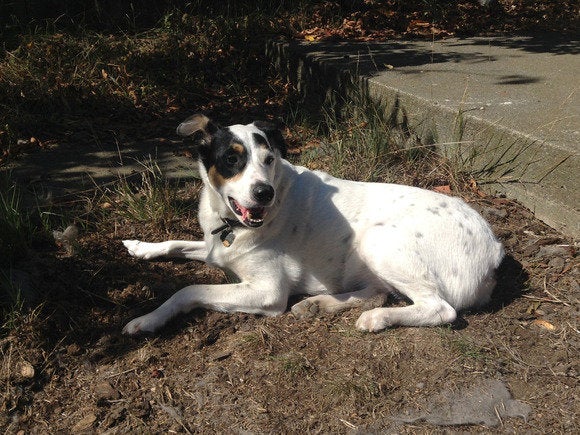 The iPad mini 4's iSight camera captures very good detail and nice color quality. I think the iPhone 6s Plus produces much better image quality overall—Apple outfits the iPhone with a better iSight camera than the iPad because it's the camera you have with you all the time. But if you do need to shoot photos or videos using the iPad mini 4, you can rest assured that it will do an acceptable job.
The FaceTime HD camera (the front-facing camera) has only one change: burst mode support. Otherwise, it's still a 1.2-megapixel camera capable of recording 720p HD video.
Bottom line
With the holidays fast approaching, the iPad mini 4 will be a popular gift, maybe even for yourself. If you own an older iPad—especially if it's over two years old—you'll be very satisfied with the iPad mini 4 as an upgrade. It's fast, sports a great-looking display, and it's even lighter than its predecessors. It's also available in gold if that's your type of thing.
Spend the extra money on the 64GB version, especially if you think you will take a lot of photos or videos, or play a lot of games. As an owner of a 16GB iPad 2, I hit the storage ceiling very quickly, mostly because of games. With iOS 9, Apple released app slicing, which will help owners of 16GB iPads by installing smaller apps, but I would play it safe and get more storage.
The iPad mini 2 is still in Apple's lineup and has a significantly lower price. If you're a budget-conscious buyer, the iPad mini 2 is a good deal.
Mouse ratings
16GB iPad mini 4:
64GB iPad mini 4:
128GB iPad mini 4: