If you like listening to music on your iPhone, iPad, or iPod touch, but don't use Apple Music, you may find the new Music app to be overkill. It's got lots of features that don't add much to your listening experience and just get in the way. With a cluttered interface, Apple's Music app has lost its main vocation: the ability to let you choose the music you want to listen to quickly and easily.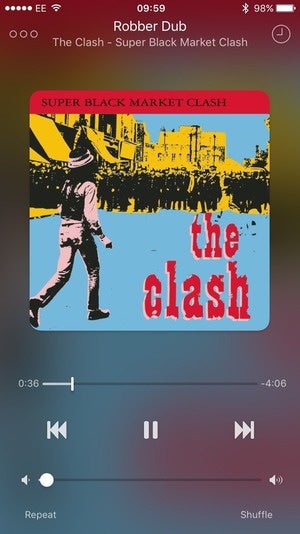 Fortunately, there are lots of alternatives. Most of these apps try to simplify the experience of spinning songs on your iOS device, or offer more intuitive ways of controlling your listening sessions.
While Apple doesn't let you easily replace its bundled apps—for example, even if you have another browser installed on an iOS device, Safari opens when you tap a link—there are no such limits with music player apps. They can all access the music you sync over iTunes, and the music you download to your device from iCloud or the iTunes Store. So any music player app can access your library, and you can control playback from your iOS device's lock screen, or even your Apple Watch.
Here's a look at four apps you can use to play music on your iOS device.
Ecoute
The $1 Ecoute is a minimalist player that lets you browse your music library by viewing its artwork. It has the essential controls—play music in order, shuffle it, repeat it, and manage a play queue. But it also has some extras, such as a Shuffle Albums feature, which many people will find useful; I especially like this to listen to classical music.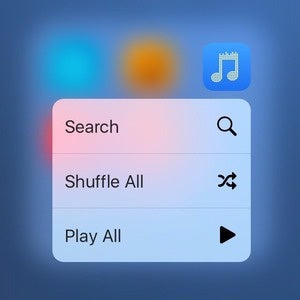 Ecoute offers AirPlay streaming, and even lets you play podcasts. It supports AirPlay, offers a night mode, and lets you sort music by many criteria.
And Ecoute is already updated to take advantage of 3D Touch, available on the iPhone 6s and 6s Plus (it's the only music player I've found that is, so far). When you hard-press its icon, you get shortcuts to Search your library, Shuffle All, or Play All your music. For the 3D Touch Shuffle All feature alone, this app has earned a place on my iPhone.
Cesium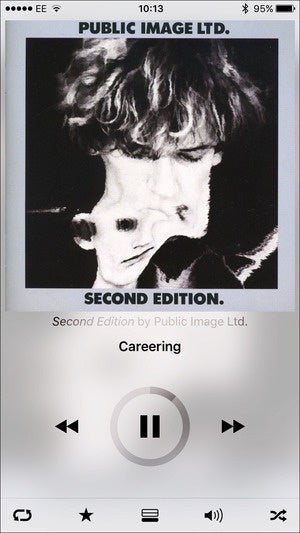 The $2 Cesium is a minimalist music player, similar to what the iOS Music app used to be before Apple added all the extra menus and buttons. It's got a whole slew of tiny features that make playing music a lot better. You can control it using gestures, you can choose a number of sort options (including "Classical Mode," which sorts classical music by composers' names instead of artists), and you can use it to play audiobooks.
With Cesium, you can shuffle by album, manage your play queue, view your listening history, and even choose custom colors for the app's theme, or use a night mode. I wish Cesium had better documentation and support, rather than just a page on Reddit and a Twitter account for the latter; figuring out how to use its gestures takes a while. But Cesium is a slick app, and once you've figured it out, it makes Apple's app look bloated.
Picky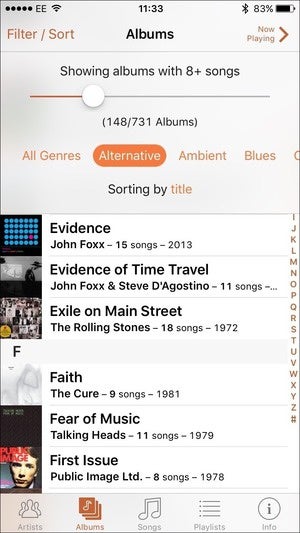 If you have a lot of music on your iOS device—if you're carrying around a 128GB iPhone, for example—you may find it daunting to choose what to listen to. The $3 Picky steps in to let you filter your library to choose exactly the music you want to hear. Tap Filter, and, in the different views—Artists, Albums, Songs, or Playlists—and you can choose to view only those entries with more than a certain number of tracks. For example, lets say that, for today's playlist, you want to only hear your rock, electronic, and alternative songs. Sort by those genres in Picky, and the rest of your music stays hidden.
This lets you choose when you want to listen to singles or occasional tracks that are outliers in your library. It can take a while to get used to this, but when you do, you realize how much easier it is to choose what to listen to if you have an eclectic music collection.
Aside from these filtering features, Picky is a clean, minimalist player, that offers the usual features: shuffle, repeat, a play queue, and more.
Musixmatch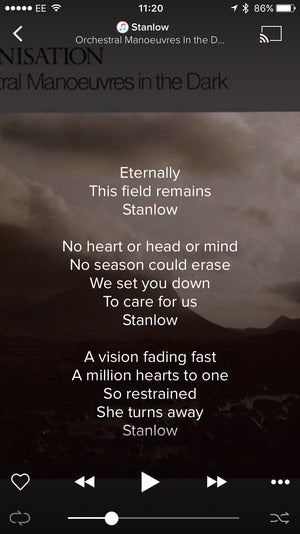 While it's not the most attractive music player out there, Musixmatch (which is free, but offers in-app purchases for some features) is great if you like to sing along to your favorite songs. Musixmatch has a database of more than 7 million songs in 38 languages, and while it doesn't find lyrics for everything in my library, it does for most songs.
You can also use Musixmatch to identify songs you hear around you, and display their lyrics. Musixmatch has an Apple Watch app, which can control the iPhone app, display lyrics, and listen to music to identify songs. There's also a Notification Center widget, if you want to be able to see lyrics on your iOS device's lock screen.
There are plenty of other music player apps available for iOS, but these four offer a streamlined approach to choosing and playing music, as compared to Apple's stock Music app. If you listen to music on your iOS device a lot, try one of them out.