Free-to-play games often look appealing, but it's difficult to know at a glance whether the business model is insidious and fun ruining, or reasonable and worth pumping a few bucks into. With Freemium Field Test, we'll take a recent free-to-play iOS game, put it through its paces, and let you know if it's really worth your time (and money).
The crossroads of Star Wars and toys often generates something akin to hysteria—as demonstrated by last month's 18-hour livestream unveiling of the new Star Wars: The Force Awakens toys and the ensuing rush to snatch them off store shelves. Add video games to the equation and it's sure to pack an explosive punch with fans.
That's exactly what Disney has done with the new Disney Infinity 3.0 release, adding Star Wars legends and storylines into the toys-to-life console game that already includes an array of Marvel Comics on top of Mouse House favorites. On console systems, the result has you buying $14 figurines, tapping them onto a USB-connected base, and generating lively mash-up adventures. It's a blast.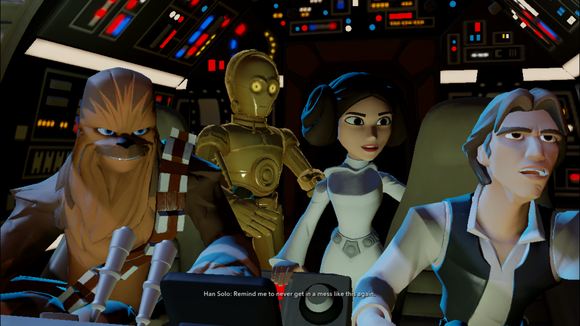 But on iPhone and iPad, Infinity is scaled down significantly, cutting all extraneous hardware from the experience and making the toys optional. On one hand, Disney Infinity: Toy Box 3.0 impresses with its scale, and certainly its diversity of heroes and creation possibilities. But on the other, the rough controls and glitchy gameplay make it difficult to enjoy, while the à la carte model makes it feel like the game's best stuff is ever behind lock and key.
The pitch
The full-fledged Disney Infinity experience on console systems is effectively split into two major components: The campaign adventures, which let you dig into story-led missions built around popular characters or movies (like The Avengers or the original Star Wars trilogy), and the Toy Box. The latter is designed to let you build your own little games, worlds, and missions, and then share them with the world.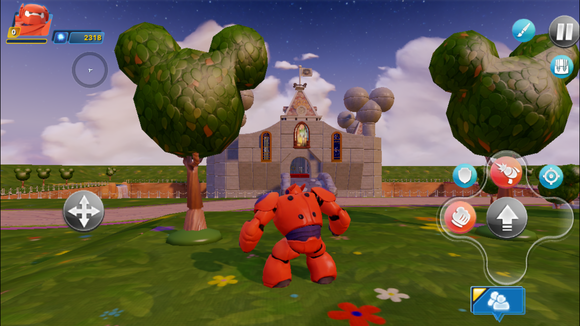 And in the mobile space, the Toy Box is the entirety of what's on offer, although it comes with some short missions and a premium add-on expansion of its own to tackle. In fact, right when you start up the game, you'll quickly dash through a series of Star Wars mini-missions from the prequel films and main trilogy. If the sight of Han Solo, Princess Leia, Chewbacca, and C-3PO in the Millennium Falcon isn't enough to get you excited, then maybe this isn't for you.
Then again, that's just one small part of the overall equation, which also includes Marvel Comics heroes like Spider-Man and Black Widow, as well as Disney favorites like Olaf from Frozen and the cast of Inside Out. In fact, the complete roster brings in more than 80 playable characters at current count, and the freeform design of the Toy Box means you can mix and match them to create your own silly adventures. And there's some flexibility here, as you can build action games, platform-hopping adventures, racers, and more.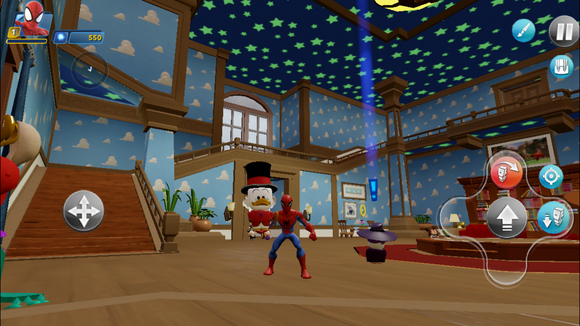 Beyond designing your own 3D challenges with the in-game creator, Toy Box 3.0 also lets you tap into worlds and missions created by other online players, as well as team up with a local friend for multiplayer shenanigans. It's hugely impressive that you can pull up a Disney, Marvel, or Star Wars world from a list and jump into a level using one of dozens of characters. And Toy Box 3.0 serves as a great companion to the console game, too, since you can build levels on your TV and then access them on your iPhone or iPad.
That's recommended, too, because level creation is frustrating on iOS—the interface is overloaded and sometimes fails to respond to inputs. And it's not much better when it comes to actually playing through levels, thanks to a directional stick that's small and unresponsive, and buttons that don't always provide the immediate feedback you're expecting. The game also has a lot of odd glitches that pop up during play, and the game didn't run all that smoothly on my iPhone 6s Plus.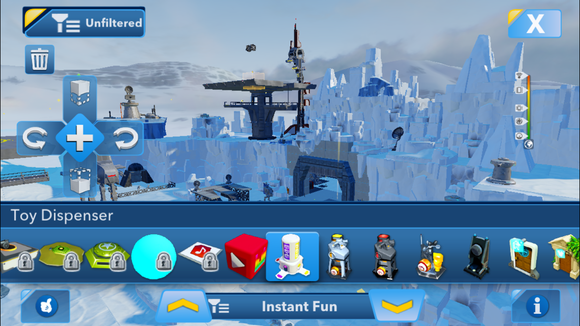 Disney Infinity's vastness is undermined by its clunky controls and performance, but those things can hopefully be fixed. What about its business model?
The catch
I have to give Disney a lot of credit for how much of Infinity you have access to without spending a dime. You can use any of three free rotating characters at any time—one each from the Disney, Marvel, and Star Wars universes—and there's no master energy meter restricting play. However, if a character falls in battle, you'll have to wait a bit for it to be revived. And there's a rather huge amount of content you can tap into. Want to noodle around, create a level, or decorate the interior of your house for hours? Toy Box 3.0 will happily let you.
But a game of this scope isn't given away for free without restrictions, and the overarching one is this: Infinity puts a lot of content at your feet, but the best and coolest of it all requires some investment. That applies most notably to characters. In the console games, you buy one of the NFC-enabled toys, set it on the base, and it comes to life in the game. In the mobile Toy Box, there's no base and the plastic toys aren't required.
The same Infinity figurines used for the console games come with a web code, which lets you access those characters permanently in Toy Box 3.0. And with a couple dozen figurines from the first two games sitting on my shelf, I was able to unlock a load of Marvel and Disney figurines in a hurry. Otherwise, if you don't want to burden yourself with plastic and packaging, you can buy strictly digital heroes and villains within the app for $2-3 apiece.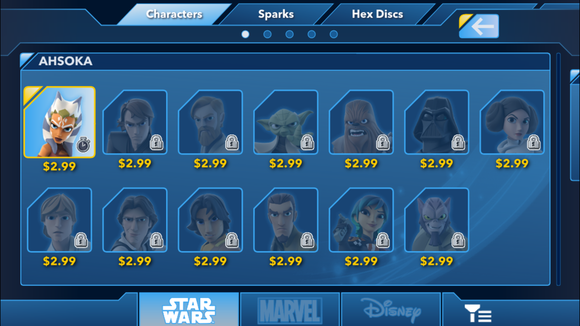 Looking to play casually? The free rotating characters will probably do the trick. But you'll come across that character select screen at some point, and those nostalgic urges will come up. Darth Vader? Captain America? Mickey Mouse? These media icons look cool and have all their familiar powers and traits in the game, and it's tough to resist popping a couple bucks (each) into the app to make them yours.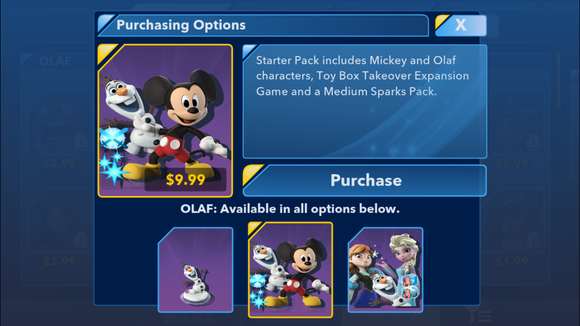 And you might feel prodded into it, too. For example, I tried loading a Disney-made Frozen level and found that I couldn't play it without Olaf—and the app dutifully pointed out the different bundles I could buy the lovable snowman in. Elsewhere, in the creation suite, many of the cooler items based on classic films and comics are the most expensive to obtain, and earning enough in-game currency to unlock them can take ages… unless you spend a bit of money. Even so, you'd have to buy the $25 currency pack to unlock the Millennium Falcon.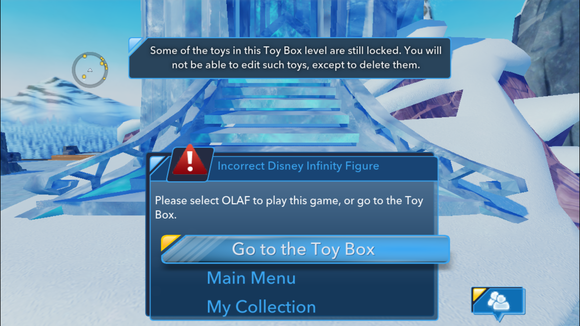 Hoping to nip some of these annoyances in the bud, I grabbed the bundle pack suggested when Olaf was missing: $10 got me playable Olaf and Mickey, the Toy Box Takeover expansion (which features a series of additional action levels), and a small stack of currency to use to decorate my walls and build better levels.
The verdict
Disney Infinity: Toy Box 3.0 is so large, creative, and potentially fun that spending a little money to amplify all of that seems totally fair—but the spotty controls and glitches sour a lot of that motivation right now. Conceptually, the cartoonish pairing of classic characters and scenarios from all around Disney's media universe is pretty excellent, and the wealth of free content is truly impressive.
Is Toy Box 3.0 just too complex of an experience to really work well on mobile, or will some smart tweaks make this vast playground an enjoyable experience? I hope it's the latter, as this could really be a free-to-play game worth savoring.