At a Glance
Expert's Rating
Pros
Gorgeous Retina screen
Thunderbolt 2 support
Cons
Fast flash-storage available as an option
Hampered by slow 5200 rpm hard drive
Discrete GPU available only as configuration option
Uses previous generation Intel chipset
Our Verdict
The Mac is a small fraction of Apple's total business, and of that, roughly three-quarters of the Macs sold are laptops. Apple could probably be forgiven if it put the entire iMac line into maintenance mode: after all, sometimes it seems like that's what most of the PC industry has done. But it's clear that Apple views the Mac in general and the iMac in particular as a point of pride. In a time when PC growth has stalled, Apple continues to grow its market share and update Mac hardware in interesting, innovative ways.
Last fall, Apple finally brought its high-resolution Retina display technology to the desktop for the first time on the 27-inch iMac with Retina 5K display. Now with the new 21.5-inch iMac with Retina 4K display (
) Apple has brought a brilliant high-resolution display to its smaller iMac at the same $1499 price as its previous high-end 21.5-inch iMac model. As you might expect, this new revision of the iMac dramatically improves on its predecessor models—the 21.5-inch iMac hasn't really been updated since late 2013, unless you count the addition of a budget model in 2014—but the highlight has to be the model featuring the Retina display.
In praise of Retina desktops
The new 4K iMac isn't the cheapest Retina Mac you can buy—both the MacBook and the 13-inch Retina MacBook Pro come cheaper—but it offers a much larger screen. Measuring at 4096 by 2304 pixels, that's 9.4 million pixels, providing a vastly broader work area than a 12-, 13- or even 15-inch laptop screen.
Yes, most Macs sold these days are laptops because they're powerful and flexible. But still, desktop Macs have their place. When I set up my home office, I wanted a workspace all my own, and not only does my iMac's large screen make me more productive, but it provides me with a bit more work/life balance, because I need to be in my office, at my desk, to make use of it. iMacs can also be public devices in a way that laptops can't—I know many families who have placed an iMac in the family room and share it, rather than passing around a laptop (or spending the money on multiple laptops).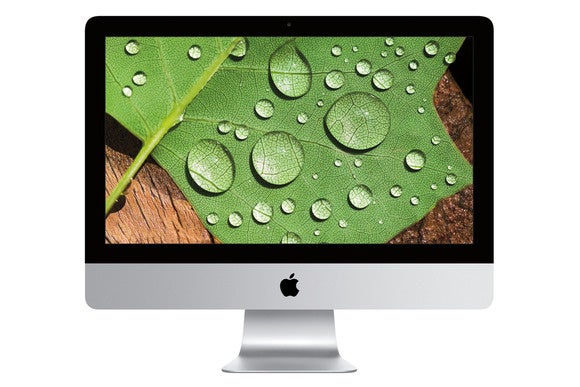 Then there's the power of the Retina display itself. Like last year's 27-inch 5K model, the main feature of the 4K iMac is its beautiful display, powered by all sorts of amazing technologies that allow Apple to drive those 9.4 million pixels. If you've been through the Retina transition on an iPad or iPhone or MacBook, you know how much nicer a screen can be when you can't see the pixels at all.
When four pixels are doing the work that only one used to do, the El Capitan interface really shines. Everything's sharper. Photos look startlingly real, almost like they were printed on paper. And then there's text, which looks razor sharp like it just rolled out of a laser printer. Even toolbars and Dock icons are more pleasant because all the on-screen graphics have added subtle details that were impossible at lower resolutions.
There's also a whole lot of flexibility with a Retina display. Because the pixel count is so high, these screens can be set to alternate resolutions without sacrificing image quality. Want everything to be a little bit bigger? Go to the Display preference pane and set the 4K iMac to emulate a smaller monitor. Want a little more room in which to work? Set the iMac to display a higher resolution instead. The system does all the conversion and scaling on the fly, effortlessly.
Apple says that the display in this 4K iMac, as well as the revision to the 5K iMac that was announced the same day, offers an expanded color space. Thanks to new red-green phosphor LEDs, the displays can display a wider range of red and green light than before, allowing them to display 25 percent more colors.
In a demo at Apple, I was able to detect subtle differences. The new displays can offer more color detail and more vibrancy than the display on the older 5K iMac models. I'm a little red-green color blind, and even I could detect the differences. If you work in graphics or video, you'll probably be happy to have access to a display that's capable of displaying 99 percent of the P3 color space. But for most people buying the 4K iMac, the real difference will be the mind-blowing jump to Retina.
A long awaited update
On the outside, the 4K iMac (and its other 21.5-inch sisters) look exactly like those late-2013 models: They're all the same design, thin at the edges but bulging in the back, where the iMac attaches to its metal foot. The 4K iMac is exactly the same in dimensions and weight as the previous model. The biggest change on the outside of the case is the addition of faster Thunderbolt 2 ports, replacing the Thunderbolt 1 ports on the older models.
On the inside, the 4K iMac (like the other new 21.5-inch models) is powered by fifth-generation Intel Core processors, known as "Broadwell." According to Apple, the newer Skylake sixth-generation processors aren't yet available with the integrated graphics processors that Apple has chosen to drive these models, so it's sticking with Broadwell. (The new 27-inch iMac models, which are powered by separate GPUs, do use Skylake processors.)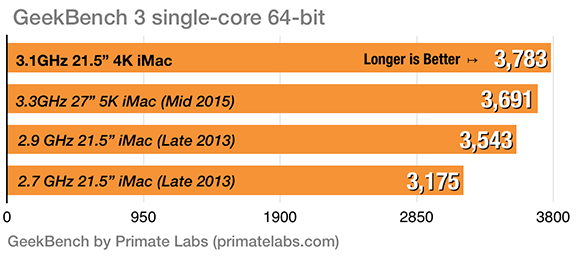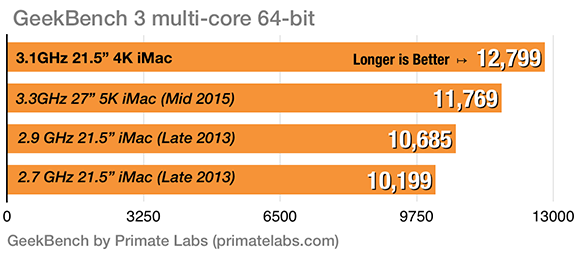 Still, Broadwell's an upgrade from the previous-generation Haswell processors used in prior 21.5-inch iMacs. Despite the quadrupling of pixels that comes with a Retina display, the 4K iMac was still able to outpace its predecessors at most OpenGL rendering tests. In CPU tests, it even outpaced the mid-2015 revision of the 27-inch 5K iMac. However, this iMac's Intel Iris Pro 6200 integrated graphics are no match for the discrete GPUs in the 27-inch 5K iMac models from last year, let alone this.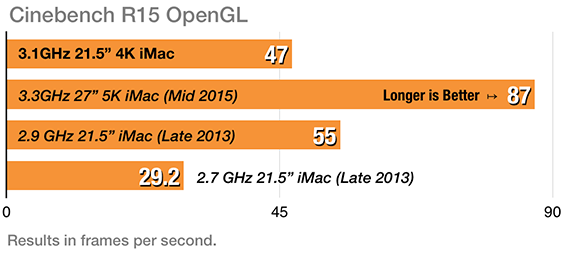 Storage, good and bad
The base storage configuration of the 4K iMac is a 1TB, 5400rpm hard drive. It's been a few years since I regularly used a Mac with a spinning disk as its primary hard drive, and man, did it feel slow. Starting up was slow. Launching apps was slow. Everything… just… took… longer. It's disconcerting to take a brand-new, top-of-its-line Mac out of the box and be disappointed by how sluggish it feels, but that's what I experienced, and it's pretty much down to that slow hard drive.
Yes, Apple has packed an impressive amount of technology into this $1499 iMac, but it seems almost unforgivable that a Retina iMac could be saddled with a slow spinning hard drive. You can pay a bit extra to equip a Fusion Drive, which combines the capacity of a spinning disc with a small amount of speedy flash storage, and I'd recommend that. (In fact, Apple has made it more affordable than ever to opt for a Fusion Drive configuration by reducing the amount of flash storage in the 1TB configuration from 128GB to 24GB. If you regularly use large media files, you'll want to opt for the larger Fusion Drive or pure flash storage, but the cheaper configuration is a great option for users who don't stress out their Macs quite as much.)
Speaking of flash storage, the 4K iMac (and all of its fellow late-2015 iMacs) benefits from the same storage speed boost that we saw earlier this year on the MacBook Pro: These models can take advantage of upgraded storage controllers and 4 lanes of PCI to achieve flash-storage transfer speeds up to 2.5 times those of previous models. All the more reason to jump off the spinning-hard-drive train before it crashes and switch to a Fusion Drive or pure flash storage.
Now with new input devices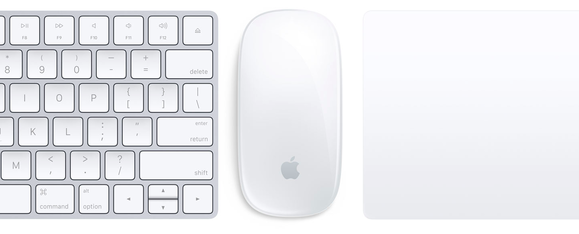 The 4K iMac and its fellow iMacs are the first Mac models to ship with Apple's new generation of input devices, the Magic Keyboard and Magic Mouse 2 (or, optionally, the Magic Trackpad 2). Those devices are outside of the scope of this review but suffice it to say that they're thin, they're rechargeable, they pair with the iMac with the simple plug of a cable, and they feel pretty good. If you buy the 4K iMac, they'll be a nice bonus. Look for reviews of these three devices coming soon.
Bottom line
The 5K iMac is an incredible computer, one of the best Macs ever made—but it's also just too much for many people. A 27-inch display can dominate a desk or a room, and though the price tag has come down a lot in the past year, it's still on the pricey side. In contrast, here's the iMac with 4K Retina display. It offers a lot of screen space but isn't awkward to maneuver around a table top. The prices on the three models are more reasonable though you'll want to upgrade the hard drive to a Fusion Drive or pure flash storage if it fits within your budget.
Most importantly, it's got that screen. 9.4 million pixels of screen, making your photos and your webpages and your word-processor documents and even the text of your emails look substantially better than ever before. Retina has arrived on Apple's most affordable iMac model. You won't regret the upgrade.
Editor's note: Updated at 6:30 a.m. PT to correct a statement about upgrading to a discrete graphics processor, which is not available for the 4K iMac.