The premise of Twist, Microsoft's new "photo conversation" app, is relatively simple: sometimes, a picture is worth all the words.
Stealing a page from Instagram and other photo-based apps, the Twist app is the latest from Microsoft Garage, an experimental app development shop within Microsoft. With Twist, users exchange photos in a fleeting, casual conversation, letting the photos (with a few snippets of embedded text) tell the story.
But Microsoft deliberately laid out Twist so that one picture runs into another, creating either a flow of images, an ironic juxtaposition, a mashup, or more. Microsoft researchers said they were inspired by how some people are now not only using image memes as commentary, but to communicate as well.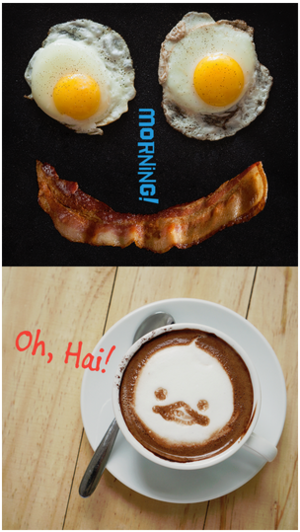 "When we were designing Twist, we observed that many of the digital ways people communicate today don't allow for rich, expressive exchanges," says Jennifer Shen, the principal program manager lead whose Silicon Valley-based team built Twist, in a blog post. "Many messaging apps are adding functionality to make their experiences feel richer, such as stickers, emoji and animated gifs. We wanted to look at ways we could make that experience even better."
Messages can be sent on a 1:1 basis, or as a group. The images can be pulled from the user's camera roll, or from Bing—a feature that Microsoft has included in other apps, such as Sway. It appears, however, that both the user and the recipient will have to have the Twist app to shoot photos back and forth.
Sending photos with captions isn't the most original idea; Photogram and Shoutout vaguely do the same thing. The mashup aspect is what sets Twist apart, however.
Although you many have never heard of many of them, the Microsoft Garage site houses 35 apps, many of them not for Windows. Picturesque Lock Screen, for example is an Android-only app launcher designed to help introduce users to Microsoft's Android apps and services via its lovely Bing landscape photos. And the awkwardly named AutoTag 'n Search My Photos for Windows scans your Facebook photos, learns the faces of your friends, then automatically tags the faces it sees in your camera roll. Unfortunately, the site doesn't filter by platform, so iOS owners will have to thumb through the app descriptions.
Why this matters: Twist probably won't change the world, but that's not the point, either. Twist looks like a fun little way to communicate via photos back and forth. Of course, it's a bit more involved than your normal messaging app, which may ultimately doom it except for creative types.