At a Glance
Expert's Rating
Pros
Huge area for clicking.
Silent clicking option, among other customizations, in System Preferences > Trackpad.
Cons
Not Cheeto-friendly (Pro tip: Pirate Booty has lighter colored cheese powder).
Our Verdict
The Magic Trackpad 2 gives you tons of room for all of Apple's gestures, but the only new one, Force Click, doesn't do a lot just yet.
The Magic Trackpad 2 is shockingly large and blindingly white. It looks kind of a like a futuristic thing you'd find in a high-tech kitchen, like a smart scale or a wireless charging station or a heating pad that keeps your coffee at the perfect temperature for hours. But this Cheeto-unfriendly slab is really a giant, standalone version of the Force Touch trackpad in this spring's 12-inch MacBook, along with the later MacBook Pro refresh.
The Magic Trackpad 2 brings Force Touch to the desktop: It's an option with the new iMacs (or you could choose the Magic Mouse 2), and available on its own for $129. With plenty of room to take advantage of Apple's entire repertoire of gestures, it's a fun trackpad to use. But until its marquee feature—Force Touch—is utilized a little more widely, it's not a must-have for most people.
It's my trackpad, I'll Force Click if I want to
Pairing the 6.3-by-4.5-inch Magic Trackpad to my Mac with Bluetooth was a snap. It charges with an included Lightning cable—which means, first of all, that you have another Lightning cable for charging your phone. Hooray! Beyond that, plugging the trackpad into a Mac with the Lightning cable pairs it automatically, in case Bluetooth ever decides to be a jerk about pairing.
But once I started using it, I ran into a learning curve. I kept absentmindedly resting my palm or pinkie finger on the trackpad, making my tap-clicks act like right-clicks. That's probably just bad posture on my part, something I could (and probably should) train myself to improve over time.
The other problem is the errant Force Clicks. When trying to click-and-drag text, images, or files, I kept accidentally pressing too hard, Force-Clicking when I wanted to just click. I'm trying to select text, and instead I'm getting the definition of a word like "the." There are a few ways to get around this. In System Preferences > Trackpad, I could uncheck "Force Click and haptic feedback," but that turns off all current and future Force Click features. On the same preferences pane, I could uncheck "Look up & data detectors" or click the downward-facing arrow to change it from "Force Click with one finger" to "Tap with three fingers," which is how it works on trackpads without Force Touch.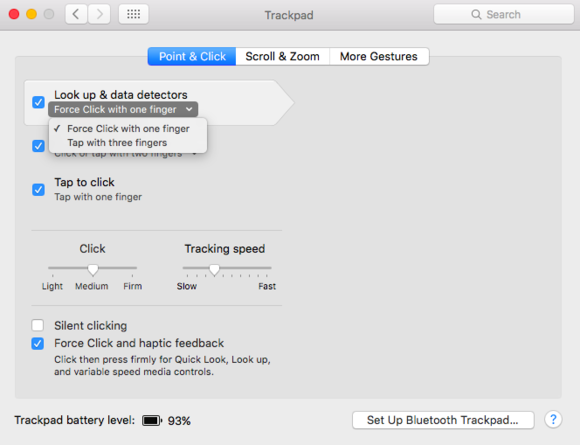 I know it's not exactly fair to compare the multilayered touchscreen of my iPhone 6s with the Magic Trackpad, even if the gestures are pretty similar and they did name it magic, after all. But my iPhone is just better at recognizing what I mean when I interact with it, from better rejection of accidental touches to better understanding my intent when I hard-press the screen. I'm sure I'll get used to the Magic Trackpad—in fact, one setting in Accessibility is already helping a lot. More about that below.
Ergonomics are a drag
Trackpads aren't typically comfortable for me to use all day. I love the gestures, but I do a lot of clicking and dragging to select text and drag files around. Holding my thumb down on the trackpad while moving the cursor with my index finger usually leads to shooting pain across the top of my hand before the day is out.
The Magic Trackpad is helping me retrain myself to only tap to click, and tap with two fingers to right-click. To click and drag, now I just tap with three fingers and drag away—no pressure needed at all. It's so much more comfortable. After a little practice, I could even use it to crop photos.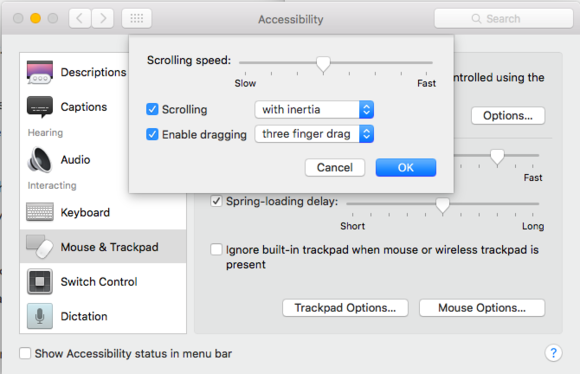 To enable three-finger drag, head to System Preferences > Accessibility > Mouse & Trackpad, and click Trackpad Options. Click the box for Enable Dragging, and select three-finger drag. Thanks to this feature, I'm tapping over clicking almost exclusively, which should be better for my hands, plus reduce the number of accidental Force Clicks.
Bottom line
If you're buying a new iMac, I would definitely choose the Magic Trackpad 2 over the Magic Mouse 2. But if you've got a Mac without a Force Touch trackpad, you might consider waiting until Force Touch becomes more ubiquitous and essential than it is now. Force-clicking a file in the Finder to Quick Look it is convenient, but not a game-changer. However, with more developer support, Force Touch could eventually be a handy enough feature to justify a new trackpad.