The App Store is great for recapturing nostalgia from another time and place. Whether you're melancholy for retro games from the Atari era or catching up with favorite comic books from a misspent youth, developers are eager to cash in on the past.
That also extends to the videos we shoot. Remember the handful of apps that made iPhone footage look like Super-8 mm home movies from the '60s and '70s? The circle is now complete, courtesy of VHS Camcorder, an app that realistically reproduces the bitchin' look and feel of VHS video from the '80s and '90s in excruciatingly poor detail.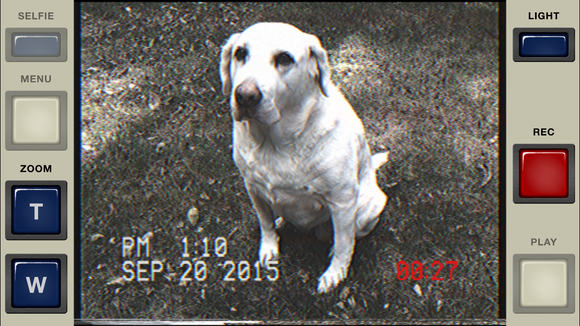 Adjust your tracking
VHS Camcorder is a $4 time machine that allows iOS devices to record videos that look exactly like low-quality home movies shot three decades ago. As if the muted, inaccurate colors, tinny audio, and general lack of definition weren't enough, the app optionally restores the familiar date and time stamp your parents could never seem to turn off, along with noise and distortion for a truly authentic, "lo-fi" look.
Nostalgia aside, why would anyone actually want to do such a thing? For starters, it's certainly more visually interesting than shooting pristine video. A universal build for iPhone, iPod touch, or iPad, VHS Camcorder is also great for unique video gag gifts, since the on-screen graphics can be customized to a date and time in the past, present, or future.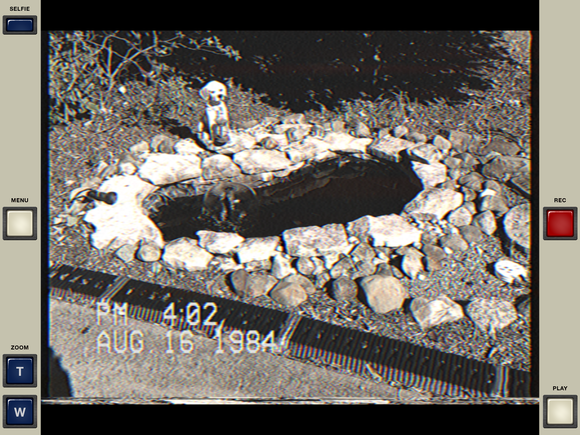 As if that weren't enough, VHS Camcorder users can tilt the device or swipe a finger across the display while recording to increase the amount of noise and tracking distortion on the screen. Despite native VHS video being recorded in a square 4:3 aspect ratio, there's even a widescreen option to fills the entire 16:9 frame.
To round out the package, the latest update also includes a Selfie button for recording from the front-facing camera, as well as an option to turn on the LED flash to give your subjects the genuine washed-out, ghostly pallor a truly analog experience requires.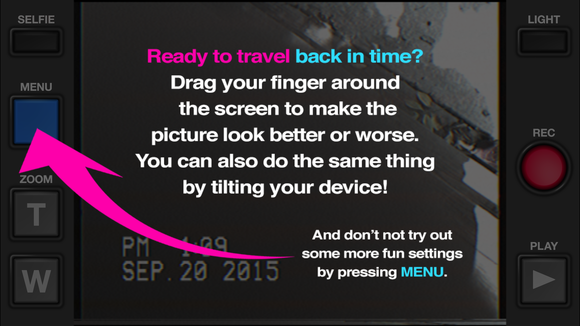 Now recording
While VHS Camcorder is pretty much a point-and-shoot, "what you see is what you get" affair, there are actually a few notable options tucked away under the blue Menu button. Videos can be shot in one of three different frame rates: U.S. standard 29.97, a more international-friendly 25 (otherwise known as PAL), or 23.976 for cutting footage alongside modern high-definition content.
Although the app emulates standard-definition videos, VHS Camcorder can actually record in HD, although full 1080p recordings require an iPhone 5 or higher. I tested the app with an iPhone 6 Plus and iPad Air, each of which had the required horsepower and produced equally good results (considering the end results) under both iOS 8 and iOS 9.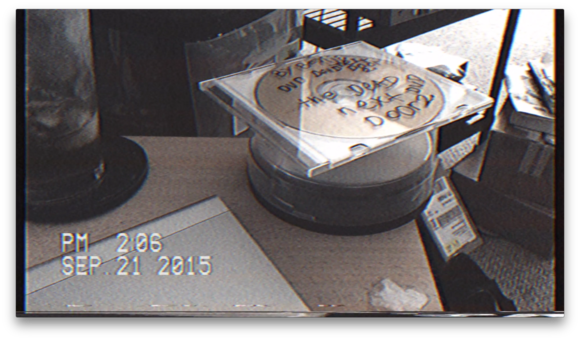 I noticed the built-in clip viewer was frequently slow at loading thumbnails, but videos are saved directly to the Camera Roll rather than the app itself for easy access from anywhere. There's also no way to complete remove the app's faux distortion, but a Professional setting comes pretty close.
While it would seem developer Rarevision left no stone unturned in replicating the perfect VHS recording experience on iOS, there is one rather sizeable missing feature: You can't import existing videos into the app and apply the VHS touch. (Or better yet, apply the effect as an extension in the Photos app.) It's unclear if this is a technical limitation or the developer just hasn't gotten around to implementing it yet, but it's really the only thing holding VHS Camcorder back from perfection.
Bottom line
VHS Camcorder is the perfect way to make everything you shoot look like a throwback from the '80s and '90s, but falls short of perfection by not allowing users to import existing videos.