I know that many Pages users have stuck with version 4, also called Pages '09. The latest release of Pages 5, however, may restore some of the features you were holding on to. Version 5.6 is fundamentally the same program as 5.5, but it's a bigger jump than the 0.1 increment would indicate.
A host of typographic refinement has returned, providing support for the wealth of OpenType features that allow more sophisticated "typesetting" in Pages that takes a user closer to what InDesign and other layout software can provide. This is a return, as most features were available in the previous Pages release, and were missed by some—apparently enough to resurrect them.
Looking back, looking out
Macworld readers frequently complain about and have questions about moving files among various releases of what used to be called the iWork suite: Pages, Numbers, and Keynote. Updates to all three introduce more backward compatibility, a rare move for Apple, which abhors sentimentality and dragging itself down to allow legacy support.
Pages 5, originally released in 2013, could only open Pages '09 (version 4) document. If you want to import Pages '06 (version 2) and Pages '08 (version 3) files, you had to retain Pages '09. As of Pages 5.6, however, you can open files from version 2 onward, which helps provide more continuity for those who retain older formats.
In the ongoing disappointment that is the web app version of Pages for iCloud, at least some progress has been made: iOS and Android users can now at least view Pages documents, which required work-arounds before and were ugly. Of course, you still can't edit those documents.
Because Pages is only available for OS X and iOS, it's always been important to be able to import and export files. Apple notes that Word compatibility was improved for "charts, text overflows and non-rectangular masks," as well as generally.
I've long seen trouble with Pages 5's ability to take a document with Track Changes enabled and export to Word formats in a format that can be reliably opened in Microsoft apps. In many cases that I've experienced, the exported .doc or .docx file is 10 times or more larger than the original Pages file. Pages 5.6 seems to no longer bloat the file, which is good progress, and an exported file that previously had caused crashes when re-exported didn't bring down my copy of Word.
The release notes also mention new AppleScript options available for PDF and EPUB export, which will delight those who already (or want to) automate the use of Pages as a layout engine. EPUB export is supposed to be better, but because how one formats and what one puts into a Pages document can cause dramatically different ebook outputs, I can't find test cases; it's something to watch over time.
Finally, in a welcome improvement for people who rely on VoiceOver as a keyboard and mouse substitute, or who prefer it, Pages now incorporates VoiceOver support for adding and reviewing comments and tracking changes. I'm not a regular user, but I tested it out, and it seemed as intuitive and well-supported as other uses of VoiceOver elsewhere.
It's still somewhat disappointing that TextEdit has more import and export power than Pages 5 for standard text interchange formats, however.
Pages 5.6 rolls up a lot of bits and pieces, too. For instance, you can use Split View in El Capitan to go full screen with Pages on one side. Force Touch for the 12-inch MacBook and the new Magic Trackpad 2 is supposed to work by letting you force-click images and editing, but I was unable to find any documentation nor get it to work through trial and error.
The Media Browser receives an overdue update so that it's fully compatible with Photos for OS X, offering collections, moments, favorites, and shared albums to be viewed within Pages. And there are new templates and some additional chart support for reference lines and image-based chart styles.
Just my type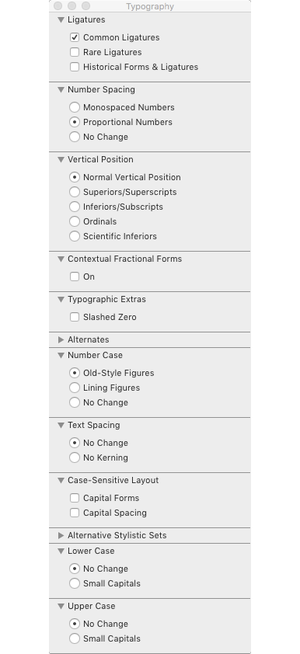 From the earliest days of what was once known as desktop publishing (DTP), software tried to emulate the sophistication of what could be done in graphic design before computers. I have the bias of having been trained as a typesetter and a DTP "artist" from 1985, but it's verifiably true: Hand-set "cold" type and hot lead from a Linotype or Monotype could produce richer looking documents than could be forced out of DTP for many years.
While QuarkXPress and PageMaker matured, InDesign finally pushed things over. Its development alongside OpenType, broadly supported by operating system and font makers, took us into a something approximating a golden age by the turn of the last decade.
However, Pages reverted. Pages '09 included a fair amount of accessible OpenType support, which was dumped in the ground-up rewrite of Page 5. Now, we've got this richness back. Many users may ignore it entirely, but the OpenType features allows you to set options that in turn allows Pages to make smarter choices about type and layout based on what you're trying to do—you engage in less fuss and things look better.
The OpenType features are hidden, like all gems. Select Fonts > Show Fonts (Command-T) and then with a text insertion point or text selected (from the gear menu in the palette) select Typography. The options that appear arise from OpenType features present in the selection or at the insertion point. If you have a font installed like Adobe's Minion Pro, you gain access to a huge number of features.
By selecting ranges of text, you can apply features selectively, although some of them are exclusive and the controls don't reveal this well. For instance, if you want to use old-style figures (sometimes called "lowercase numbers"), you can select an entire range of text, and apply that control (Number Case > Old-Style Figures). But if you select some capital letters to switch to true small capitals—not shrunken uppercase, but a separate set of separately drawn lowercase-height letters—and then apply the old-style figure setting, the small-caps setting is overriden.
These OpenType settings can be included in Pages' styles, however, both for character styles and paragraph, making it easier to identify and apply specific overrides, such as small-caps settings for initialisms.
These typographic additions improve typesetting quite a bit, but the presentation and application derives entirely from system-wide type settings, so the interface feels quite weak within Pages. (You can use these controls in TextEdit, for instance, and other software that supports rich-text formatting via the Fonts panel.)

Pages up, not Pages down
Many of us in the community worry that Pages, like so much of Apple's software, gets neglected until it's almost beyond too far out of date to make sense that the company will release an upgrade. Pages 5.6 doesn't put the lie to that, but it's a significant change for software that, based on online forums and reader feedback, many people use.
Updates like this that move the product both forward and restore missing functionality from Pages '09 are welcome, and we can only wish to see more of the same.
Note: When you purchase something after clicking links in our articles, we may earn a small commission. Read our affiliate link policy for more details.