Apple no longer uses hard drives in most of its laptops in its current lineup, opting for speedy flash storage. (The always-forgotten non-Retina 13-inch MacBook Pro uses a hard drive.) Flash storage, however, doesn't have the low price per gigabyte that hard drives offer. If you bought a Mac laptop recently, you probably bought it with 128GB or 256GB of storage. That's well short of the terabytes offered in hard drives nowadays, so it's possible you've filled up your flash storage space.
You can buy an external hard drive to lug around with you to alleviate your storage crunch, but the new TarDisk Pear could be a more attractive solution. TarDisk Pear is flash storage that finds a permanent home in your laptop's SDXC slot, but it's not like using an SDXC card. It works with the internal storage of your MacBook, and the result is more storage space.
TarDisk Pear was released on Thursday, available in 128GB ($150) or 256GB ($400) capacities for the MacBook Pro and MacBook Air. (You can check TarDisk's website to see a list of compatible laptop models.) The company sent me a 256GB TarDisk Pear for the 15-inch Retina MacBook Pro. This article takes a look at how TarDisk Pear is implemented and I'll follow up with a full review after running it on my laptop after several days.
Installation
With about 123GB of data in my laptops storage, the installation took less than 10 minutes, not counting the time it took to do a Time Machine backup. TarDisk Pear requires installation software to run on your Mac.
After backing up my laptop, I slipped TarDisk Pear into the laptop's SDXC slot. It fits flush with the MacBook Pro's case, and to remove it, the company recommends using the edge of a credit card to pry the TarDisk Pear out.
Before I installed TarDisk Pear, I took a screenshot of About This Mac: Storage.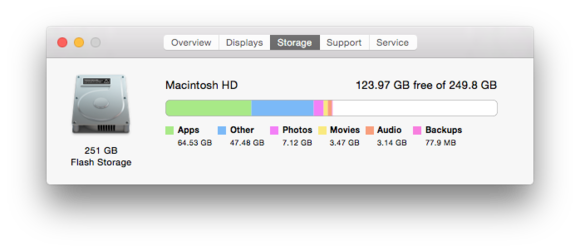 The TarDisk Pear software pairs the laptop's flash storage with the TarDisk Pear. When the installation is complete, a window confirms that the installation as successful.
Interestingly, the Mac's hard drive icon was replaced by TarDisk Pear. You can change the icon back to a standard hard drive icon by selecting the drive, pressing Command-I, and in the window that opens, click on the icon in the upper left and press the Delete key.
In About This Mac: Storage, the Mac shows your storage as two devices, even though it acts as one device. In Apple's Disk Utility, the total storage is seen as one drive.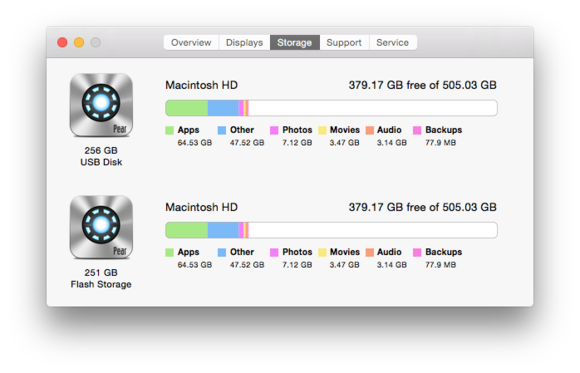 In use
Since I installed the TarDisk Pear, it's been business as usual for my Mac. It starts up as quickly as it usually has, and I haven't noticed any issues with speed. I haven't had any problems reading and writing files so far.
A TarDisk representative told me there's a nearly imperceptible performance hit when the storage needs to perform a data seek. The company's FAQ says that using TarDisk Pear affects battery life, but the effect is minor—you'll lose about 5 minutes during a 7-hour battery cycle.
I'll spend more time using the TarDisk Pear to see how it handles everyday use, and I'll put my findings in a full review. I'll include benchmarks and other factors that may influence a buying decision. If you have a question you'd like for me to address, let me know in the comments below.