Smartphone cameras have always been a convenient feature, but as those cameras have improved, they have become increasingly indispensable. The iPhone camera is now so good that, for many, their iPhone now acts as their one and only camera—in fact, more Flickr users take photos with iPhones than with any other camera.
But sooner or later, you're going to want to get those photos off of your iPhone and onto your computer. Here are five ways to transfer those photos to your Mac.
The old-fashioned way
Back in the old days, the only way to get massive quantities of photos off your iPhone was to tether it to your Mac using a USB sync cable. You can still do this with your iPhone today, and if you don't use a cloud storage or sync service like iCloud, it's still probably the easiest way to go.
Grab the Lightning cable (or if you have an older iPhone, your 30-pin-to-USB cable), and plug your iPhone into your computer. By default, the Photos app (or iPhoto if you're running an older version of OS X) will open, but if it doesn't go ahead and open it.
Click the Import tab, then click Import New Items, and Photos will do its thing. If you want Photos to remove the items you imported from your phone, check the box labelled "Delete items after import" (truncated to "Delete items" when you shrink the window) before you begin importing photos. Alternately, you can choose just a selection of photos, then click Import Selected.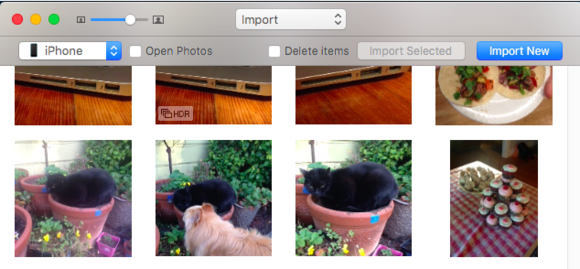 If you want a little more control over the import process—perhaps you want to save certain photos to a folder in the Finder or delete a handful of photos from your phone—use your Mac's built-in Image Capture app. Once you open Image Capture, select your iPhone from the list, then select where you want to save the imported photos from the Import To list. Next, press either Import All, or select the photos you want to import and then press Import.
Once you're done, go ahead and safely disconnect your iPhone from your computer.
The email way
If you just need to transfer one or two photos to your Mac, the easiest, most hassle-free way may still be email. Open the Photos app on your phone, go to an album, then tap the Select button in the upper right. Select the photos you want to transfer to your Mac, then tap the Mail icon. Compose a message to yourself, then tap Send. At this point, you'll be asked which size of images you want to send: Tap the option you want, and your iPhone will send the message on its way.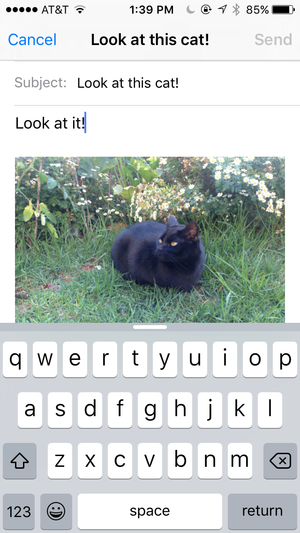 The AirDrop way
Another method is to use AirDrop, which lets you transfer files between iOS and OS X devices over your local network. To use AirDrop, both your iPhone and Mac need to be on the same Wi-Fi network, and both need to have Bluetooth turned on. Your Mac needs to be running OS X Yosemite or newer for iOS-to-OS X AirDrop to work; your iPhone needs to have iOS 8 or later installed.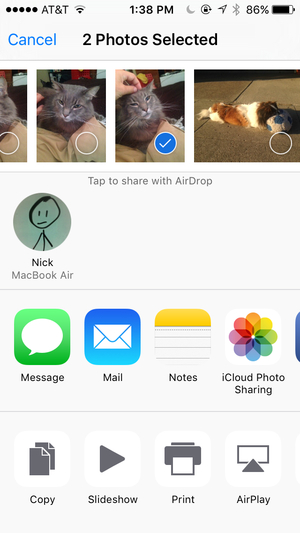 Open the Photos app on your iPhone, go to an album, and select photos as outlined above. When presented with the Share screen, look under AirDrop for the Mac you want to transfer photos to. Tap the icon for that Mac, and if all works well, AirDrop will begin transferring the photos to that computer. Note that you may be asked to confirm the transfer on your Mac before the file transfer will kick off.
Personally, I've had some reliability issues with AirDrop between iOS and OS X—sometimes it works, sometimes it doesn't. If you've experienced AirDrop flakiness and have a Dropbox account, the next option may be your best bet.
The cloud storage way
If you use a cloud storage service like Dropbox, Box, or Microsoft OneDrive, you can likely use it to transfer photos to your computer—and all your other devices, for that matter. Look to see if your cloud storage service offers an iOS app: Most major cloud storage services do, and they often allow you to save photos to your account with just a few taps.
The iCloud Way
Most of the options outlined above work great for copying over a handful of photos at a time, or if you want to import your photos only once and a while. But if you want to keep your Photo Library in sync across all your devices, look no further than iCloud Photos.
With iCloud Photo Library, all your photo libraries on all your devices update as you take new pictures, so you don't have to copy your photos from one device to another. It'll also sync edits and changes made to the photos themselves, so if you, say, crop a photo on your Mac, the version on your iPhone will also be cropped.
You get 5GB of iCloud storage for free, and when that maxes out, your photos will no longer stay in sync across devices, so you'll probably want to pay for the extra storage if you have a large photo library. Prices start at $0.99 per month for 50GB of storage, and range to $9.99 per month for a full terabyte.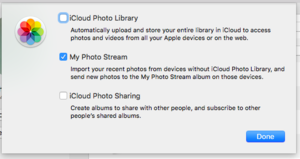 You may already have iCloud Photo Library switched on without even realizing it. To check on your Mac, open System Preferences, go to iCloud, then make sure the Photos checkbox is checked. Also, click the Options… button next to the Photos toggle to switch additional features on or off. Here, you can choose to use iCloud's Photo Stream feature instead of iCloud Photo Library: This feature will copy any new photos to a Photo Stream album on each of your devices, but it won't store them in your iCloud Library.
Once you have iCloud Photos enabled on your Mac, do the same on your iPhone. Go to Settings > iCloud > Photos, then switch on iCloud Photo Library or My Photo Stream, depending on how you want to keep your photos in sync.