Last summer, at the ripe old age of 32, I rode a skateboard for the first time in my life. Why did I wait so long? I don't know, but from the moment I stood on my niece's skateboard, I knew I was hooked. This summer, my goal is to improve.
Whether you're a new or experienced skater—and whether you started at age 8 or 38—there's an iOS app on the App Store for you that will help you get the most out of your skating, find new spots, and more. Let's take a look at four of them.
SkateSpots
SkateSpots (free) is an app that, well, helps you find skate spots. It's a nicely designed app, and shows not only skate spots but also shops as well.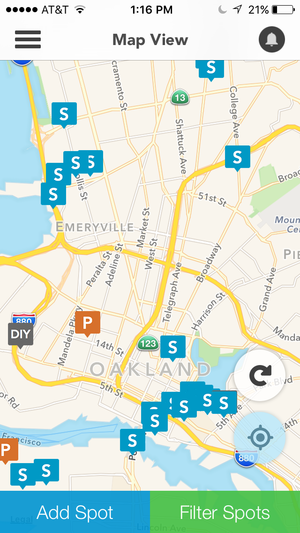 The app has a few quirks that makes its reach seem limited at first glance: When I first viewed the map, it only showed a smattering of locations in the midwest and Southern California, making it seem as if the database is barren. I also frequently got an annoying "location problem" error message. Zoom in to your location and tap the Reload button (the circular arrow), and more spots should appear. The app is crowdsourced, though, so you can help flesh out the database to include spots in your area.
You can also buy Spotlists via in-app purchasing, which unlock additional skating locations for a small fee (usually $1 or $2).
Shreddit
Shreddit (free) combines a skate spot finder with what's best described a a skate-specific version of Facebook. By default, the main "Explore" screen shows a stream of posts by other users, and you can follow other Shreddit users if you want.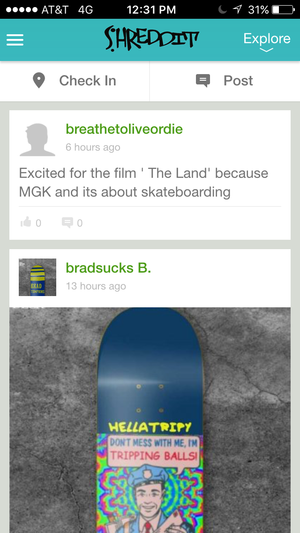 The Skate Map lets you look for skate spots, but it's a little hit or miss: Shreddit provides lots of skate spots for some regions, but others are a bit sparse. It's another crowdsourced app, though, so you can easily add your own suggestions. Like SkateSpots, you need to zoom in to your location then tap the Reload button to see spots near you—the app won't necessarily refresh automatically for you, which might throw you off. You can add your own spots, though, and invite friends to join.
The app also lets you watch skate videos and tutorials, though you'll need to log in for that. Despite some quirks and limitations, Shreddit has potential, and it's a good choice for keeping tabs on skater friends.
Nike SB
Nike SB (free) is best described as Vine, but for skating: You can view and "like" short clips of others performing tricks, and you can follow other skaters. As is the case with these sorts of social networks, the user-base is relatively small, so the app may be most useful for following your skater friends. At the very least, it can help you track your progress as you learn to skate.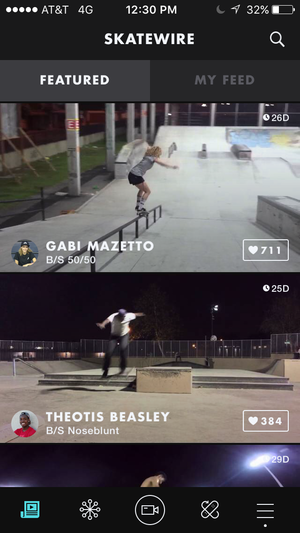 If you're working on perfecting your tricks, the Skate Tree feature is for you. Here you can watch clips of others performing specific tricks, which may help you figure out how to improve. Some tricks include clips from pro skaters that you can watch frame by frame to make sure you've got your footwork down. I'd love to see the app include additional tutorial clips in the future.
RIDERS
If you're looking for something specifically geared toward helping you learn tricks, check out RIDERS (free). This app lets you learn tricks, track your progress, and share clips with the world. It also goes beyond skateboarding, covering a wide range of activities from surfing to skiing to BMXing.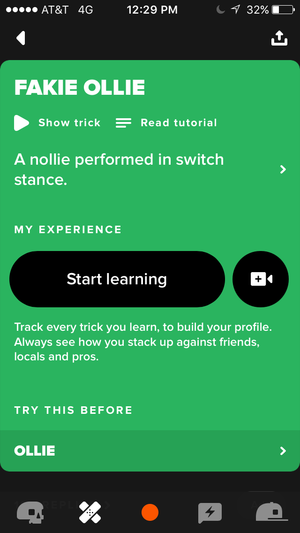 RIDERS lets you view and post clips and photos of yourself (and others) performing tricks, and as you might expect, you can like others' photos and videos, and follow other people.
The app features tutorials for a wide variety of tricks, some of which include narrated video tutorials. The tutorials themselves aren't very detailed, so while they may give you a general overview of how to do a trick, they won't be very useful if you're brand new to skating and need to have tricks broken down bit-by-bit. (For that, I recommend checking out Braille Skateboarding's Skateboarding Made Simple ebook and video series.) The Tutorial section's Dictionary is helpful, though, and defines all sorts of skateboard terms.