You got an Apple TV? Nice, so did I! Apple's newest set-top box arrived in stores—and on the doorsteps of those who preordered—on Friday, and once you rip open the box, setup is pretty simple, although far from painless. Let's walk through it together, shall we?
Initial setup
Plug in the power and HDMI cables. The easiest thing is to plug HDMI right into a free port on your TV, and that's what most people will do. But if you have HDMI passthrough on your AV receiver, or an HDMI breakout box, you might want to go that way, so you can AirPlay audio from a Mac or iOS device to your stereo without having your TV on. (More on those options here.)
Turn on your TV to the input your Apple TV is connected to. You'll see a prompt to connect the Siri Remote by holding down Menu and +. Then you'll use the remote to select your language and country. The remote doesn't have an Enter button like the old Apple Remote did, but you can click the trackpad. Really click it—a tap-to-click doesn't work here.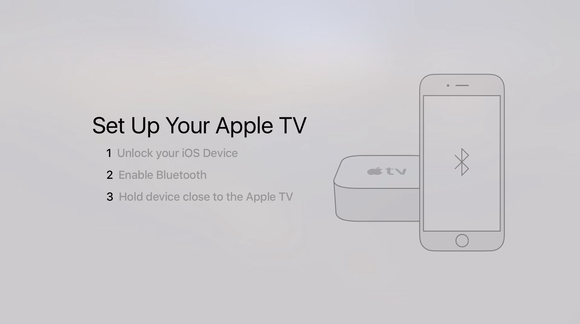 The next option is to set up your network. You can do this manually, but it's faster and more fun to use a device running iOS 9.1 or later. (This device can't be the iPad 2, unfortunately.) The Apple TV quickly "saw" my iPhone over Bluetooth and attempted to connect to the same Wi-Fi network my iPhone uses. But it didn't work for me at the office—the network I'm using has WPA2 Enterprise security, which requires me to log in with a username and a password, not just a password. So I connected an ethernet cable to the Apple TV instead, and that did the trick.
Next, you have to sign in with your Apple ID. Entering usernames and passwords with a remote is a pain in the butt, so you might be tempted to grab a Bluetooth keyboard, or launch the Remote app on your iOS device, to input this text like a gentlemen. Bzzt. Both of those methods, which work on the 3rd-gen Apple TV just fine, are not supported here. You're stuck entering a letter at a time with the Siri Remote, a step backward from what we had before.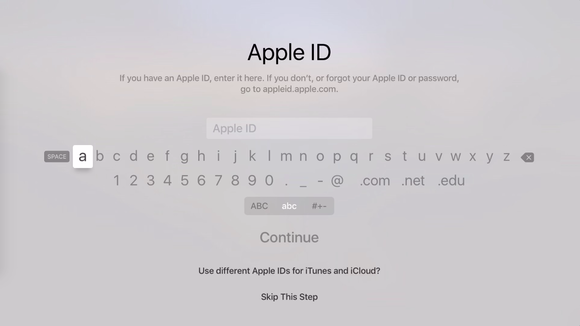 This screen does have an option for entering separate Apple IDs for iCloud and the iTunes Store. I use separate accounts for iCloud and iTunes on my iPhone, since Apple offers no way to merge those accounts into one. So I bit the bullet and entered both here, too, although that doubled the time I spent scrolling around the onscreen keyboard with my remote. Being able to quickly scroll with the Siri Remote's trackpad is nice, but it also meant I would overshoot the letter I wanted from time to time. If you use two-factor authentication on your Apple ID, that's supported.
I wonder why the Apple TV couldn't grab the credentials from my iPhone like it did with my Wi-Fi password? Maybe the two-factor problem… although my iPhone is the second factor. Anyway, sign in, no matter how long it takes.
Next, you'll choose whether to enable Location Services, which you should, if you want the screensavers to change based on what time of day it is. Maybe this will help with HomeKit as well, although if it does, Apple doesn't give you a heads up on this screen.
The following screen has you opt into Siri. Obviously, you want to say yes here, so you can take advantage of the built-in mic on the Siri Remote to search the iTunes Store, Netflix, HBO, Hulu, and Showtime with your voice. (More services should be voice-searchable eventually—Apple Music is coming onboard "early next year," for example.)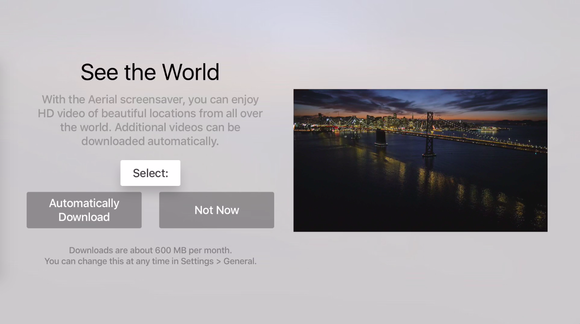 The Aerial screensaver is also opt-in, and Apple does warn you on this screen that enabling it will result in about 600MB of downloads per month, in case your ISP caps your broadband plan. The next screen asks if Apple can get diagnostic data from your Apple TV, including your location. After agreeing to the terms and conditions (I read them, I swear!), you're all set.
Get some apps
Unlike the old Apple TV, which came with every channel preinstalled and automatically added new ones as they became available, your fourth-gen Apple TV ships with iTunes Movies, iTunes TV Shows, the App Store, Photos, Music, Computers (for streaming media saved in the iTunes Library of a computer on the same network), Settings, and Search. (The Search app here is for entering text with the Siri Remote again. To search with Siri, all you have to do is hold down the microphone button on the Siri Remote.)
So to really get started, you'll want to grab some apps. Head to the App Store, and poke around. The App Store interface has tabs for Featured, Purchased, and Search, but as of now, no breakdown by category. Perhaps as more apps are added, the discoverability and filtering will get more robust, but for now just browse around and add what you want. They installed really quickly in my experience, but again, I was using ethernet on my fast office network. Your mileage may vary.
I was prompted for my password after grabbing a few free apps, and then I saw a screen asking if the Apple TV should keep requiring my password for new purchases. I was asked multiple times to confirm the purchase of free apps, and when I tried to buy a paid app, my credit card on file was declined. That isn't the Apple TV's fault—I just got a new chip-enabled card with the same account number but an updated expiration date—but I did have to go to iTunes on my Mac to clear it up before I could buy anything. (Oh well, at least my Mac has a keyboard…) After confirming my payment details in iTunes, it took a couple more tries before the Apple TV let me complete a purchase. My kid better appreciate this Chuggington app I just bought him!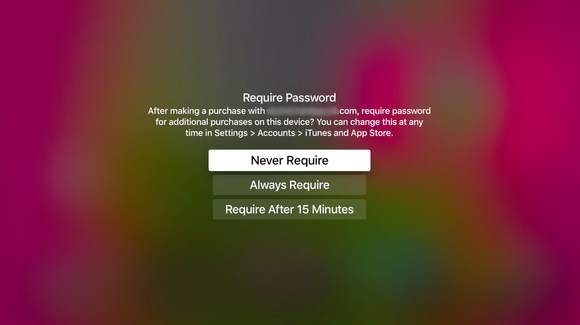 When you're done buying apps, you'll have to sign into any subscription services you just downloaded, such as Netflix and Hulu. If you already have a subscription you purchased within that service's iOS app (which you shouldn't do anyway, since you're likely paying more than if you had just subscribed in a web browser), you can click Restore Purchases and you won't have to sign in.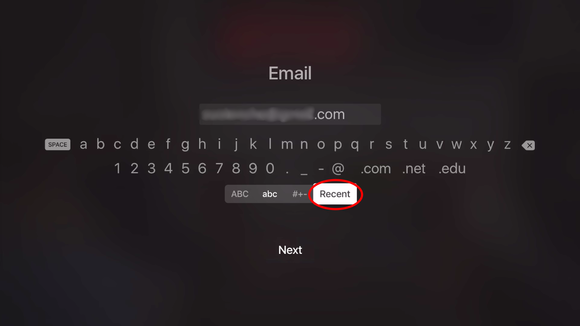 And luckily, when it's time to enter your email address, there's a Recent list with shortcuts to the email addresses/logins you've already entered—that's really handy. But you'll still have to type each password in manually, a letter at a time.
Rearrange your icons
As on the last generation of Apple TV, you can position your app icons however you like. To do this, select the icon you want to move, and then click and hold the Siri Remote's touchpad until the icon wiggles. Then just swipe left, right, up, or down on the touchpad until it's where you want it, and click again to freeze it.
If you put apps in the top row of icons, the marquee row along the top will show you a preview of content inside those apps. (In the old generations of Apple TV, that top row was off limits.) For example, I put Netflix up there and saw popular Netflix items like Orange Is the New Black and Family Guy. I'd prefer this row showed what I was recently viewing so I could quickly jump right back in, but this is good too.
Tinker with settings
You might want to take a quick tour through the Settings app, especially if you want to enable Restrictions, say, to disallow purchases or rentals from iTunes, or in-app purchases, or Explicit music or podcasts, or R-rated movies and M-rated TV shows. You can even restrict what age rating of apps are allowed, and have Siri blur out any swear words your loved ones may utter. She'll even admonish you for scandalizing her with your potty mouth.
Elsewhere in Settings, you'll see a Manage Storage entry. This is where you can see the apps on your Apple TV, how much room each of them is using, and delete them if you want. What you won't find here is any media-storage settings for apps like Music, Movies, and TV—that means you can't have certain iTunes Store purchases perma-saved and ready to go, but the Apple TV has been loading those quickly in my experience so far, so I don't really mind.
Play!
Once you've got everything juuuust how you like, fire up an app and start streaming, or launch a game and get busy. When you aren't being asked to enter text, navigating with the Siri Remote is fast and fluid, and the app interfaces are much improved from the last generation of Apple TV.
Scrolling around Netflix, for example, is almost as responsive with the Siri Remote as using your finger to move around the Netflix app for iPad. On my old Apple TV, Netflix required a lot of drilling down into menus: First your profile, then Recently Watched, then a show, then the episode. Here, once you're in your profile, the different sections like Recently Watched, Recommended for You, Trending on Netflix, and so on are all conveniently located on one screen.
Take Siri search for a spin
Don't forget to try Siri search—it's one of the new Apple TV's major selling points. So far in my testing it's been fast and reliable. (I'll put it through more stringent paces as I'm writing the full review this weekend.) Apple says iTunes, Netflix, Hulu, Showtime, and HBO are supported at launch, and a search for New Girl did indeed turn up seasons 1–4 on iTunes, seasons 1–3 on Netflix, and season 4 on Hulu—even though I hadn't signed into my Hulu account yet. Rose gold star for Siri search.
What questions do you have about the Apple TV? Let me know and I'll do my best to answer them as I spend hours (and hours!) on the couch testing it. So far I'm a fan—as long as I don't have to enter many more passwords.