Dave Price writes in with a quirk of Photos related to exporting images he's edited:
In the new Mac Photos app, I found that the only way to export photos and keep the original date that the photo was shot is to export the original. So after carefully cropping and adjusting the many editing options, how can I export the edited photo without losing the creation date?
It's a strange omission from Photos for OS X, though you could think of it as philosophical in nature: Apple only exports a newly created version, rather than one that's the original, modified. That's probably too existential for software, however.
Photos lets you export images in three ways, all of which support the embedded EXIF data about exposure, camera type, and capture date:
File > Export > Export Unmodified Original
File > Export > Export [Photos/Video/Items]
Drag to Desktop
Unmodified Original is obviously not what you want, but it preserves the original; option-dragging to the Desktop does the same. Plain export lets you pick a format, but create a file that has a new creation and modification date. Dragging without Option creates a JPEG.
So there's nothing you can do about this in Photos, unless and until a third party creates an export plug-in. But you can fix this in the Finder, for a single image or a batch, using A Better Finder Attributes ($15, free trial).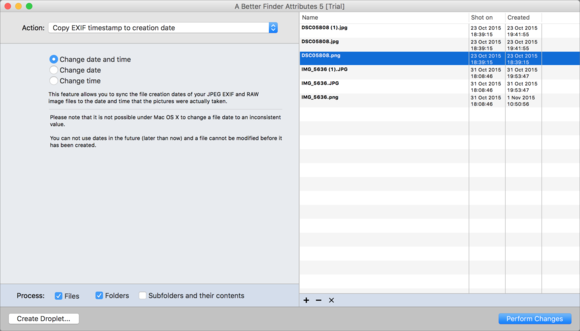 This utility offers a lot of ways to repair attributes, one of which is to copy the EXIF timestamp from the image to the Finder creation date. You can drag one or more images in to perform the task. You can then use a separate operation to copy the creation date to the modification date. A Better Finder lets you create droplets, so you can just drag images onto the droplet and process them without running the app, even.
With a host of other Finder and EXIF operations also available, this utility could be a good investment to solve an irritating problem.
Ask Mac 911
We're always looking for problems to solve! Email yours to mac911@macworld.com including screen captures as appropriate. Mac 911 cannot reply to email with troubleshooting advice nor can we publish answers to every question.