On the issue of portability of music purchased from the iTunes Store, reader Hanno zur Loye writes in:
I read the article by Christopher Breen (" How to deal with two Apple IDs, well, kind of") and I was hopeful and confused at this statement of "…if we're talking only about music you've purchased from the iTunes Store in the last several years, that's not a problem as music is no longer protected and can be played with either ID."

I just realized that due to a change in email addresses, I have two Apple IDs and have purchased music on both and apps only on the later one, since that came with the iPhone that runs on the new email address. I just tried to listen to purchased music and it won't let me play it unless I sign in on the Apple ID that purchased it. So it seems that the music is protected? Or am I doing something wrong.
I suspect you're a long-time iTunes Store consumer because this is something that should only arise if you purchased music before 2009. Music sold from iTunes Store's inception through 2007 was all protected by Apple's DRM (digital rights management) encryption. Some labels began allowing Apple to sell without DRM in 2007, while the entire music catalog was converted in 2009.
You had the option to upgrade songs and Apple's to iTunes Plus, which was not just DRM-free, but also higher-quality encodings, by paying 30 cents a track. However, that only lasted a couple of years, and then was replaced by iTunes Match.
The $25-a-year iTunes Match lets you download DRM-free iTunes Plus versions of any songs you purchased that are unlocked—but you have to do a little magic. Jason Snell documented this a few years ago here at Macworld, and I've confirmed his instructions work in the latest version of iTunes 12.
Follow the steps in that article, and you'll be able to refresh your songs, get high-quality versions, copy them across devices, and you can play them across all the equipment you own.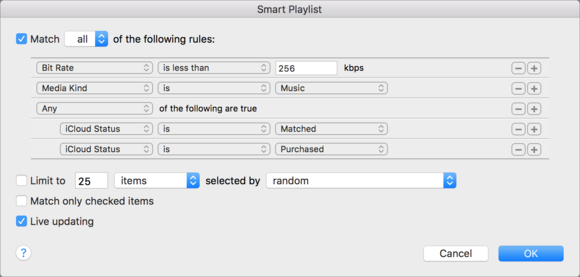 Ask Mac 911
We're always looking for problems to solve! Email yours to mac911@macworld.com including screen captures as appropriate. Mac 911 cannot reply to email with troubleshooting advice nor can we publish answers to every question.