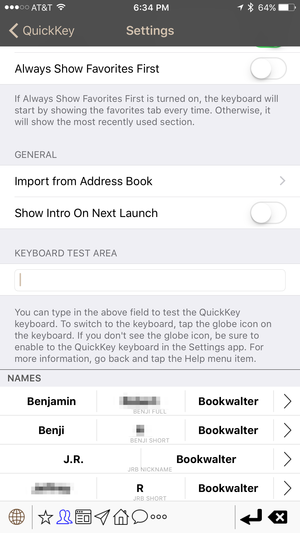 Developers have come up with all kinds of clever tricks for third-party keyboards since the debut of iOS 8 last year. Some make it easy to find and use animated GIFs, others overdose on cute Emoji, and a few actually try to improve on Apple's stock keyboard with gestures, predictive typing, and more.
Somewhere in-between lies apps like TextExpander and Clips, which store brief snippets of text that can be summoned from anywhere the keyboard can be used in a couple of taps. QuickKey is one of the more useful apps I've found in this category; it streamlines the process by reducing the number of times you have to type common phrases and Internet details over and over again each day.
Snippets everywhere
QuickKey stores frequently-used text snippets in a variety of common categories, making them conveniently available just by switching to its custom keyboard. Unlike similar apps like TextExpander that require users to remember abbreviations in order to expand snippets, QuickKey displays them exactly as they will be entered once tapped.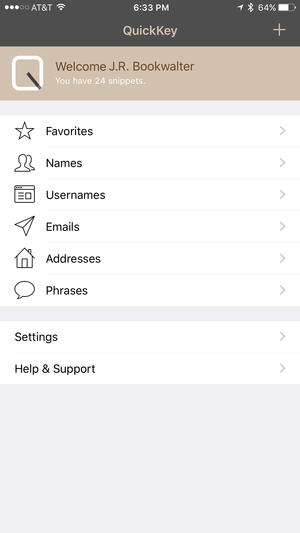 Categories include Names, Usernames, Emails, Addresses, and Phrases, but there's also a Favorites category for keeping most-used snippets close at hand. To add existing entries to Favorites, simply swipe right-to-left across each, then tap on the star icon. Once added, Favorites can be sorted in any order you'd like; a preference setting allows Favorites to be presented first, otherwise the last used section is displayed.
To reduce the initial setup time, QuickKey includes an option to import existing personal data from your address book. This step is done entirely on the device and nothing is uploaded to the cloud or shared with the developer in any way.
Another plus for privacy advocates: QuickKey does not require users to supply full access to the operating system like other third-party keyboards. Although the app effectively duplicates the built-in iOS keyboard shortcuts feature, it does so in a more elegant and thoughtful way—you can paste complete names and addresses, or just individual chunks such as first name, city, or ZIP code when filling out online forms.
Keys? What keys?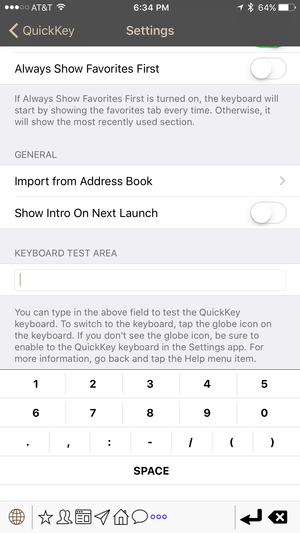 Somewhat ironically, one thing QuickKey lacks is an actual keyboard for entering text. Instead, users must switch to their favorite keyboard, type, then jump back again. Curiously, the app does include a tab for adding numbers, spaces, and other special characters, which is accessed by tapping three horizontal dots; there are also delete and return buttons in the lower right corner.
QuickKey's app settings also includes an option for displaying the custom labels you've assigned to snippets while using the keyboard. Last but not least, the settings screen includes a blank field for giving snippets a quick test drive.
Aside from missing an actual keyboard, the only real limitation with QuickKey is its rigid adherence to built-in categories. There's no designated area for text snippets that don't fit one of the predefined areas—in a pinch, Phrases can be used for just about anything, but the developer should consider allowing users to set up custom categories and fields as well.
As it stands now, QuickKey is off to a good, if not great, start. I found it to be more convenient than either TextExpander or Clips in actual use. Although the app does run on iPad, it's not yet a universal build; this doesn't really detract from using it on a tablet, but the lack of iCloud sync means you'll need to start from scratch on each and every device.
Bottom line
QuickKey isn't snippet perfection quite yet, but it's easy to set up and makes filling out online forms a snap, provided you don't need an actual keyboard, that is.